December 29, 2010
2010-11 Season - Late free throws provide lift against Stout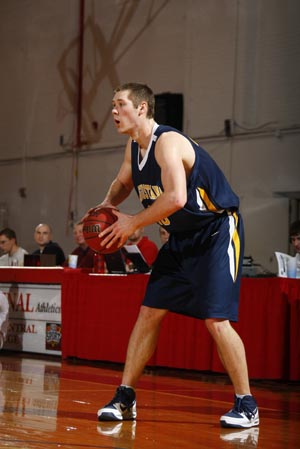 Kyle Nelson scored 20 points and grabbed seven rebounds to help lead Augustana to an 81-75 victory over Wisconsin-Stout on December 29 in the first round of the Nicolet National Bank Holiday Tournament.
Augustana used some clutch free throw shooting down the stretch to hold off Wisconsin-Stout by a score of 81-75 in the first round of the Nicolet National Bank Holiday Tournament on Wednesday, December 29 in DePere, Wisconsin. The Viking put four players in double figures but it was proficiency at the charity stripe that allowed them to move to 9-0 on the season.
With the win, Augustana, ranked 10th in NCAA Division III, has set itself up for a possible battle with 12th ranked St. Norbert on Thursday, December 30. The Green Knights will play Lakeland for the right to advance to the championship game at 7:00 p.m. on Thursday.
Senior Kyle Nelson (Deerfield HS, Deerfield, Ill.) scored 20 points to lead the Vikings. He was just five of 12 from the field but hit on 10 of 11 free throws and also grabbed seven rebounds. Junior Bryant Voiles (Byron HS, Byron, Ill.) had 16 points on the strength of a 12 of 15 performance at the free throw line. Junior Troy Rorer (Bettendorf HS, Bettendorf, Iowa) had 11 points and junior Brian DeSimone (Buffalo Grove HS, Arlington Heights, Ill.) added 10.
Augustana led 45-40 at halftime and with 5:15 left in the game, Rorer's basket put the Vikings ahead by 12 (72-60). However, two turnovers and a missed foul shot coupled with an 11-1 run by the Blue Devils closed that gap to just two points (73-71) after a pair of free throws by Erik Olson. Wisconsin-Stout got the ball back with a chance to tie or take the lead but a shot by Jay Higgins failed to drop and Voiles snared the rebound with just 1:06 left.
Voiles was fouled at the :40 mark and he drained both free throws to make it 75-71. Jerrod Buckholtz nailed a pair of charity tosses for Stout with just :30 left to cut the margin to 75-73. Voiles was fouled again, this time with :21 left and he made both once again to bump the margin to 77-73. Nelson rebounded a missed shot by the Blue Devils' Olson and was fouled immediately with :14 left. Nelson found the bottom of the net with both free throws to make it 79-73.
Eric Hostetter scored for Stout to cut it to 79-75 but just eight seconds remained in the game. Chris Anderson (West Carroll HS, Mt. Carroll, Ill.) hit two free throws with just :04 left on the clock to account for the final margin.
Augustana made 34 of 43 free throws and made eight of eight in the final minute of play.
The Vikings held a 35-32 advantage in rebounding with Voiles grabbing 10. They surrendered 13 offensive rebounds to the Blue Devils, who were led in scoring by Hostetter with 13 points. Wisconsin-Stout is now 5-5 on the year.
Augustana shot just .278 (5-18) from the field in the second half after hitting at .485 (16-33) in the first half. After leading by five at halftime, the Vikings outscored UW-Stout 16-6 over the first nine minutes of the second stanza.