December 20, 2010
2010 Season - 2010 WOMEN'S SOCCER REVIEW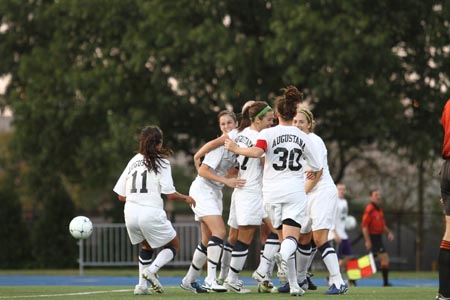 Augustana finished the 2010 season with a 13-2-5 overall record and made the NCAA Division III national tournament for the second consecutive year.
The Augustana women's soccer team completed another superb season in 2010 under 10th year head coach Scott Mejia. The Vikings advanced to the NCAA Tournament for the second straight year and finished with an overall record of 13-2-5 with a 4-1-2 mark in the College Conference of Illinois & Wisconsin.
The Blue & Gold displayed an incredible defense throughout the campaign, only allowing 11 goals in 20 contests. Augustana opened the year with eight straight shutouts, not giving up a goal until a 2-1 win over Dubuque in the ninth game of the season. After opening with a 10-0 romp at Cornell and a 2-0 victory at Coe, the Vikings returned home to face Kalamazoo and had to settle for a 0-0 double overtime tie. Two more home games followed against UW-La Crosse and Milwaukee School of Engineering, and the Viking offense got back on track with a 3-0 win against the Eagles and a 6-0 decision over the Raiders to improve to 4-0-1.
The homestand continued with a rematch against nationally ranked Calvin. The Vikings advanced to the "Sweet 16" of the NCAA Tournament in 2009 before dropping a 2-1 decision to the Knights, so Augustana was looking to even the score in this early season contest. Like the Kalamazoo match, both defenses proved up to the task and the Vikings and Knights battled to a 0-0 double overtime draw. A second straight game against a nationally ranked foe turned out more favorably, as Augustana knocked off Loras 1-0 to finish five straight games at Ericson Stadium.
Sitting at 5-0-2, Mejia's squad hit the road to face Simpson and the shutout streak stayed alive with a 4-0 victory against the Storm. Although Dubuque found a way past the Augustana defense in the next game, the Vikings still managed a 2-1 win, improving to 7-0-2 almost halfway through the season.
CCIW league action started with a home match against Carthage and the Blue & Gold tallied a 1-0 win, the ninth shutout in 10 games. A second consecutive shutout followed with a decisive 5-0 showing at home over UW-Whitewater. After back-to-back shutouts, Augustana found itself in a battle at Millikin in the first CCIW road game, but prevailed 4-2 and improved to 10-0-2 overall and 2-0-0 in the conference.
The Vikings returned home once again and continued to dictate play against the opposition, recording 2-0 shutouts against Edgewood and North Park, a CCIW foe. With a stellar mark of 12-0-2, Augustana's first loss of the year finally came at nationally ranked Wheaton, as the Vikings dropped a 4-1 decision. A tough week concluded with a 0-0 double overtime tie against nationally ranked Illinois Wesleyan at Ericson Stadium.
Augustana also tied its next home conference match, a 1-1 double overtime draw against North Central. The Vikings, however, ended the regular season on a positive note on the road at Elmhurst, dispatching the Bluejays 2-0 to finish the CCIW schedule at 4-1-2, notching the No. 3 seed for the CCIW Tournament.
The Blue & Gold matched up with second seeded Illinois Wesleyan in the semi-finals of the tournament and the game was played to a standstill yet again with the teams forced to enter a shootout after a 1-1 tie in double overtime. The Vikings came out on the short end of a 5-4 score in penalty kicks, as the Titans advanced to the CCIW championship match against Wheaton.
Although the team did not earn an automatic bid, the Vikings once again received the nod to participate in the NCAA Tournament, giving Augustana its second straight appearance and fourth overall under Mejia. The Vikings made the familiar trip out to Wheaton and faced Carleton in the first round of action. A second half goal gave the Blue & Gold a 1-0 lead late into regulation, but the Knights answered with the equalizer and later scored in the first overtime session to defeat the Vikings 2-1, ending another successful year for Augustana.
Junior Kayla Radloff (West Chicago HS, West Chicago, Ill.) was a first team CCIW All-Conference selection for the second straight season and was also named to the All-Region team as a second team honoree after compiling impressive numbers as the Viking goalkeeper. She played a key role in shutting out 14 of the 20 opponents that Augustana faced during the season. Radloff spent close to 1,775 minutes in goal and only allowed 11 shots to hit the back of the net while making 60 saves along the way. She sported a 0.56 goals against average and compiled a save percentage of 84.5 percent.
Sophomore Taylor Moesle (Carl Sandburg HS, Orland Park, Ill.) served as the primary offensive weapon for the Blue & Gold, leading the team with 12 goals on the year and earning a spot on the all-conference and all-region squads as a first team selection. Moesle was also named to the All-American team as a first team selection. She is the second women's soccer player at Augustana to earn this prestigious honor, following Radloff, who was a third team selection in 2009. Moesle also picked up four assists and led the team with 28 points. She is quickly closing in on the top 10 list for career goals and points after just two seasons on the pitch with the Vikings. Moesle had four game winning goals and converted both of her penalty kicks.
Senior Megan Mummert (Crawfordsville HS, Crawfordsville, Ind.) was the third Viking to be named to the all-conference squad as a first team honoree, earning that award for the second straight season. She was also honored as a first team selection on the all-region team. Mummert started all 20 matches and played a critical role for an Augustana defense that amassed shutouts in 70 percent of its games and only gave up more than one goal in three contests.
Junior Ashley Higuchi (Smoky Hills HS, Aurora, Colo.) tied for second on the squad with six goals and also tied for the team lead with four assists. She earned 16 points, which was the second highest total for the Vikings behind Moesle. Higuchi earned second team all-conference honors and scored three game winning goals.
Junior Caitlin Winkelman (St. Charles North HS, St. Charles, Ill.) joined Higuchi on the all-conference second team after earning first team honors a year ago. She compiled 11 points on four goals and three assists, starting all 20 games this season.
Sophomore Kirsten Boesen (Normal West HS, Gibson City, Ill.) notched second team all-conference honors as well, making 18 starts in 19 games in the defensive backfield. She helped limit opponents to less than eight shots per game and was a big part of 14 shutouts.
Junior Erin Coulson (Naperville Neuqua Valley HS, Naperville, Ill.) scored six goals and had three assists for a total of 15 points, finishing third on the team in total points. She is seventh on the career goals list with 25 and 10th on the points list with 56.
Junior Jessica Dodds (Linn-Mar HS, Marion, Iowa) scored 12 points on five goals and two assists. She is almost in the top 10 on the career goals and career points lists for the Blue & Gold with one season still to play. Dodds had four game winning goals during the season.
Sophomore Kaitlyn Kinsella (Fremd HS, Hoffman Estates, Ill.) came up from the defensive end to score four goals. She also earned two assists for a total of 10 points, finishing the year as one of six Vikings to score in double figures for points.
Sophomore Rachel Lenke (Prospect HS, Mt. Prospect, Ill.) played in 16 games and was credited with two goals and an assist for a total of five points. Freshmen Allison Frickman (Loveland HS, Loveland, Colo.) and Alexandra Coon (Naperville Central HS, Naperville, Ill.) each picked up a pair of goals, finishing with four points apiece. Frickman saw action in 16 contests while Coon played in 11 games.
Senior Gina Adduci (West Chicago HS, West Chicago, Ill.) and sophomore Paige Knippenberg (University HS, Normal, Ill.) each compiled three points with a goal and an assist. Adduci was on the field for 13 games while Knippenberg made an appearance on five different occasions.
Junior Mary Pat Holtrop (St. Charles North HS, St. Charles, Ill.) served as a co-captain for the Vikings and made 19 starts in the midfield. She scored one goal, a game winner, for a total of two points. Freshman Brittany Bush (Oswego HS, Oswego, Ill.) also tallied two points with one goal, scoring in her only appearance of the year. Junior Holly Timm (Northglenn HS, Denver, Colo.) also got on the board with an assist in six games, finishing with one point.
Although junior Kelly Johnson (Homewood-Flossmoor HS, Flossmoor, Ill.) and freshman Margaret Hoscheit (St. Charles East HS, St. Charles, Ill.) did not tally any points, both played key roles as starters for the Blue & Gold. Johnson started in all 19 of her appearances while Hoscheit was in the starting lineup for all 20 games. Junior Jenna Doyle (Regis Jesuit HS, Parker, Colo.) and freshman Bridget Shrigley (Wheaton Warrenville South HS, Wheaton, Ill.) also made valuable contributions to the team, each playing in a majority of the games as a reserve. Doyle competed in 15 games and made one start while Shrigley was called on in 17 games and earned three starts.
Sophomore Bridget McDermott (Prospect HS, Mt. Prospect, Ill.) was in goal for almost 132 minutes during five different games. She did not allow a single goal and made two saves.
Augustana enjoyed a 48-11 goal differential against the opposition, including a 26-2 advantage in the first half. The Vikings attempted 364 shots and held foes to 157 attempts. The Blue & Gold had a 108-53 lead in corner kicks.
Head coach Scott Mejia finished his tenth season with the Vikings and has a 137-47-16 overall record and a 45-18-7 mark in the CCIW. Mejia's overall coaching record of 162-66-17 includes two years at Lakeland College. He was also honored as CCIW "Coach of the Year" and Central Region "Coach of the Year" by the National Soccer Coaches Association of America after the 2009 season.
2010 AUGUSTANA WOMEN'S SOCCER SUPERLATIVES
NCAA TOURNAMENT APPEARANCE: Advanced to the NCAA Tournament for the second straight season and fourth time under Head Coach Scott Mejia…Lost 2-1 in overtime to Carleton in the first round.
NATIONAL RANKING: Ranked as high as No. 5 in the nation in NSCAA poll
NSCAA ALL-AMERICA SELECTION: Taylor Moesle (1st)
NSCAA ALL-REGION SELECTIONS: Taylor Moesle (1st)…Megan Mummert (1st)…Kayla Radloff (2nd)
CCIW ALL-CONFERENCE SELECTIONS: Kayla Radloff (1st)…Megan Mummert (1st)…Taylor Moesle (1st)…Caitlin Winkelman (2nd)…Kirsten Boesen (2nd)…Ashley Higuchi (2nd).
CAREER TOP TEN LIST – GOALS SCORED: Erin Coulson…7th with 25; Taylor Moesle & Caitlin Winkelman…T-10th with 21
CAREER TOP TEN LIST – POINTS SCORED: Erin Coulson…10th with 56 points
CAREER TOP TEN LIST – ASSISTS: Ashley Higuchi…T-9th with 11
SINGLE SEASON TOP TEN LIST – GOALS SCORED: Taylor Moesle…9th with 12
SINGLE SEASON TOP TEN LIST – POINTS: Taylor Moesle…T-9th with 28
CCIW "PLAYER OF THE WEEK": Taylor Moesle…09/12/10; Ashley Higuchi…10/06/10; Kayla Radloff…10/06/10;
ESPN THE MAGAZINE ACADEMIC ALL-DISTRICT: Kirsten Boesen (3rd)
OFFENSIVE "MVP": Taylor Moesle
DEFENSIVE "MVP": Kelly Johnson
MOST IMPROVED: Amanda Tucker
IRON VIKING: Ashley Higuchi