December 18, 2010
2010-11 Season - Vikings fall to Cornell on the road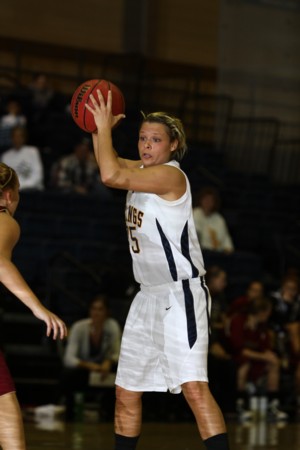 Kristen Fox had a double-double of 12 points and 10 rebounds, but it wasn't enough as the Vikings fell 68-54 at Cornell.
Mt. VERNON, Iowa - Augustana got off to a slow start Saturday, falling behind 15-3 after seven and a half minutes of play, and could never recover, dropping a 68-54 decision to Cornell. The Vikings got a double-double of 12 points and 10 rebounds from Kristen Fox (Ottawa HS, Ottawa, Ill.), but she was the only Augustana starter in double figures as the team fell to 4-7 on the year.
The Rams scored the game's first 10 points as Augustana missed its first eight field goal attempts and committed four turnovers before Fox got them on the board with a field goal almost seven minutes in. However, Cornell continued to build on its lead until it reached a first-half high of 18 (30-12) 2:43 before the break. A four-point play by Kristin Warnken (Centaurus HS, Erie, Colo.) and a pair of free throws from Fox cut the margin to 35-20 at halftime.
Augustana connected on just five of 23 field goal attempts (.217) in the opening period, while the home team shot a blistering .583 (14 of 24), including .429 (6 of 14) from three-point range.
The Vikings were unable to stem the tide in the second half, as Cornell hit nine of its first 15 field goal attempts in the period to push the lead to 60-31 with nine minutes remaining. Augustana did close the game on a 21-6 run over the last six and a half minutes as freshman Molly Etheridge (Normal Community HS, Bloomington, Ill.) scored all 10 of her points in that stretch.
Warnken scored 11 off the bench to join Fox and Etheridge in double figures for the Vikings, while Cornell was led by 17 points from Camille Marie-Lidd. The shooting percentages evened up slightly in the second half, but Cornell still outshot Augustana .511 to .298 from the field for the game. The Vikings managed a 32-29 edge on the glass and turnovers were even at 16.
Augustana is now idle until January 5, 2011 when it opens CCIW play with a 5:00 p.m. contest versus North Park in Chicago, Illinois.