December 17, 2010
2010-11 Season - Viking grapplers down Loras 22-13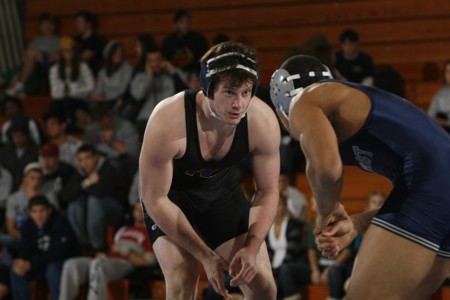 A win by senior 197-pounder Matt Nykaza helped the Vikings defeat Loras 22-13 Friday in Dubuque, Iowa.
DUBUQUE, Iowa - Senior Matt Nykaza (Brother Rice HS, Oak Lawn, Ill.) beat Loras' Jake Hertel 10-3 at 197 pounds Friday to clinch a dual meet win for Augustana over the Duhawks. The Vikings led just 13-10 before 184-pounder Hunter Feraco (Gull Lake HS, Battle Creek, Mich.) pinned Loras' Tiegen Podliska and Nykaza followed with his win. Loras pick up a win at 285 to make the final 22-13.
Viking 125-pounder Jacob Scholten (Rockford HS, Grandville, Mich.) improved to 16-4 on the year, winning a 14-2 major decision over Andrew Hoerth. Sophomore Greg Gogonas (Bowie HS, Austin, Texas) and junior Alberto Quiros (Morton HS, Cicero, Ill.) followed with wins at 133 and 141, respectively. Gogonas scored a 10-5 win over the Duhawks' Nate Fuller to improve to 11-8 this season and Quiros ran his record to 16-5 with a 7-2 win over Matt Holmes.
The Duhawks picked up wins at 149 and 157 before freshman 165-pounder Jordan Graham (Big Rapids HS, Fremont, Mich.) got Augustana back on track with a 6-4 decision over Mike Calafiore. It was Graham's 13 win against just five losses this season.
After a Duhawk win at 174 narrowed the margin to 13-10, Feraco scored his fall to run his record to 13-7 and Nykaza followed with his meet-clinching win to improve to 8-3 on the year.
Augustana improves to 4-1 this year in dual meet competition.
AUGUSTANA vs. LORAS
December 17, 2010
Dubuque, Iowa
FINAL SCORE: AUGUSTANA 22, LORAS 13
125 - Jacob Scholten (AUG) beat Andrew Hoerth (LOR) 14-2
133 - Greg Gogonas (AUG) beat Nate Fuller (LOR) 10-5
141 - Alberto Quiros (AUG) beat Matt Holmes (LOR) 7-2
149 - Joe Wood (LOR) beat Steve Poffenberger (AUG) 6-3
157 - Erik Hanson (LOR) beat Justin Hoffman (AUG) 15-7
165 - Jordan Graham (AUG) beat Mike Calafiore (LOR) 6-4
174 - Stephan Birt (LOR) beat Alex Vavra (AUG) 7-5
184 - Hunter Feraco (AUG) pinned Tiegen Podliska (LOR) @ 6:47
197 - Matt Nykaza (AUG) beat Jake Hertel (LOR) 10-3
285 - Jeremy Klein (LOR) beat Tim Day (AUG) 7-2