Bringing Handel's musical religion experience home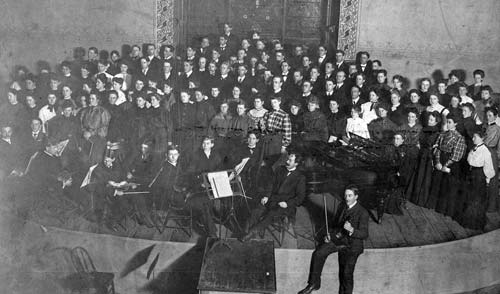 The first concert of the Handel Oratorio Society takes place during Holy Week, April 11, 1881. (Augustana Special Collections)
Oratorio Society began
with a concert in London
On an early April evening in 1879, Augustana professor of theology Olof Olsson heard a concert in London of Handel's Messiah that rocked his soul and profoundly influenced the direction of music at Augustana and its community.
"At times I was so carried away that I was hardly aware of myself," Olsson wrote of his experience. "When the whole choir and orchestra came to the chorus, 'He shall be called Wonderful, Counselor, God' it penetrated marrow and bone and I feared I could not overcome the trembling I experienced.… Here the Christian hope has found its most glorious musical expression."
Professor Olsson, who had been on leave leave from his position at Augustana Theological Seminary when he heard the London concert, determined to develop this transformative musical and religious experience at his small college.
Back in Rock Island in the summer of 1880, he rallied friends and acquaintances and "without much fuss the Handel Society was organized." The group consisted of students and choirs in Moline, Rock Island, and Andover, Illinois. Their first concert was presented in Moline on April 11, 1881, as part of the celebration of Holy Week, almost two years after that momentous concert in London. (See the program from this performance: front view and back view.)
In 1898, the group was renamed the "Handel Oratorio Society" and nearly every year since, the society, made up of college and community musicians, has performed Handel's Messiah as well as other oratorios.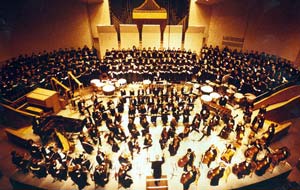 The Oratorio Society's 100th anniversary performance of "The Celestial Sphere" in 1981.(Augustana Special Collections)
The Handel Oratorio Society is one of the reasons that Augustana College has built strong cultural ties with the Quad Cities. In 1906, on the occasion of the 25th anniversary concert of the Society, the Observer reported, "An appreciative audience which taxed the chapel to its utmost… was not disappointed. The members of the chorus… sang as they had never sung before."
To celebrate its 100th anniversary, the society commissioned Charles Wuorinen's "The Celestial Sphere," which premiered April 25th, 1981, at Augustana College.