December 17, 2010
2010 Season - Taylor Moesle named first team All-American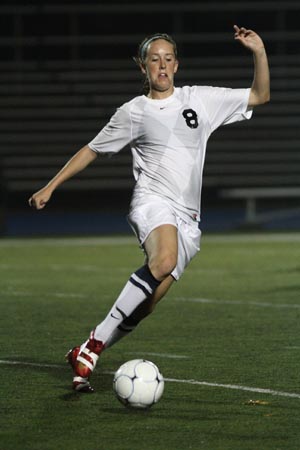 Sophomore Taylor Moesle was named first team NCAA Division III All-American by the National Soccer Coaches Association of America, it was announced today. Moesle scored 12 goals and had four assists for the 13-2-5 Vikings.
Augustana sophomore midfielder Taylor Moesle (Carl Sandburg HS, Orland Park, Ill.) has been named to the NCAA Division III All-American team in women's soccer, it was announced today. Moesle was a first team selection on the elite squad, which was picked by the National Soccer Coaches Association of America (NSCAA).
Moesle led the Vikings with 12 goals and tied for the team lead with four assists for a team-best 28 points—the ninth best single-season total in school history. Through two seasons, her 21 career goals already rank 10th in school history. She had four game-winning goals this season and converted on both of her penalty kick attempts.
She was a first team all-Central Region pick by the NSCAA and was also a first team all-conference selection in the College Conference of Illinois & Wisconsin. Moesle was the "Player of the Week" once as a freshman in 2009 and once again this season. She was selected as the Vikings' Most Valuable Offensive Player at the conclusion of the 2010 campaign.
Moesle helped lead Augustana to a 13-2-5 overall record and a 4-1-2 mark in the CCIW, good for a third place finish in the league standings. The Vikings have participated in the NCAA Division III playoffs each of the two years that Moesle has been at Augustana and during that time frame; Augustana has compiled an overall record of 33-4-6 and is 11-1-2 in conference play.
A year ago, as a freshman, she scored nine goals and had five assists. Her selection to the NSCAA All-American team marks the second consecutive season that an Augustana player, under the direction of head coach Scott Mejia, has been awarded All-American honors. Last year Kayla Radloff (West Chicago HS, West Chicago, Ill.) was named to the third team by the NSCAA.
Moesle is the daughter of Michael and Lynn Moesle of Orland Park, Illinois and she is an elementary education major.