Five Questions for: Carla Tracy
December  17, 2010
1) How is the collection-centered, bigger-is-better view of the college library changing?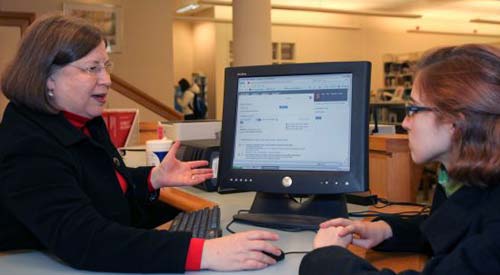 Carla Tracy talks with student Annie Tunnicliff in the library. (Augustana Photo Bureau/Maren Mathisen)

"The role of research libraries — such as the University of Illinois libraries — is to retain the record of human knowledge, while the purpose of an undergraduate library is to support the curriculum of the college it serves. For at least the last 50 years, however, college library directors — as well as college faculty, deans, presidents and national library organizations — have proudly pointed to volume counts as evidence of library quality.
"Recently, digitization, lack of space and the economics of higher education have forced college librarians to re-examine the "university library syndrome" of the collection-centered, undergraduate library. We're beginning to ask ourselves if using valuable square footage to display books — especially the 20 to 25 percent of our collection that has never been checked out — is wise resource management.
"For those of us who love books, it's hard to accept that books and print journals are no longer scarce but are, indeed, almost too plentiful. There is no real need for numerous college libraries to keep copies of the same low-use volumes. This is especially true in geographical areas like Illinois, where we benefit from strong library consortia, resource sharing and agreements to preserve last copies."
2) Are fewer students using the library since the beginning of this electronic revolution?
Not at all! In fact, the trend at Augustana and most other academic libraries is exactly the opposite. Our library's per FTE (full-time students) usage rate has increased by 30 percent during the very years of this electronic revolution. It's good to keep in mind as well that the use of library materials has also increased dramatically. Online resources of all kinds are used far, far more than print materials ever were.
3) How do you feel about the idea of a combined center for library/dining/student services at Augustana?
I'm very excited about the idea, and I'm grateful to President Bahls and the cabinet members who brought me in on the planning from the beginning. Done well, the combined center could transform student life at Augustana. Contrary to what one might think, it will provide more varied student study spaces, since the dining area and the multi-purpose rooms will be available many hours of every day. The library will be able to design better quiet study areas, and I believe that the louder, social kinds of learning will naturally relocate away from the quiet areas.
4) How has your job changed in the last five years?
In some respects, my job as library director has remained the same. Although the specifics change, the oversight of staffing issues, team-building, budget, student needs — that all remains essentially the same. Of course, some of those details — such as frozen positions, the trend away from the "university library syndrome" and the lightning speed of change in technologies — are pretty significant! Also, my participation in the early planning of a possible combined library/dining/student services center has brought me into very "big-picture" issues at Augustana.
5) What do you like to do outside of the office?
My favorite activities for relaxation are reading, seeing films and going to the theatre. I have to admit that with family and professional obligations, I haven't had time for much else in recent years. I hope to get back to regular walks, baking and crewel embroidery — all things I used to enjoy!
Five Questions is a series of profiles of people at Augustana College. Carla Tracy, director of the Thomas Tredway Library, gives the answers today. If you know someone you'd like to see profiled, send his or her name and a note to sharenews@augustana.edu.