Ponto bringing a love of the harp to Augustana
December  16, 2010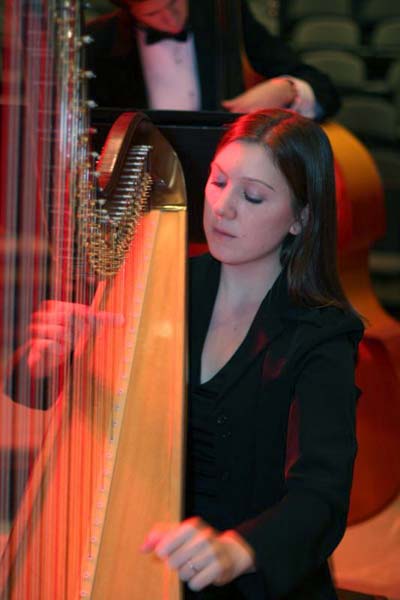 Erin Ponto at the recent Celebration of Christmas concert in Centennial Hall. (Augustana Photo Bureau/Maren Mathisen)
Studio will offer new major
and new works to perform
The addition of Harp Studio next fall will give music students the opportunity to major or minor in harp and provide Augustana musicians the chance to widen their repertoire.
In addition to majors and minors, Harp Studio will be available to students who simply want to try it for a term to see what it's all about.
Erin Ponto, who has performed many times with Augustana's musical ensembles, will lead the new Harp Studio. "It gives the next generation of music educators the chance to learn all about the harp so they can better serve harpists down the road in their classes, school orchestras and beyond," she said.
She has a master's degree from Northwestern University, and extensive solo, chamber, and orchestral performance experience. In addition to teaching and performance, she is a composer and transcriber for harp, and evaluates instruments for the world-renowned Lyon & Healy harp factory in Chicago.
"I'm excited because the foundation of a great program already exists," she said. "Augustana boasts an orchestra, symphonic band and concert band, in addition to a choral program, that all perform at high levels and a program repertoire that calls for harp. There's already an active chamber music scene and music education program. My students will be able to get involved immediately and contribute to all of these programs."
Ponto said she's looking forward to working with undergraduates because it's an exciting time in their lives. When they enroll, they are accomplished musicians already and bring diverse experience, she pointed out. Her goal is to help them listen critically, form their own musical ideas and build their technique to execute them.
"Harpists in the 21st century must be versatile, flexible and able to play in an enormous range of styles," she said. "After four years, my students will have tackled repertoire ranging from early music to new music in ensemble and solo settings and, having gone through the process of tackling unfamiliar music, they will have learned how to be their own teacher after they graduate."
An early love for harp
Ponto fell in love with the harp a long time ago.
"I have perfect pitch, so when my brother would take piano lessons, I would listen from the other room. When he was finished, I would pick out his pieces by ear," she said. "When I was 8 and it was time to choose an instrument, my aunt showed me an old Lyon & Healy lever harp she had played when she was in school. With the simple instruction that the red strings are Cs and the black strings are Fs, I was able to find my way around the instrument.
"By the end of the afternoon, I was taking requests from family members. I was delighted by the harp from day one. I loved the immediacy of the sound when a string was plucked, the logic of the string layout, the vibrating soundboard and the close connection it offered without any hammers, valves or mechanisms standing between the player and the music itself. It's one of the few instruments that is a great solo instrument, but also is at home in the orchestra and in diverse chamber ensembles."
Ponto said being a performer helps make her a better teacher, because "each area informs the other."
She called her work at Lyon & Healy as a harpist's "dream" job. She evaluates hundreds of new and rebuilt harps each year, partially by playing on them. She said a great harp is one that mechanically flawless and built to precise specifications, but also a beautifully crafted work of art.
"Great musicianship can be approached in the same way. As a performer, you need great technique and strong mechanics, but also passion, and that extra spark of artistry," she said. "My goal is to find that magic intersection where a harpist pushes a harp to its limit, and the harp pushes the harpist right back to perform at the very highest level."