December 16, 2010
2010 Season - 2010 FOOTBALL REVIEW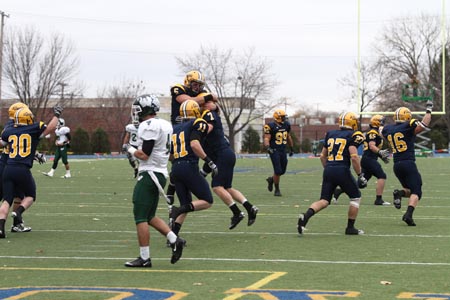 The Vikings celebrate after season ending victory over Illinois Wesleyan. Augustana finished the year with a 6-4 overall mark.
Vikings finish 6-4, tied for third place in the CCIW; John Mago earns first team Academic All-America honor
Led by junior quarterback David Lee (Springfield HS, Springfield, Ill.) on offense and All-conference linebacker John Mago (Cary-Grove HS, Cary, Ill.) on defense, the Augustana Vikings wrapped up the 2010 season with a 6-4 record and a third place tie in the College Conference of Illinois & Wisconsin with a 4-3 mark in the league. It was a season notable for Lee's continued assault on the school's record book as well as the post-season resignation of 11-year head coach Jim Barnes.
Coming into the season, big things were expected of Lee, who broke three of Ken Anderson's school records as a sophomore. He didn't disappoint, surpassing three more of Anderson's marks as well as breaking two and tying one of his own. Senior wide receiver Corbett Ball (Buffalo Grove HS, Arlington Heights, Ill.) also enjoyed a record-setting season and Mago was a demon on the other side of the ball, recording 114 tackles on the year. Mago also added to the Augustana legacy in terms of producing Academic All-Americans as he was named to the first team of the ESPN Academic All-American team, which is selected by the College Sports Information Directors of America (CoSIDA).
The Vikings opened with a road date against a Greenville College team that would go on to win the Upper Midwest Athletic Conference championship. Due to a scheduling conflict the game was played at Edwardsville (Ill.) High School. Lee and junior wide receiver Zach McCullough (St. Charles North HS, St. Charles, Ill.) got the season started with a bang, hooking up on a 52-yard touchdown bomb on the Vikings' first offensive play of the season. The two connected on an 80-yard scoring strike later in the game and Augustana cruised to a 28-7 win.
Augustana dropped its home opener 28-23 to seventh-ranked Central of Iowa, but bounced back with a 21-7 win at Adrian. The Viking defense, led by CCIW Defensive Player of the Week Curt Perschnick (Dwight HS, Dwight, Ill.), held the Bulldogs to -4 yards rushing and forced three turnovers.
The conference season opened with a 28-24 come-from-behind win at Millikin. Lee guided the Vikings on a game-winning 78-yard drive, capping it off with a six-yard touchdown pass to tight end Keith Abbey (Rich East HS, Park Forest, Ill.) with 1:00 left on the clock.
The Vikings put together a solid second-half performance, but were unable to come back from a 20-0 halftime deficit, falling to seventh-ranked and eventual CCIW champion North Central by a score of 34-14. The 14 points were the most surrendered by the stout Cardinal defense during the regular season. Mago recorded 14 tackles.
The team improved to 5-2 on the year by winning its fourth and fifth consecutive road games at Carthage and North Park. In the Carthage contest, Lee eclipsed his own school record for passing yards in a game with 429 and the Vikings piled up a season-high 605 total yards in a 43-16 win. Against North Park, the defense carried the day, limiting the home team to just 154 total yards and forcing three turnovers. After battling injuries early in the year, senior running back Robert Wood (Rockford Boylan HS, Loves Park, Ill.) rushed for 111 yards and two touchdowns in the 21-0 win.
At 3-1 in the CCIW, the Vikings had an opportunity to tie Wheaton for second in the conference when they hosted the Thunder on October 30. Augustana outgained the 17th-ranked visitors by a 430-to-249 margin, but couldn't overcome four turnovers, falling 20-14. Lee guided the Vikings on a 74-yard, 16-play drive which reached the Thunder two-yard line with less than a minute to play, but they were unable to punch in the winning touchdown. Mago was in on a season-high 16 tackles.
Lee and Ball each had record-setting days at Elmhurst the following week, but Augustana dropped its first road game of the year 35-21. Ball tied Paul Ander's single-game school record with 12 receptions and passed him as the school's single-season reception leader as well. Lee passed Anderson's single-season marks for both passing yards and total offense in the game. All four of those records had stood for 42 years.
With a winning record and a share of third place on the line in the season finale, Augustana got its first win of the year at Ericson Field, coming from behind to defeat Illinois Wesleyan 20-17. Wood rushed for a career-high 181 yards on 30 carries and Lee capped off the game-winning drive with a one-yard touchdown run with 30 seconds left.
Lee finished the season with a 61.5% completion percentage and 18 touchdowns against nine interceptions. He was a second team All-CCIW pick after leading the loop with an average of 272.7 yards of total offense per game. In addition to his 429 passing yards at Carthage, his list of records this season includes 28 pass completions against both Central and Carthage—tying his own record set last year against North Central—as well as single-season standards for passing completions (195), attempts (317) and yards (2,411). In addition, he set a new school record with 2,655 yards of total offense.
Anderson (1967-70) still holds career marks with 6,131 passing yards, 827 pass attempts, 424 completions, 48 touchdown passes and 6,679 yards of total offense. However, with one season left, Lee is within striking distance of all five of those. His career numbers now stand at 350 completions in 557 attempts (62.8%), 4,141 passing yards, 28 passing touchdowns and 4,705 yards of total offense.
Ball, a first team All-CCIW performer, set a single-season school record with 60 pass receptions, eclipsing the 50 recorded by Ander in 1968. He led the CCIW with 47 receptions in seven games and finished eighth on Augustana's career receptions list with 74. Senior Kyle Hundman's (Bloomington Central Catholic HS, Bloomington, Ill.) 37 catches this season rank seventh on Augustana's single-season receptions list. McCullough, Lee's most effective downfield target, caught 29 passes for 668 yards (23.0 yards per reception) and a team-high seven touchdowns. Abbey hauled in 18 passes for 223 yards (12.3 per catch) and five touchdowns.
Wood led the Vikings in rushing this season, finishing with 698 yards and seven touchdowns on 154 carries—an average of 4.5 yards a carry. He finished third in the CCIW with an average of 90.4 rushing yards per game. Lee was next with 244 net yards and five touchdowns on 83 attempts. Freshman Alex Hembrey (Cary-Grove HS, Cary, Ill.) and sophomore Nate Pena (Neuqua Valley HS, Naperville, Ill.) ran effectively early in the year before suffering season-ending injuries. Hembrey ran for 158 yards and a 5.4-yard average. Pena played in only two games, rushing for 96 yards and two touchdowns, averaging 6.4 yards per tote.
Clearing the way for the offense was a line that included senior All-CCIW selections Mark Constantine (Waubonsie Valley HS, Naperville, Ill.) and Andrew Hansen (Downers Grove South HS, Downers Grove, Ill.). Constantine was a first team pick while Hansen made the second team.
John Mago, an ESPN CoSIDA first team Academic All-American, was the leader of Augustana's defensive unit all season. He finished with 114 total tackles and led the team by wide margins in both solo stops (54) and assists (60). 11 of his tackles came behind the line of scrimmage, including three quarterback sacks. Perschnick had an outstanding season also, with 58 total tackles, including 11 for loss and five sacks. He led the team with three fumble recoveries as well. Both Mago and Perschnick were first team All-CCIW selections. Sophomore linebacker Joe Weber (Marmion Academy, South Elgin, Ill.) was just behind Perschnick in total tackles with 56 and led the team with 16 tackles for loss and 10 sacks.
In the defensive backfield, juniors Glawe and Danny Hess (Naperville North HS, Naperville, Ill.) were the leading tacklers with 49 and 48, respectively. Hall's four interceptions led the team, one ahead of sophomore Rob Mago (Cary- Grove HS, Cary, Ill.).
Barnes stepped down after compiling a 79-34 (.699) record in 11 seasons at his alma mater. His 56-21 mark in CCIW play puts him 10th in conference history in wins and his .727 winning percentage in league play is the sixth highest all-time for those who coached at least five seasons. He ranks second on Augustana's all-time wins list—trailing only Bob Reade's 146—and third in winning percentage behind Reade (.867) and Tom Schmulbach (.723). His teams won CCIW titles in 2001, 2005 and 2006 and reached the NCAA Division III playoffs in 2001 and 2005, advancing to the second round each time. Barnes' players excelled both on the field and in the classroom. He coached a total of 20 All-Americans and nine ESPN CoSIDA Academic All-America honorees at Augustana.
In 2011, the Vikings will be led by Rob Cushman, the team's defensive coordinator for the past three seasons. Cushman's units have ranked in the CCIW's top three in total defense all three years, including leading the league in 2008. That season the Vikings also ranked seventh in the nation in points allowed at 13.4 per game. Augustana has allowed just 102.9 rushing yards per game and 3.1 yards per carry during Cushman's three seasons.
Cushman has had previous head coaching stints at Eastern Oregon University and Feather River College in Quincy, California. In 2002, he was selected to start Feather River's fledgling program and immediately made winners of the Golden Eagles. His teams had winning records and reached bowl games in every one of his five seasons there.
2010 AUGUSTANA FOOTBALL SUPERLATIVES
INDIVIDUAL AWARD WINNERS
WILLIAM V. CAMPBELL TROPHY SEMIFINALST – Robert Wood, RB (One of 27 in all NCAA and NAIA divisions).
2009 TAZON de ESTRELLAS (Bowl of the Stars) TEAM STARS & STRIPES: John Mago, LB; Curt Perschnick, DE; Andrew Hansen, OT
D3FOOTBALL.COM ALL NORTH REGION – John Mago, LB, second team
CCIW ALL-CONFERENCE SELECTIONS – First team: John Mago, LB; Curt Perschnick, DE; Corbett Ball, WR; Mark Constantine, OL…Second team: David Lee, QB; Andrew Hansen, OL
CCIW PLAYERS OF THE WEEK – 9/20/10 – Curt Perschnick, DE vs. Adrian; 10/18/10 – David Lee, QB vs. Carthage; 11/15/10 – Robert Wood, RB vs. Illinois Wesleyan.
CoSIDA ACADEMIC ALL-AMERICA – John Mago, LB, first team
CoSIDA ACADEMIC ALL-DISTRICT – John Mago, LB, first team
CCIW JACK SWARTZ AWARD – John Mago
CCIW ACADEMIC ALL-CONFERENCE – Brock Alekna, Michael Anderson, Ben Carter, Eric Chandler, John Draminiski, Ray Fiedler, Ben Hall, Brandon Holl, Kyle Hundman, Michael Kautz, David Lee, Jack Madden, John Mago, Zach McCullough, Mitch Mcgilliard, Andrew O'Reilly, Nate Pena, Josh Spindler, Jason Wagner, Erik Westerberg, Cody Wickenhauser, Robert Wood
SCHOOL RECORDS
INDIVIDUAL SINGLE GAME PASS COMPLETIONS – 28, David Lee vs. Central, 9/11/10; David Lee vs. Carthage, 10/16/10 (Ties record of 28 by David Lee vs. North Central, 11/7/09)
INDIVIDUAL SINGLE GAME PASSING YARDS – 429, David Lee vs. Carthage, 10/16/10 (Breaks previous record of 422 by David Lee vs. Millikin, 11/14/09)
INDIVIDUAL SINGLE GAME PASS RECEPTIONS – 12, Corbett Ball vs. Elmhurst, 11/6/10 (Ties record of 12 by Paul Ander vs. Luther 09/14/68)
INDIVIDUAL SINGLE GAME INTERCEPTIONS – 3, Ben Hall vs. Central, 9/11/10 (Ties record of 3 on 11 previous occasions)
INDIVIDUAL SINGLE SEASON PASS ATTEMPTS – 317, David Lee (Breaks previous record of 239 by Ken Anderson in 1968)
INDIVIDUAL SINGLE SEASON PASS COMPLETIONS – 195, David Lee (Breaks previous record of 152 by David Lee in 2009)
INDIVIDUAL SINGLE SEASON PASSING YARDS – 2,411, David Lee (Breaks previous record of 2,117 by Ken Anderson in 1968)
INDIVIDUAL SINGLE SEASON TOTAL OFFENSE – 2,665, David Lee (Breaks previous record of 2,328 by Ken Anderson in 1968)
INDIVIDUAL SINGLE SEASON PASS RECEPTIONS – 60, Corbett Ball (Breaks previous record of 50 by Paul Ander in 1968)
TEAM SINGLE GAME PASSING YARDS – 450 vs. Carthage, 10/16/10 (Breaks previous record of 445 vs. Millikin, 11/14/09)
TEAM SINGLE SEASON PASSING YARDS – 2,446 (Breaks previous record of 2,239 in 1968)
ADDITIONS TO AUGUSTANA'S TOP TEN LISTS
SINGLE SEASON PASSING YARDS – 2,411 (David Lee – 1st place)
SINGLE SEASON PASS RECEPTIONS – 60 (Corbett Ball – 1st place)...37 (Kyle Hundman – 7th place)
CAREER PASSING YARDS – 4,141 (David Lee – 2nd place)
CAREER PASS RECEPTIONS – 74 (Corbett Ball – 8th place)
NCAA STATISTICAL RANKINGS – TOP 25
TOTAL OFFENSE – 25th, David Lee @ 265.5 ypg (2,655 yards in 10 games)
CCIW STATISTICAL LEADERS – TEAM
FEWEST SACKS ALLOWED – 1st @ 1.14 per game (8 sacks in 7 games)
CCIW STATISTICAL TOP TEN RANKINGS – INDIVIDUAL
RUSHING – 3rd, Robert Wood @ 90.4 ypg (633 yards in 7 games)
PASSING YARDS/GAME – 2nd, David Lee @ 239.3 ypg (1,675 yards in 7 games)
TOTAL OFFENSE – 1st, David Lee @ 272.7 ypg (1,909 yards in 7 games)...9th, Robert Wood @ 90.4 ypg (633 yards in 7 games)
RECEPTIONS/GAME – 1st, Corbett Ball @ 6.71 per game (47 receptions in 7 games)...8th-T, Kyle Hundman @ 4.17 per game (25 receptions in 6 games)
RECEIVING YARDS/GAME – 2nd, Corbett Ball @ 70.0 ypg (490 yards in 7 games)...5th, Zach McCullough @ 61.7 ypg (432 yards in 7 games)...9th, Kyle Hundman @ 42.8 ypg (257 yards in 6 games)
ALL PURPOSE YARDS – 9th, Robert Wood @ 99.0 ypg (693 yards in 7 games)
INTERCEPTIONS – 6th, Rob Mago @ 0.50 per game (3 interceptions in 6 games)
PASS EFFICIENCY – 3rd, David Lee @ 131.4 efficiency rating
PUNTING – 7th, Alex Schroeder @ 33.9 ypp (1,084 yards on 32 punts)
SCORING – 6th, Robert Wood @ 6.0 ppg (42 points in 7 games)
SCORING TD'S – 4th-T, Robert Wood @ 6.0 ppg (7 TD's in 7 games)...6th-T, David Lee @ 4.3 ppg (5 TD's 7 games)
KICKING SCORING – 6th, Arnie Fitzwater @ 3.3 ppg (20-23 PAT's & 1-3 FG's in 7 games)
FIELD GOALS – 7th, Arnie Fitzwater @ 0.14 fgpg (1-3 in 7 games)
PAT KICKING PCT. – 1st, Arnie Fitzwater @ .870 (20-23)
TACKLES – 2nd, John Mago @ 10.3 tpg (72 tackles in 7 games)
SACKS – 7th, Curt Perschnick @ 0.50 spg (3½ sacks in 7 games)
TACKLES FOR LOSS – 7th, Curt Perschnick @ 0.86 tflpg (6 tackles for loss in 7 games)
TEAM AWARDS
MOST VALUABLE OFFENSIVE PLAYER – David Lee
MOST VALUABLE DEFENSIVE PLAYER – Johnny Mago
MOST VALUABLE SPECIAL TEAMS PLAYER – Alex Hembry
JERRY FRECK AWARD – Brandon Holl
MOST VALUABLE FIRST YEAR DEFENSIVE PLAYER – Erik Westerberg
MOST VALUABLE FIRST YEAR OFFENSIVE PLAYER – Nick Krantz
SCOUT TEAM OFFENSIVE MVP – Kyle Gipson
SCOUT TEAM DEFENSIVE MVP – Erik Hansen