December 15, 2010
2010-11 Season - Vikings ride three-point shooting to 7-0 start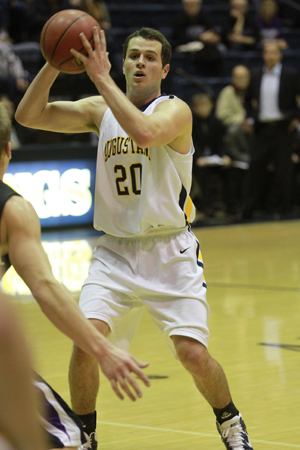 Brian DeSimone had career-highs of 21 points and nine rebounds Wednesday to lead Augustana to a 70-64 win over Wisconsin-Whitewater. The Vikings improved to 7-0 on the season.
ROCK ISLAND, Ill. - For the second time in a week, Brian DeSimone (Buffalo Grove HS, Wheeling, Ill.) set a career high in scoring, going for 21 points Wednesday night to lead Augustana to a 70-64 win over Wisconsin-Whitewater at Carver Center. The 10th-ranked Vikings improve to 7-0 on the year while the Warhawks drop to 4-4.
Chris Anderson (West Carroll HS, Mt. Carroll, Ill.) scored five of the team's first six points and DeSimone added a pair of three-pointers as Augustana rode red-hot shooting to a double-digit lead just 5:10 into the game. A four-point play by Bryant Voiles (Byron HS, Byron, Ill.) with 12:20 left in the half pushed the lead to 21-8 and it reached its biggest at 33-16 on a George Dexter (Bettendorf HS, Bettendorf, Iowa) jump hook with 6:13 left.
Whitewater cut the margin to 36-26 at the break as guard Antone Byrd accounted for half the Warhawks points in the opening 20 minutes. Chris Davis, Whitewater's leading scorer coming in, got a couple of buckets late in the period to finish with six points. He was the only Whitewater starter other than Byrd to score in the first half. DeSimone drilled four of seven three-point attempts and had 14 points at intermission.
Four points by Kyle Nelson (Deerfield HS, Deerfield, Ill.) and another DeSimone bucket pushed the lead back to 14 two and a half minutes into the second half, but the Warhawks wouldn't go away. The lead bounced between seven and 12 points until a three from Anderson looked to give the Vikings some breathing room at 58-45 with 6:19 to go.
However, Whitewater responded with an 8-0 run, cutting the lead to 58-53 on two Byrd free throws with 3:57 left. Two free throws by Alex Edmonds made in 60-55 at the 3:23 mark. However, that would be as close as the Warhawks would get as DeSimone answered with his fifth three-pointer of the night and Drew Croegaert (Geneseo HS, Geneseo, Ill.) converted three free throws in the final 1:02 and the Vikings held on for the win.
In addition to tying Byrd for game-high honors with 21 points, DeSimone grabbed a team-high nine rebounds, dished out three assists and came up with three steals. Three other Vikings joined him in double figures as Nelson contributed 15 and Anderson and Voiles each had 11. Augustana hit 10 of 21 three-pointers in the game with DeSimone connecting on five of 12 and Anderson and Voiles each hitting two of four. Davis finished with 14 points and 14 rebounds for the Warhawks. The Vikings were outrebounded for the first time this season as Whitewater had a 32-29 edge on the glass.
After three straight home games, Augustana will play its final four non-conference games on the road. First up is a trip to Jacksonville, Illinois on Monday, December 20 for a date with the MacMurray Highlanders. Tip-off is schedule for 6:00 p.m.