December 14, 2010
2010-11 Season - Three game winning streak snapped at Aurora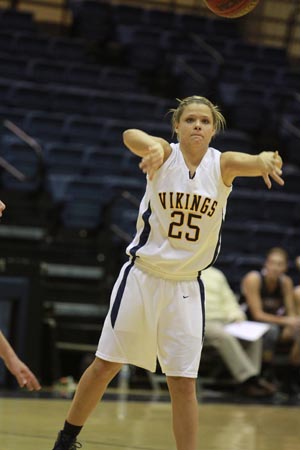 Kristen Fox scored 11 points and hauled in a team high 13 rebounds in the Vikings' 68-65 loss at Aurora on Tuesday, December 14.
AURORA, Ill. – The Augustana women's basketball team saw its three game winning streak come to an end with a narrow 68-65 loss at Aurora on Tuesday, December 14. After a low scoring first half, the Vikings fell in a 14 point hole early in the second stanza, but rallied back to make it an exciting game down the stretch before falling just short.
There were four lead changes and two ties in the opening minutes of the game, but the Spartans edged in front 11-10 on a three point basket at the 11:57 mark and led the rest of the way in the first half. Augustana fell behind by as many as seven on three different occasions, but closed the half on a 7-2 spurt to cut the gap to 26-24 at intermission.
Trailing 24-17, freshman Molly Etheridge (Normal Community HS, Bloomington, Ill.) hit a jumper to start the rally. She scored again just over a minute later and ended up scoring eight of her team-high 13 points in the first half of play. Senior Kristen Fox (Ottawa HS, Ottawa, Ill.) contributed a basket to pull the Blue & Gold within one before junior Whitney Miller (Clinton HS, Clinton, Ill.) added a late free throw after an Aurora bucket to account for the halftime margin.
Augustana was unable to get going early in the second half, as the Spartans used a 17-5 run to grab a commanding 43-29 advantage at the 15:51 mark. Sophomore Kristin Warnken (Centaurus HS, Erie, Colo.) jumpstarted the Vikings with a three point field goal, tallying the first points in a 14-3 run that would see the Blue & Gold close to within three points at 46-43 with just under 12 minutes left to play.
Warnken and Miller did most of the damage during the rally, with Warnken knocking down a pair of three pointers and Miller contributing a bucket and a pair of made free throws. Etheridge and freshman Jessica Baids (West Chicago HS, Carol Stream, Ill.) also scored for the Vikings.
An old fashioned three point play from Miller with 9:49 to play finally leveled the score at 50-50, and Augustana took its first lead since 10-8 when junior Natalie Runge (St. Dominic HS, O'Fallon, Mo.) converted a free throw to make it 51-50.
Fox later drilled a three point shot and Runge finished off a three point play of her own to help the Vikings hold onto a slim lead in the late stages of the contest. Runge gave Augustana its biggest lead of the night at 57-54, but Aurora scored the next nine points to go in front 63-54 with 5:07 to play and did not relinquish the lead for the remainder of the contest.
The Vikings trimmed the deficit to one at three different times in the final two minutes and still had a chance to send the game to overtime until a three point attempt with four seconds left to play was off target and the Spartans escaped with a three point win.
Augustana received a balanced scoring effort with four players finishing in double figures. Etheridge was joined by Miller (12 points), Fox (11 points), and Warnken (10 points). Runge was not far behind with nine points of her own. Fox led a strong rebounding performance for the Blue & Gold with 13 boards, helping Augustana finish with a 54-46 advantage on the glass.
The Vikings return home with a 3-6 mark to face Knox on Friday, December 17. Augustana will also travel to Cornell on Saturday, December 18.