December 13, 2010
2010 Season - Jungnickel, Loncar, Williams win awards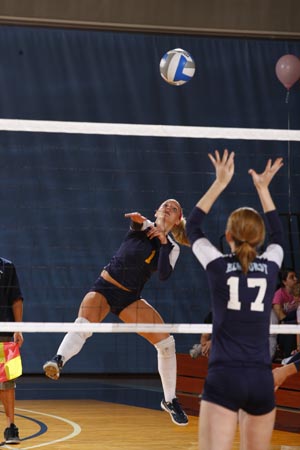 Senior Courtney Jungnickel won the Most Valuable Player award for the Augustana volleyball team for the second consecutive season. She ended her career as the school record holder in service aces and is second on the career list in both kills and digs.
Senior outside hitter Courtney Jungnickel (Naperville Central HS, Naperville, Ill.) was named the Most Valuable Player on the Augustana volleyball team for the 2010 season, it was announced today. Sophomore Sarah Williams (Rockford Lutheran HS, Rockford, Ill.) won the Most Improved Player honor and senior Jenna Loncar (Marist HS, Chicago, Ill.) was picked at the winner of the Augie Award for spirit and dedication.
Jungnickel won the MVP award for the second consecutive season. She wrapped up a tremendous career at Augustana as the school record holder in service aces with 215 and she finished second the career lists for both kills (1,442) and digs (1,57). This past season she recorded the seventh-highest kills-per-game average in school history at 3.25 and her average of 0.50 aces per game tied her for third best in one season.
Jungnickel was the winner of the Jack Swartz Award in the College Conference of Illinois & Wisconsin for the second consecutive year. She was a four time all-conference selection in CCIW as an outside hitter. This year she was a first team selection after earning honorable mention recognition as a freshman and sophomore and second team as a junior. She led the Vikings in kills (377) and service aces (58) while ranking second in digs (417).
The daughter of Eric and the late Elaine Jungnickel of Naperville, Illinois, she is a two time Most Valuable Player as voted by her teammates. She was named to at total of nine all-tournament teams during her career and in 2009 she led the CCIW in both kills and digs. A former CCIW "Player of the Week", she was the winner of Augustana's Best Offensive Player as a freshman in 2007. She has been named to the academic all-conference team all four years during her career at Augustana.
Williams was a non-letter winner as a freshman and she came on this season as a sophomore to play in 87 games and average 0.77 kills per game. She hit at a .157 clip with 67 kills and 31 errors in 230 total attempts. She led the team in blocks per game with an average of 0.52 (45 total blocks in 87 games). She is the daughter of Patrick Williams of Garden Prairie, Illinois and Lynn Williams of Loves Park, Illinois and is majoring in Communicative Sciences Disorders.
Loncar, a four year letter winner, battled through injuries during her senior season and played in 92 games with an average of 1.00 kills (92 in 92 games) per game. She had 26 total blocks with 43 digs and 21 setting assists. The daughter of Mark and Michele Loncar of Chicago, she also served as team captain. She is a biology/pre-physical therapy major.
Augustana, under the direction of first year head coach Jamie Walters, finished the season with an overall record of 12-19 and finished fourth in the CCIW with a 4-3 mark. The Vikings were 1-8 after the first nine matches before recovering to go 11-11 over the rest of the campaign.
2010 AUGUSTANA VOLLEYBALL LETTERWINNERS
| | | | | | |
| --- | --- | --- | --- | --- | --- |
| NO | NAME | POS | HT | YR | HOMETOWN (HIGH SCHOOL) |
| 1 | Courtney Jungnickel**** (C) | OH | 5-8 | Sr | Naperville, Ill./Central |
| 3 | Michelle Egan* | DS | 5-4 | Fr | Orland Park, Ill./Carl Sandburg |
| 4 | Brianna Skeens** (C) | MB | 5-10 | Jr | Libertyville, Ill./Vernon Hills |
| 5 | Katie Chojnacki* | OH | 5-9 | Fr | Arvada, Colo./West |
| 7 | Stephanie Huber* | OH | 5-9 | Fr | Sycamore, Ill./HS |
| 8 | Anna Rusch* | MH | 5-11 | Fr | Davenport, Iowa/Central |
| 9 | Bre Mast* | RS | 5-7 | Fr | Villa Park, Ill./Willowbrook |
| 11 | Kelsey Mikula** | S | 5-6 | So | Coal City, Ill./HS |
| 13 | Kristen Yerkes* | OH | 5-11 | Fr | Palos Heights, Ill./Marist |
| 14 | Sarah Martin* | DS | 5-5 | Fr | Streator, Ill./Woodland |
| 17 | Shannon Slick** | DS | 5-5 | So | Roscoe, Ill./Rockton Hononegah |
| 18 | Paige Buchanan* | OH | 5-9 | Fr | Omaha, Neb./Millard North |
| 20 | Sarah Williams* | MB | 5-9 | So | Rockford, Ill./Lutheran |
| 21 | Hannah Reidenbach* | OH | 5-9 | Fr | Caledonia, Ill./Rockford Lutheran |
| 22 | Jenna Loncar**** (C) | RS | 5-9 | Sr | Chicago, Ill./Marist |
| 23 | Morgan Stittleburg* | MH | 5-11 | Fr | Black River Falls, Wis./HS |
| 25 | Katrina Colclasure* | S | 5-5 | Fr | Bloomington, Ill./Tri-Valley |
| 27 | Casey Komel** | MB | 5-8 | So | Elburn, Ill./Kaneland |