December 12, 2010
2010-11 Season - Vikings finish fourth at North Central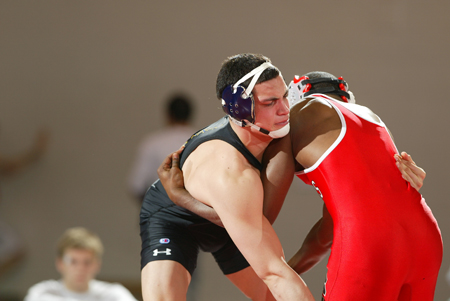 Alex Vavra was a second-place finisher at 174 pounds Saturday at the North Central Invitational. Augustana finished fourth in the ten-team field.
NAPERVILLE, Illinois - Augustana freshman Jacob Scholten (Rockford HS, Grandville, Mich.) captured a championship at 125 pounds to lead the Vikings to a fourth-place finish at the North Central College Wrestling Invitational Saturday. Sophomore Alex Vavra (Gull Lake HS, Dowling, Mich.) was a second-place finisher at 174 pounds. Concordia-Moorhead won five weight classes to finish first in the 10-team field, edging out second-place Olivet by a point and a half.
After receiving a first-round bye, third-seeded Scholten pinned Justin Fleeson of Olivet and scored a 12-2 decision over second-seeded Josh Boyer of Wabash to advance to the championship. There, he defeated top seed Mack Drees of Wisconsin-Platteville 3-1, running his season record to 14-4.
Vavra dropped a tough 6-4 decision in the 174-pound title match to top-seeded Ross Dankers of Concordia-Moorhead. Seeded third, Vavra received a bye in the first round, then defeated Maranatha Baptist's Russell Townsend 12-0. He followed that up by pinning sixth-seed Zach Elder of Simpson in 1:26 and taking a 9-4 decision in the semifinals against Olivet's Trevor Tyler, the second seed. Vavra is now 16-4 for the season and leads Augustana in wins.
Other place winners for the Vikings included junior Albert Quiros (Morton HS, Cicero, Ill.), freshman Jordan Graham (Big Rapids HS, Fremont, Mich.) and senior Matt Nykaza (Brother Rice HS, Oak Lawn, Ill.) who captured third place finishes at 141, 165 and 197, respectively. Augustana also got fourth-place finishes from Greg Gogonas (Bowie HS, Austin, Tex.) at 133 and Tim Day (Wheaton Warrenville South HS, Wheaton, Ill.) at heavyweight.
Quiros pinned UW-Platteville's Michael Ferris in his first match and then took a 9-2 decision from fifth-seeded Kyle LeDuc of Concordia-Moorhead. Top-seed Vince Tucker of Olivet was Quiros' opponents in the semifinals and Tucker came away a 5-3 winner. Quiros then scored wins over seventh-seed Spencer Peterson of UW-Platteville (15-6) and LeDuc again (4-1) to take third place. He's now 14-5 on the year.
Graham got a bye in the first round then scored wins over North Central's Andrew Hiller (7-4) and fourth-seeded Jonathan Sesso of Wheaton (2-0). He fell 10-6 to top-seeded Jake Moore of Wabash in the semifinals, but bounced back with a 7-0 pasting of UW-Platteville's Jon Quamme and a 3-0 defeat of Sesso again in the third-place match to improve to 11-5 on the year.
Fourth-seeded Justin Leonard of Olivet defeated Nykaza 7-1 in the first round. After advancing on a forfeit over Simpson's Jared Bevins, Nykaza defeated teammate Matt Regnier 2-0 and Andrew Peterson of Concordia-Moorhead 4-2 to set up a rematch with Leonard. Nykaza responded with an 8-0 win in that bout, then defeated second-seed Dylan McBride of Wabash 6-3 in the third-place match. Nykaza is now 6-3 this season.
Day, wrestling for the first time since high school, recorded a pin of Platteville's Andy Nilssen in the second round. He then dropped a 7-4 decision to second-seeded Patrick Clegg of Wabash, but came back with a pin of Wheaton's Jason Geick and a 5-4 victory over Concordia-Moorhead's Mark Wychor. He beat Knox's James Wagner 6-0 to reach the third place match where he dropped a 9-4 decision in a rematch with Clegg.
After a bye, Gogonas advanced to the semifinals by defeating North Central's Thomas Ambrose 9-4. He dropped a 5-4 decision to top-seeded Nathan Fitzenreider of North Central in the semis and came back to beat Olivet's Justin Holm 11-5 before falling in the third-place match to second-seed Adam Wilson of Olivet.
Concordia-Moorhead finished with 145.5 points to 144 for second-place Olivet. Wabash was third with 119 and Augustana fourth with 106.5. The hosts finished fifth with 105 points. UW-Platteville, Simpson, Knox, Wheaton and Maranatha Baptist finished sixth through tenth, respectively.
The Viking wrestlers are next in action with dual meets on the road at Knox on December 15 and Loras on December 17. Starting times for both are 7:00 p.m.