December 12, 2010
2010 Season - Three Vikings named NSCAA All-Region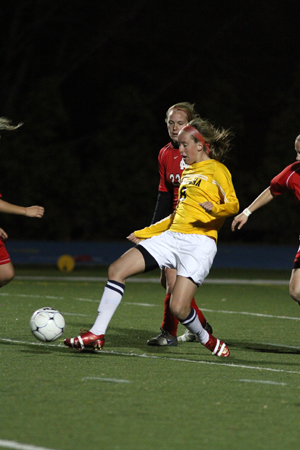 Sophomore midfielder Taylor Moesle was one of three Vikings, along Megan Mummert and Kayla Radloff, named to the NSCAA All-Central Region team this week.
ROCK ISLAND, Ill. - Coming off a 13-2-5 season and a second consecutive NCAA tournament appearance, the Augustana women's soccer team had three members named to the National Soccer Coaches Association of America/Performance Subaru All-Central Region team this week. Sophomore midfielder Taylor Moesle (Sandburg HS, Oralnd Park, Ill.) and senior defender Megan Mummert (Crawfordsville HS, Crawfordsville, Ind.) were first team selections, while junior goalkeeper Kayla Radloff (West Chicago HS, West Chicago, Ill.) was named to the second team.
Moesle, Mummert and Radloff were all first team All-CCIW perfomers for coach Scott Mejia this season.
Moesle led the Vikings with 12 goals and tied for the team lead with four assists for a team-best 28 points-the ninth best single-season total in school history. Through two seasons, her 21 career goals already rank 10th in school history. Mummert and Radloff, meanwhile, anchored an Augustana defense that allowed just 11 goals and 73 shots on goal in 20 games this season. Radloff finished 13-2-5 with nine shutouts. She had a 0.56 goals against average and a save percentage of .845.