December 11, 2010
2010-11 Season - Vikings move to 6-0 with win over Buena Vista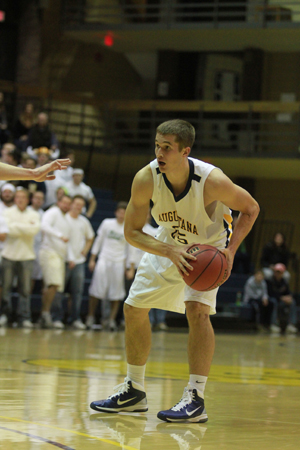 Chris Anderson led the Vikings with 20 points Saturday as Augustana improved to 6-0 with a 71-63 win over Buena Vista at Carver Center.
ROCK ISLAND, Ill. - Bryant Voiles' (Byron HS, Byron, Ill.) four-point play with 3:13 left gave Augustana a 59-57 lead and the Vikings went on to a 71-63 win over Buena Vista Saturday night at Carver Center. Voiles finished with 16 points and Chris Anderson (West Carroll HS, Mt. Carroll, Ill.) led the Vikings with 20 as they improve to 6-0 on the season.
The Vikings played from behind for much of the night, falling behind 15-5 before coming back to take a seven-point lead. However, the Beavers closed the half on a 12-4 run to lead 38-37 at the break. The second half followed much the same pattern, with Buena Vista jumping out to a 50-42 lead with less than 14 minutes remaining before Augustana rallied for the win.
After falling behind 15-5 five and a half minutes in, the Vikings responded with an 8-0 run to make it a two point game. They didn't take their first lead, however, until the second of back-to-back three's by Anderson put them up 21-20 with 8:28 left in the half. After the lead changed hands twice, Augustana went on a 10-2 run, keyed by a convention three-point play by Kameron Norton (Downers Grove North HS, Downers Grove, Ill.), to take a 33-26 lead. The Beavers' Wes Nordquist answered with seven points in Buena Vista's 12-4 spree to end the half.
The Beavers slowly built on their lead in the second half until Troy Ticknor's only three of the night gave BV a 50-42 lead at the 13:41 mark. After a Voiles three and a Trent Fisher bucket, the lead was seven with 12 minutes left. Augustana then held the Beavers scoreless for the next six minutes to take the lead 55-52. Buena Vista responded with five straight to points to re-take the lead and set up Voiles' big play.
Taking a feed from Brian DeSimone (Buffalo Grove HS, Wheeling, Ill.), Voiles buried the three-pointer from the left wing and was knocked to the floor by Fisher, who fouled out on the play. Voiles converted the free throw and the Vikings never trailed again, slowly building the lead to the final margin of 71-63. DeSimone hit four straight free throws in the final 48 seconds to help seal the win.
Anderson led the way with 20 points on seven-of-nine field goal shooting. He hit both of his three-point attempts and added five rebounds. Voiles scored 12 in the second half to finish with 16. After missing his first four attempts from long range, he hit his final three. Norton contributed a career-high 11 points in 21 minutes before fouling out. Kyle Nelson (Deerfield HS, Deerfield, Ill.) scored nine points and snared a game-high nine rebounds before also fouling out. For the second game in a row, DeSimone played 30 minutes without committing a turnover.
Buena Vista had four players in double figures led by Nordquist and Ticknor with a dozen each. Beaver big man Doug Bissen had 10 points and five rebounds, but fouled out in just 10 minutes of action.
Augustana's 6-0 start is it's first since the 2005-06 team won its first 10 games. Buena Vista falls to 3-6 on the year.
Wisconsin-Whitewater comes to Carver Center on Wednesday, December 15 for a 7:30 tip-off against the Vikings.