December 10, 2010
2010-11 Season - Greaves, Reppy each win twice against Loras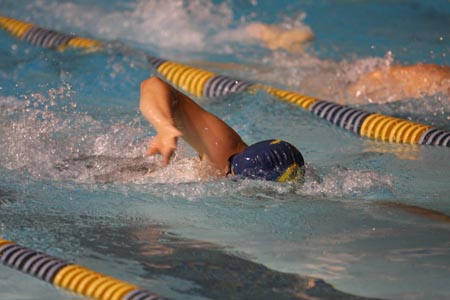 Sophomore Chris Greaves won the 200 freestyle and the 100 backstroke and also swam a leg on the winning 200 freestyle relay team in Augustana's loss to Loras on Friday night.
Sophomore Chris Greaves (Morris HS, Morris, Ill.) and freshman Justin Reppy (Oswego HS, Oswego, Ill.) both won two individual events and swam legs on the winning 200 freestyle relay in the Vikings 118-86 loss to Loras. It was the first defeat of the season for Augustana after a pair of victories.
Greaves claimed the 200 freestyle in 1:51.25 and took the 100 backstroke in :58.64. Reppy won the 100 butterfly (:56.50) and the 500 freestyle (5:09.71). Greaves and Reppy were joined in the 200 freestyle relay by junior Charlie Vogt (Oak Park-River Forest HS, Oak Park, Ill.) and freshman Daniel Hinck (Harlem HS, Loves Park, Ill.) to produce a winning time of 1:32.51 in the final event of the evening.
Hinck was second in the 50 freestyle (:23.12) and the 100 freestyle (:49.87). Junior Denny Wind (Downers Grove North HS, Downers Grove, Ill.) swam 11:43.54 to take second in the 1000 freestyle. Freshman Jasen Hengst (Bettendorf HS, Bettendorf, Iowa) placed second in the 100 breaststroke in 1:08.51 and third in the 200 individual medley in 2:15.99. Freshman Austin Zarbuck (Urbana HS, Urbana, Ill.) took second in the 500 freestyle (5:13.36) and third in both the 100 butterfly (:58.67) and 200 freestyle (1:53.64).