December 10, 2010
2010-11 Season - Despite six wins, women fall to Loras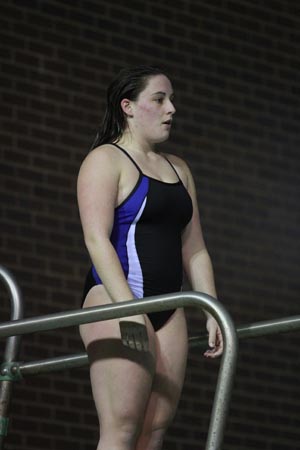 Freshman Helen Myers won the three meter diving event with 203.93 points and finished second off the one meter board in the loss to the DuHawks.
The Vikings won five of last seven events of the meet but the late push was not enough to overcome a big lead by the DuHawks and the Vikings fell 125-114. Freshman Hillary Ferguson (Waubonsie Valley HS, Naperville, Ill.) was a double winner in individual events and anchored the winning 200 freestyle relay. She won the 50 freestyle in :26.54 and took the 100 freestyle in :57.74. In the 50 freestyle sophomore teammate Alexandra Piper (Coal City HS, Coal City, Ill.) placed second in :26.65 and she was third in the 100 freestyle in :58.58.
Sophomore Molly Clennon (Benet Academy, Naperville, Ill.) won the 500 freestyle with a time of 5:41.51 and placed second in the 200 freestyle in 2:07.90. The 200 freestyle relay team closed out the meet by winning with a time of 1:47.04 and that unit consisted of Piper, Clennon, sophomore Mary Naughton (Fremont HS, Fremont, Neb.) and Ferguson. Naugton was also third in the 200 freestyle in 2:12.79.
Augustana went one-two in both diving events. Junior Tanya Walter (Prospect HS, Mt. Prospect, Ill.) won the one meter dive with a score of 177.08 with freshman Helen Myers (Pecatonica HS, Rock City, Ill.) taking second with 176.35 points. The duo reversed places in the three meter dive with Myers winning with 203.93 points and Walters taking second with 181.88.
Sophomore Emma Regnier (Grayslake North HS, Lake Villa, Ill.) finished second in the 100 breaststroke (1:14.74), third in the 1000 freestyle (12:19.77) and third in the 100 butterfly (1:06.57). Sophomore Emily Timmons (West Aurora HS, North Aurora, Ill.) took third in the 200 individual medley with a time of 2:28.91.
The 200 medley relay unit of Timmons, freshman Elizabeth O'Hara (Westosha Central HS, Salem, Wis.), Regnier and Piper finished second with a time of 2:02.91 in the opening event of the meet.