Alums rally Viking votes to win dream wedding
December  06, 2010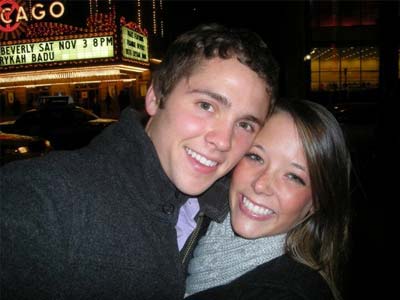 Jori Slack and Ryan Griffith submitted this photo with their winning entry.
Jori Slack and Ryan Griffith successfully rallied their Viking votes last week to help them win a $100,000 dream wedding.
Now these young alumni -- who have been engaged for less than two weeks -- have less than two weeks to get ready for their wedding. On Dec. 18, they will recite their vows in front of 125 guests at the Fairmont Chicago Millennium Park. The contest, sponsored by Chicago radio station 101.9 Mix, includes everything from wedding rings, gown and tux, to a lavish reception and a honeymoon in Quebec.
Jori '09 and Ryan '08, who now live in Evanston, met when she was a first-year student at Augustana. Jori is a native of Highland Park, Ill., and double-majored in communication studies and sociology. Ryan, originally from Dundee, Ill., majored in business administration with a concentration in finance and a minor in economics.
"I listen to the radio every morning and happened to stumble upon my two favorite radio show hosts, Eric and Kathy taking about this amazing contest," Jori said. "Right after I heard it I talked to my mom about it and emailed Ryan to see what he thought. Both agreed to go for it."
All they had to do was submit a statement of 25 words or less about why they should be chosen, and a photo. Nine hundred applications were submitted and from those the radio judges chose three finalists. Jori and Ryan made the cut. The public was allowed to vote on the three couples, beginning Thursday morning into Friday morning.
"On Thursday, Ryan and I contacted everyone we knew to vote for us!" Jori said. At Augustana, Jori was a member of Delta Chi Theta sorority and Ryan belonged to Delta Omega Nu.
"I know many, many Vikings had a hand in helping us win," Jori said. "Professors, our sorority and fraternity members, older alumni, as well many members around campus, including the desk attendant in Westerlin, Margee Strode Vandeveire."
"On Friday around 9:30 I got a call from the radio station and was told LIVE on the air that out of 100,000 votes, Ryan and I had received 56,000 and won the $100,000 dream wedding! (Listen to Jori get the news.)
"Immediately following the radio announcement, I began to get phone calls from the wedding planners to begin to set up our wedding. I was measured from my custom gown yesterday (Friday) and Ryan and I will meet with the DJ, florist, photographers, chefs and staff at the Fairmont Millennium Park on Monday to set all of the wedding details!"
Jori will blog about the wedding preparations for the radio station, and she and Ryan will be on the air periodically as well. Besides fitting in all the wedding-related tasks, Jori works with her family's non-profit, the Luster Learning Institute, in the Chicago public schools and Ryan is an analyst at Houlihan Capital.
"We love Augustana College and are happy and excited to share this news with the Augie family!" Jori said.