December 4, 2010
2010-11 Season - Reppy wins 1650 as Vikings take third at Grinnell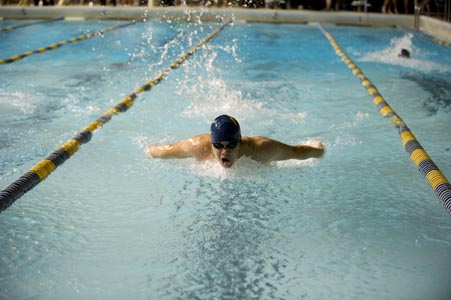 Sophomore Chris Greaves placed in five individual events and swam on five place-winning relay teams to help Augustana to a third place finish at the Grinnell Invitational on December 4.
Superb individual efforts from freshmen Justin Reppy (Oswego HS, Oswego, Ill.) and Daniel Hinck (Harlem HS, Loves Park, Ill.) helped pave the way to an impressive third place performance for the Augustana men's swimming team at the Grinnell Invitational on Saturday, December 4. The Vikings were in third place after the first day of competition and held that position throughout the grueling second day, finishing with 714.5 points.
Grinnell won the 11-team meet with 1,340 points while Loras was second with 823.5 and Augustana third with 714.5. Principia was a distant fourth with 441, followed by Ripon (410), Carroll 350), Coe (276), Beloit (265), Illinois College (171), Knox (150) and Luther (40).
The night before Reppy won the 500 freestyle with a time of 4:58.25. He added another individual title on Saturday when he took first in the 1,650 freestyle with a time of 17:29.01. He also placed second in the 200 butterfly (2:08.06) and third in the 100 butterfly (:55.97). For good measure he swam legs on three place winning relay teams and was sixth in the 100 freestyle in :51.08.
Hinck, who was second to Reppy in the 500 freestyle on Friday night, recorded second place finishes in both the 100 and 200 freestyles on Saturday. He went :49.52 in the 100 and 1:48.77 in the 200. He was also third in the 1,650 freestyle in 17:54.11. Like Reppy, Hinck also swam on three place winning relay teams on Saturday.
Sophomore Chris Greaves (Morris HS, Morris, Ill.) placed third in the 100 freestyle (:50.57), fourth in the 400 individual medley (4:39.80) and fifth in the 200 butterfly (2:10.07).
Freshman Austin Zarbruck (Urbana HS, Urbana, Ill.) grabbed sixth in the 1,650 in 18:26.07 and eighth in the 200 freestyle in 1:54.91.
The 200 medley relay team of Greaves, freshman Jasen Hengst (Bettendorf HS, Bettendorf, Iowa), Reppy and Hinck started off the Saturday morning session by placing sixth with a time of 1:46.38. In the 800 freestyle relay Greaves, Zarbuck, Reppy and Hinck combined to take third in 7:24.04. The 400 freestyle relay of Greaves, Zarbuck, Reppy and Hinck closed out the meet with a third place time of 3:22.57.