December 4, 2010
2010-11 Season - Vikings finish strong third at Grinnell Invitational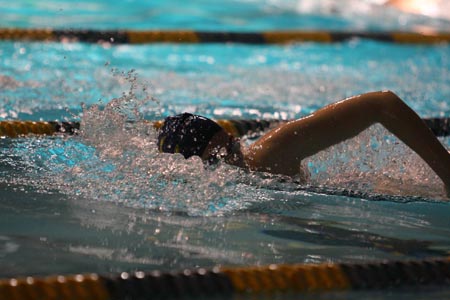 Sophomore Molly Clennon recorded the best individual finish for the Vikings at the Grinnell Invitational when she placed third in the 200 freestyle with a time of 2:05.18. Clennon was also seventh in the 500 freestyle and swam on all five place-winning relays for Augustana, which took third in the team standings.
After dropping into fourth place following the morning session, the Vikings rallied during the evening competition to finish third at the Grinnell Invitational on Saturday, December 4 in Grinnell, Iowa. Grinnell won the 11 team event with 1,202 points while Loras was second with 802 and Augustana took third by tallying 566, narrowly edging out fourth place Coe's total of 550.5. The rest of the field followed like this: Carroll (389), Beloit (352), Knox (338), Ripon (304), Principia (206), Illinois College (161) and Luther (120).
Augustana was in third place after Friday's session with 191 points but following the morning swims on Saturday, December 4, the Vikings had slipped to fourth with 426 points while Coe moved into third with 436.5. There were five events in the third and final session of the meet and head coach Scott Johannsen's crew managed fourth place finishes in three of those five and that proved to be the difference in overtaking the KoHawks.
Freshman Hillary Ferguson (Waubonsie Valley HS, Naperville, Ill.) placed fourth in the 100 freestyle with a time of :57.56. Sophomore Emma Regnier (Grayslake North HS, Lake Villa, Ill.) took fourth in the 200 butterfly in 2:31.93. Both of those finishes were worth 19 points apiece. The 200 freestyle relay team of sophomore Molly Clennon (Benet Academy, Naperville, Ill.), Regnier, junior Alissa Giedd (Freeport HS, Cedarville, Ill.) and Ferguson swam to a fourth place time of 3:59.01. That accounted for 38 points and was enough to hold off Coe, which had placed third in the same event and tallied 40 points.
Clennon turned in the top individual finish of both the day and the meet for the Vikings as she took third in the 200 freestyle with a time of 2:05.18. Sophomore Emily Timmons (West Aurora HS, North Aurora, Ill.) placed fourth in the 400 individual medley when she recorded a time of 5:10.95. Freshman Elizabeth O'Hara (Westosha Central HS, Salem, Wis.) was eighth in the same event in 5:30.44. O'Hara also took eighth in the 100 breaststroke in 1:16.40.
Regnier placed fifth in the 100 breaststroke (1:15.39) and eighth in the 100 butterfly (1:06.67). The 200 medley relay team of Regnier, Clennon, Timmons and Ferguson began the Saturday portion of the two day meet with a sixth place finish in a time of 2:03.13. The 800 freestyle relay unit of Giedd, Ferguson, Regnier and Clennon added seventh place points with a time of 8:5.48.