December 3, 2010
2010-11 Season - Women are third after first day at Grinnell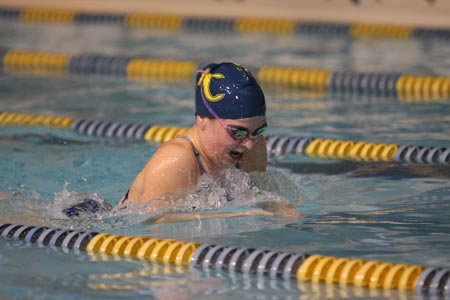 Sophomore Emily Timmons placed eighth in the 200 individual medley and swam the lead-off leg on the sixth place 400 medley relay team on Friday, December 3 at the Grinnell, Invitational. She helped Augustana to a third place point total of 191 after the first day of competition.
A third place 200 freestyle relay finish in the opening event of the 2010 Grinnell Invitational and four top-eight finishes in individual events proved to be the catalyst for the Augustana Vikings on the first day. Head coach Scott Johannsen's team scored 191 points and is in third place in the 11 team meet following six events on Friday, December 3 in Grinnell, Iowa.
Host Grinnell leads with 315 points while Loras is in second with 210.5 while Augustana's third place point total of 191 is just 1.5 ahead of fourth place Coe's total of 189.5. Carroll (112), Knox (106), Beloit 101), Ripon (96), Principia (75), Luther (61) and Illinois College (52) round out the field.
The biggest point event for the Vikings came in the first swim of the night when the quartet of junior Alissa Giedd (Freeport HS, Cedarville, Ill.), sophomore Alexandra Piper (Coal City HS, Coal City, Ill.), sophomore Molly Clennon (Benet Academy, Naperville, Ill.) and freshman Hillary Ferguson (Waubonsie Valley HS, Naperville, Ill.) placed third with a time of 1:46.40.
Ferguson also grabbed fifth in the 50 freestyle with a time of :26.17 and Clennon was seventh in the 500 freestyle in 5:43.38. Sophomore Emma Regnier (Grayslake North HS, Lake Villa, Ill.) took seventh in the 200 individual medley (2:26.51) and sophomore Emily Timmons (West Aurora HS, North Aurora, Ill.) was eighth in the same event (2:26.78).
The 400 medley relay unit of Timmons, Clennon, Regnier and Ferguson finished sixth with a 4:31.94 clocking.