Siblings go from Augustana into medical careers
Augustana balance, connections help them achieve goals
December  02, 2010
When he graduated last month, Scott Broski became the third person in his family to earn an Augustana degree and head into a career in medicine.
His sister, Lt. Sarah Broski Gendernalik '03, is a flight surgeon at the Naval Air Station at Whidbey Island, Wash. His brother, Stephen Broski '05, is a resident in radiology at the Mayo School of Graduate Medical Education in Rochester, Minn.
Scott is exploring graduate programs in parasitology. He plans to enroll next fall at the University of Illinois College of Veterinary Medicine.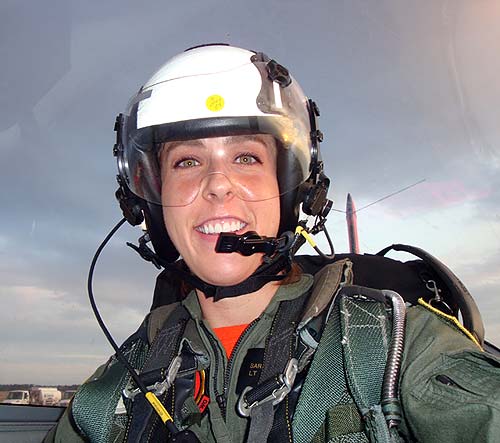 Lt. Sarah Broski Gendernalik '03 in the back of an EA-18G Growler.
Making connections
The story of how the three siblings from Rockford, Ill., came to share a college and a career interest is all about Augustana connections.
On Sept. 12, 2001, Sarah was standing in an airport in Japan on her way back from an Augustana term in Asia. She was used to seeing members of the military in airport terminals but on this day she found herself paying closer attention. It was the day after the 9/11 terrorist attacks and she can still remember the somber looks on their faces.

Back at Augustana, she met Erickson Hall resident assistant Jamie Ecklund, who told her about the Navy scholarship she had just accepted. Sarah decided to take a look at the Navy herself. She found the financial benefits -- and a medical career that offered the promise of something different and adventurous -- too good to pass up.
("She's the princess of the family, so it was a big surprise to all of us when Sarah told us she was joining the Navy," says Scott.)
At her graduation reception, Sarah had introduced her little brother, then-high school sophomore Scott, to one of her Augustana professors and mentors: Dr. Darrin Good. Dr. Good kept in touch with Scott as he finished high school and then chose to enroll at Augustana. Today, Scott refers to Dr. Good as the greatest influence his growth as a student.
After graduating from Augustana, Sarah enrolled in the Chicago College of Osteopathic Medicine at Midwestern University, completed a residency and internship and went to officer candidate training. Now a doctor of osteopathic medicine, Lt. Sarah Broski Gendernalik is again a "Viking": She is assigned to the Navy's principal Electronic Warfare training squadron, the VAQ-129 Vikings. She counts eight aircraft carrier landings and eight catapult shots in Navy fighter jets among her greatest life experiences.
She calls Augustana biology professor Dr. Robert Tallitsch her greatest influence. "To this day, Bob is still an incredible mentor," she says.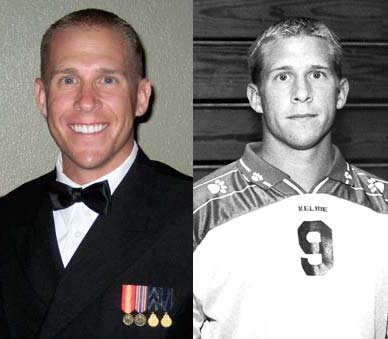 Lt. Cmdr Michael Krzyzaniak '01 -- then and now. A soccer co-captain, he was named to the GTE Academic All-District Team in 2000.
Sharing mentors
Another future Navy physician, Lt. Cmdr Michael Krzyzaniak '01, is not a Broski but he shares a connection via Dr. Tallitsch.
"Bob is a great mentor and a great friend," he says. "I think I really benefitted from his connection to the latest trends and research findings and his knowledge of state-of-the-art clinical practices. But I think his greatest strength is that as a teacher he is committed bringing out the best in his students. Bob taught me how to think on my feet. That helped me a lot as a junior officer in the Navy."
A former co-captain of the Augustana men's soccer team, Lt. Cmdr. Krzyzaniak attended medical school at the University of Wisconsin. Currently, he is involved in a research project for the Navy at the University of California at San Diego. He is a native of Greenfield, Wis.

His first major overseas experience came when he was assigned as the base medical officer with the 4th Marine Regiment in Okinawa, Japan. He remembers being at first stunned and later awed by the decisiveness of the officers. One of the first lessons he learned was about priorities. "The base commander told me something very important during our first meeting. He let me know in no uncertain terms that he expected me to be an officer first and a physician second," he says.

After his tour on Okinawa, he was transferred to San Diego as a general surgeon. The facility is a primary receiving center for wounded service members returning from Iraq and Afghanistan. Lt. Cmdr. Krzyzaniak believes the experience transformed him. "These soldiers, sailors and Marines are amazing. They arrive with the most grievous wounds, but with their spirit remains unbroken. From a clinical standpoint, this hospital is one of the last places you can train as a true general surgeon," he says.
The value of balance
Lt. Gendernalik and Lt. Cmdr. Krzyzaniak believe their ability to strike a balance between a pre-professional concentration and the more expansive liberal arts and sciences curriculum at Augustana made their experience memorable

"Even though I was a pre-med major, some of my favorite classes were my liberal arts classes," Lt. Gendernalik says. "I had a philosophy class with Dr. David Hill that was one of coolest classes I have ever taken."

Lt. Cmdr. Krzyzaniak agrees. "My education at Augie was outstanding. I don't think I would have been as happy anywhere else. I think Augie offers something for everyone -- fantastic arts programs and competitive sports, and obviously great professors."