DeSimone accepts position at Kalamazoo
December  01, 2010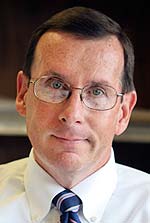 Albert J. DeSimone
Albert J. DeSimone, vice president of leadership gifts at Augustana College, has accepted a new position as vice president for college advancement at Kalamazoo College in Kalamazoo, Mich. He will lead the college's fund-raising, alumni relations and communications offices beginning Jan. 3, 2011.
"All of us at Augustana owe a debt of gratitude to Al DeSimone for building up Augustana's legacy of strong financial support from the alumni and friends of the college," said Augustana President Steve Bahls. "His leadership has allowed us to cultivate the margin of excellence that places Augustana squarely among America's leading liberal arts colleges."
DeSimone's responsibilities will include overseeing annual gift giving and directing Kalamazoo's comprehensive campaign initiative begun last spring. In his role as vice president for development at Augustana from 1993 to 2008, he led two highly successful comprehensive campaigns that raised more than $207 million and significantly increased unrestricted giving to Augustana. Since then, he has served as vice president of leadership gifts, focusing on securing major gifts related to the college's strategic goals, such as renovating Augustana's signature building, Old Main.
"When Al DeSimone came to Augustana, the upper Middle West was emerging from a difficult decade, one marked by a slump in American agriculture," said Dr. Thomas Tredway, Augustana's president at that time. "Yet he led a successful effort to raise nearly $90 million -- much of it used for the construction of the Olin Building and the Hanson Hall of Science and for the college endowment. He also effectively participated in the senior administrative planning group -- always reflecting his own deep commitment to Augustana's work as a church-related college of the liberal arts."
Although his teams' success in fund-raising has led to major campus growth, DeSimone said it's the relationships he's made that define his 17 years at Augustana.
"Augustana provided me with a number of meaningful opportunities, none more important though, than the chance to build relationships with wonderful people who share a passion for the college's continued advancement," DeSimone said. "I will miss the day-to-day interaction with these valued colleagues, faculty, trustees, alumni and other friends. These people define Augustana and make it the distinctive college it is today."

A native of Chicago, DeSimone earned a bachelor of arts from Elmhurst College in 1977. Prior to coming to Augustana, he served in a variety of development roles at the Illinois Institute of Technology in Chicago. He currently serves as a board member for Bethany for Children & Families and volunteers with the Isabel Bloom Art Education Fund, Bi-State Tennis Association and the Moline Rotary Scholarship Committee.
DeSimone and his wife, Lynne, have two sons, ages 21 and 18. Adam is a junior at Augustana, and David is a senior at Bettendorf High School. David recently narrowed his college choice to two schools: Augustana and Kalamazoo.