November 29, 2010
2010-11 Season - Kyle Nelson named CCIW "Player of the Week"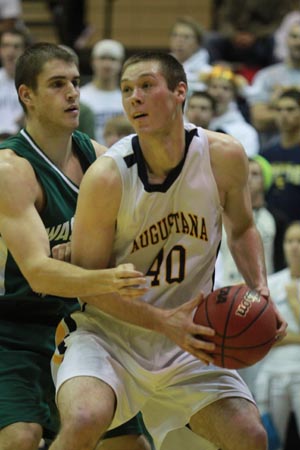 Senior Kyle Nelson was selected as the CCIW's "Player of the Week" for his effort in the Vikings' wins over 20th ranked Washington and number 14 Anderson. Nelson averaged 22.5 points and nine rebounds in the two victories.
Senior Kyle Nelson (Deerfield HS, Deerfield, Ill.) turned in a pair of outstanding performances last week against top 20 opponents and was rewarded for his effort. Nelson, a 6' 9", 230 pound forward, was selected as the "Player of the Week" in the College Conference of Illinois & Wisconsin.

He started his week by scoring 18 points while shooting seven of 10 from the floor and four of five from the free throw line in a 78-55 win over 20th ranked Washington on Monday, November 22. He had three assists, two steals and 11 rebounds (five offensive) in the win over the Bears. He finished his week with a monster game in a 74-69 win over 14th ranked Anderson on Saturday, November 27. Nelson scored 27 points on 11 of 13 from the floor and five of six from the free throw line. He grabbed seven rebounds and had two steals and an assist.
For the week his stat line was quite impressive. He scored 45 points (22.5 ppg) and shot .783 (18-23) from the floor and .818 (9-11) from the free throw line. He grabbed a total of 18 rebounds, including eight on the offensive end, and had four assists and four steals while logging a total of 59 minutes.
Nelson is averaging 22.3 points (67 points in three games) for the Vikings this year and he is shooting .765 (26-34) from the floor and .882 (15-17) from the free throw line. He is averaging 8.0 rebounds (24 in three games) and has five assists and six steals.
Augustana is currently 3-0 on the season and the Vikings were 24th in the NCAA Division III national rankings before the season started. Augustana will be in action again on Wednesday, December 1 at Monmouth.
Nelson, a math and finance major, is the son of Barry and Jeanne Nelson of Deerfield, Illinois.