Swedish singer thrilled to return for Messiah
November  29, 2010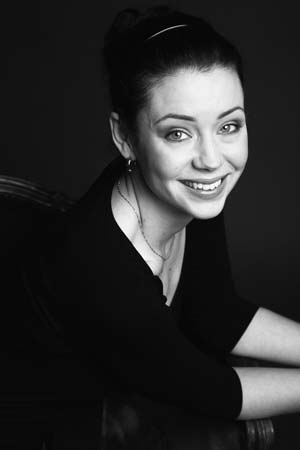 Swedish mezzo soprano Astrid Robillard will be one of four internationally acclaimed soloists in the Handel Oratorio Society's 130th performance of Messiah on Dec. 11-12 at Augustana's Centennial Hall.
Last summer campus Chaplain Richard Priggie had the pleasure of hearing one of this year's Messiah soloists -- Swedish mezzo soprano Astrid Robillard -- and he sums up her performance in one word: magical.
A graduate of the University College of Opera in Stockholm, Robillard recently made history as the first mezzo soprano to earn the prestigious Jenny Lind Scholarship, which has been awarded to leading soprano vocalists for the past 44 years. Scholarship winners are chosen by the Royal Swedish Academy of Music and the People's Parks and Community Center in Stockholm.
Handel's Messiah
8 p.m., Dec. 11-12
Centennial Hall
Tickets: $20 and $16 for the public; $18 and $14 for seniors; $10 for full-time students, faculty and staff
Order online or call (309) 794-7306 (toll-free at 800-798-8100, ext. 7306)
Thanks to a grant from the Meredith Foundation, a limited number of free tickets are available to Quad City Area junior- and senior-high school students and their parents. Call (309) 794-7306 for details.
During her scholarship tour in America, Robillard visited Augustana to perform at a gathering of the Augustana Heritage Association. Priggie believes her Swedish heritage is a fitting celebration of Messiah's history at Augustana. "The college was founded by Swedish Lutherans so, in a sense, we've come full circle by featuring Ms. Robillard as our soloist this year," he said.
Robillard is one of four internationally acclaimed soloists in the Handel Oratorio Society's 130th performance of Messiah on Dec. 11-12 at Augustana's Centennial Hall. This special holiday tradition will feature the soloists, a full professional chamber orchestra and 250 singers from Augustana and the Quad-City community.
Robillard is excited about returning to Augustana, a visit sponsored by the Handel Oratorio Society and the local chapter of the American Scandinavian Association.
"When I was asked to come back to sing Messiah, I was very happy," she said. "It is truly a magnificent work and to be able to perform it in the States and in such a nice community and great concert hall is truly an honor. It's very special to me to have my first big solo performance in my second homeland."
She already has captivated audiences in Sweden. In 2008, Robillard sang in the world premiere of the Japanese composer Moto Osado's opera "Four Nights of Dream" at the Vadstena Academy. In 2009, she sang the role of Zulma in Rossini's "The Italian Girl in Algiers" at the Läckö Castle.
Joining Robillard in Messiah will be soprano Hana Park, a native of South Korea currently studying at the University of Cincinnati College-Conservatory of Music; tenor Eric Ashcraft from the Quad Cities; and baritone Jeffrey Ray of the Chicago area. Ray's performance of Messiah with the Handel Oratorio Society follows his previous performances of the work at Avery Fisher Hall with the National Chorale and at Carnegie Hall.
The Augustana Oratorio Society, later renamed the Handel Oratorio Society, was created in 1879 through the vision of one man, Augustana theology professor Olof Olsson. Olsson had seen Messiah performed in London earlier that year and immediately made plans to bring the work back to the Quad Cities. Although he faced some initial challenges, such as how to pay for musical scores to be sent from Europe, the choir's first performance of Messiah in April of 1881 was a success.
Since its start, the Handel Oratorio Society has more than tripled in size and currently performs with the professional Handel Oratorio Society Orchestra.
Dr. Jon Hurty, director of the Handel Oratorio Society, says the lasting appeal of Messiah is Handel's innovative storytelling. "It's a masterful combination of biblical texts and a magnificent reflection of these texts in the musical creativity and genius of George Frideric Handel that tells a story of the prophecy, birth, life, death and resurrection of the Messiah," he said.
For concert times, ticket pricing or to place an order, visit www.augustana.edu/tickets or call the Augustana Ticket Office at (309) 794-7306.
Sam Schlouch
Senior Communication Director
(309) 794-7833
samschlouch@augustana.edu