November 28, 2010
2010-11 Season - Vikings fall at Washington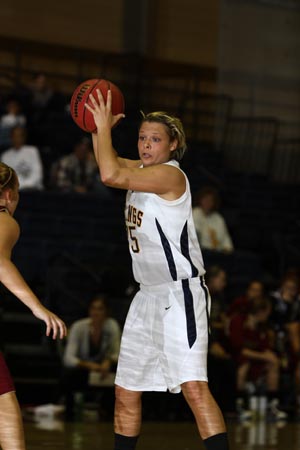 Kristen Fox scored 14 points as Augustana fell to Washington on Sunday, November 28.
After a tough loss to Webster on Saturday, the Augustana women's basketball team had to turn right back around and battle highly ranked Washington University in St. Louis, Missouri on Sunday, November 28. The Vikings put together a solid first half, but the Bears gradually pulled away in the second period for the lopsided victory, keeping the Blue & Gold winless so far this season.
Senior Kristen Fox (Ottawa HS, Ottawa, Ill.) gave Augustana its first lead of the day with a three point basket to put the Vikings ahead 9-6. She tallied 10 of her 14 points in the opening 20 minutes, keeping the Blue & Gold within striking range.
Junior Natalie Runge (St. Dominic HS, O'Fallon, Mo.) struggled after coming off a career performance, but still helped keep the Vikings in front in the early going. Her bucket at the 12:21 mark gave Augustana a 14-10 edge, a lead that was later equaled when freshman Jessica Baids (West Chicago HS, Carol Stream, Ill.) scored in the paint to make it 16-12 with just under 11 minutes left in the first half.
Augustana still clung to a one point lead until a Bear basket gave the home squad an 18-17 advantage at the 8:17 mark. The bucket started a 10-0 run that saw Washington University go from a three point deficit to a seven point lead. The first half advantage for the home team was as many as 10 points and the Vikings trailed 33-25 at intermission.
The lead was trimmed to six on a pair of occasions early in the second half with freshman Molly Etheridge (Normal Community HS, Bloomington, Ill.) scoring at the 17:36 mark to cut the gap to 37-31. Etheridge finished with 12 points off the bench in 26 minutes off action, providing a spark for the Viking attack.
Washington University pushed the lead back to double digits at 41-31 with 15:28 to play and started to pull away. A 15-3 spurt opened up a 55-34 advantage with 9:40 to play and the lead continued to grow during the remainder of the game, as cold shooting and a lack of rebounding hurt the Vikings in the second half.
Although Augustana struggled from the field, shooting just 30.4 percent for the contest, the team did a solid job of taking care of the ball, finishing with just 11 turnovers on the day. Washington University controlled the glass, finishing with a commanding 53-35 advantage on the boards, another key to the victory.
Runge led the squad with six rebounds while Miller contributed a team high three steals. Baids finished with eight points in 13 minutes of play as a reserve.

Story written by Assistant Sports Information Director Adam Strand