November 27, 2010
2010-11 Season - Vikings defeat 14th-ranked Anderson 74-69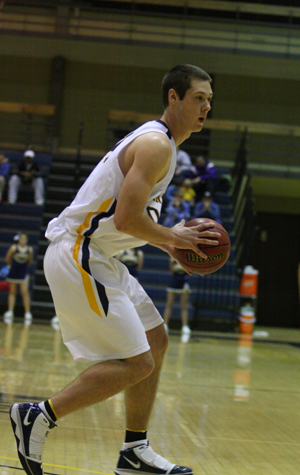 Kyle Nelson's game-high 27 points led the Vikings to a 74-69 win over 14th-ranked Anderson Saturday night at Carver Center.
ROCK ISLAND, Ill. - Augustana held Anderson scoreless for eight consecutive possessions down the stretch Saturday, outscoring the Ravens 8-2 over the final 2:48 to pull out a 74-69 win at Carver Center. In a nip-and-tuck contest that was rarely more than a one possession game in the second half, the Vikings defeated the nation's 14th-ranked team to move to 3-0 on the year.
Andrew Bowman's bucket with 3:02 remaining gave the Ravens a 67-66 lead, but Kyle Nelson (Deerfield HS, Deerfield, Ill.) answered with a field goal 14 second later to give the Vikings a lead they'd never relinquish. The score stayed 68-67 Augustana until Chris Anderson (West Carroll HS, Mt. Carroll, Ill.) went to the line for two free throws with 22 seconds left. Anderson converted the first before missing the second. However, Nelson grabbed the offensive rebound and was fouled by Anderson's Andrew Jones. Nelson made both free throws and when he knocked down two more with 13 seconds remaining, the Vikings had a 73-67 lead and a little breathing room.
The only other time Augustana had a lead as large as six points was in the game's first two minutes. Bryant Voiles (Byron HS, Byron, Ill.) knocked down three-pointers on the Vikings' first two possessions for a 6-0 lead. Bowman answered with a three for Anderson and the score bounced back and for the rest of the opening 20 minutes. The Ravens' biggest lead was six points on a Gabe Miller three with 1:52 left before halftime. However, Anderson responded with a three-pointer 20 seconds later and a Voiles put back just before the buzzer left Anderson with a 35-34 halftime edge.
Anderson went up by five with less than nine minutes left in the game. A Jarrin Forte trey and a conventional three-point play by Jones took the score from 54-53 Augustana to 59-54 Anderson. The Vikings came right back, though, with a hoop by Nelson and a Brian DeSimone (Buffalo Grove HS, Wheeling, Ill.) three-pointer to knot the score and set up the thrilling finish.
Nelson led the way again for Augustana. The 6-9 senior post player converted 11 of 13 field goal attempts and five of six at the free throw line for a game-high 27 points-one off his career high. He also led the Vikings with seven rebounds. Anderson added 15 points and four rebounds and Voiles finished with 12 points, six rebounds, four assists and three blocked shots. DeSimone had five points and five assists with just one turnover. Troy Rorer (Bettendorf HS, Bettendorf, Iowa) contributed seven points and five rebounds off the bench.
All five starters scored in double figures for Anderson, led by Bowman, who had 18 points, seven rebounds and three assists before fouling out with 1:19 left. The Ravens outshot Augustana from the field .500 to .466, but the Vikings made up for it with a 33-30 edge in rebounding and by committing just 13 turnovers to 18 for the visitors.
After back to back wins against nationally ranked teams, the 24th-rated Vikings hit the road for Monmouth, Illinois on Wednesday, December 1 for a game versus the Monmouth Fighting Scots. Tip-off is scheduled for 7:30 p.m.