November 24, 2010
2010-11 Season - Scholten upends ranked opponent against Rams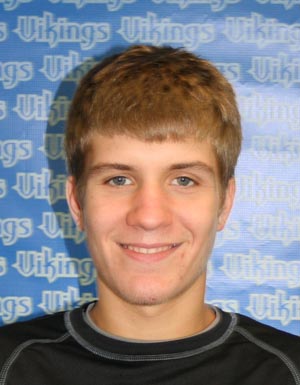 Freshman Jacob Scholten defeated seventh ranked Timothy Hood of Cornell 4-3 at 125 pounds on Tuesday, November 23 in a dual meet. The Rams prevailed, however, by a score of 35-6.
Freshman Jacob Scholten (Rockford HS, Grandville, Mich.) scored a huge victory but it was not enough as Augustana dropped a 35-6 decision to 10th ranked Cornell on Tuesday, November 23 in Mount Vernon, Iowa. Scholten was one of two Vikings' to post victories when he defeated seventh ranked Timothy Hood by a score of 4-3 at 125 pounds.
The other win for head coach Eric Juergens' team came at 174 pounds where sophomore Alex Vavra (Gull Lake HS, Dowling, Mich.) beat Derek Munsey by a score of 8-2.
Scholten moved his record to 9-4 on the young season with his win over Hood. Vavra is now 11-3 and leads the team in victories.
Junior Alberto Quiros (Morton HS, Cicero, Ill.) lost a tough 2-1 decision to sixth ranked Kevin Donahue at 141 pounds. Freshman Jordan Graham (Big Rapids HS, Fremont, Mich.) also wrestled a nationally ranked opponent and he fell to sixth rated Nicholas Loughlin 12-4. Senior Matt Nykaza (Brother Rice HS, Oak Lawn, Ill.) wrestled for the first time this season after battling an injury and he fell 5-2 to Robert Widmer at 197 pounds.
The Vikings will be idle until December 8 when they take on Simpson and Central of Iowa in dual meets in Galesburg, Illinois at Knox College. It was the first dual meet of the season for Augustana while Cornell moves to 4-0.
#10 Cornell 35, Augustana 6
Tuesday, Nov. 23
Small Multi-Sport Center
Mount Vernon, Iowa
Match results
125 – Jacob Scholten (Aug) dec. #7 Timothy Hood, 4-3.
133 – Tigue Snider (Cor) tech fall Greg Gogonas, 25-9 (6:18).
141 – #6 Kevin Donahue (Cor) dec. Alberto Quiros, 2-1.
149 – Jacob Schwebke (Cor) maj. dec. Tyler Hernandez, 11-0.
157 – #6 Nicholas Loughlin (Cor) maj. dec. Jordan Graham, 12-4.
165 – Joe Hambleton (Cor) maj. dec. Ian Knepshield, 13-0.
174 – Alex Vavra (Aug) dec. Derek Munsey, 8-2.
184 – Andrew Roberts (Cor) pinned Hunter Feraco, 5:46.
197 – Robert Widmer (Cor) dec. Matt Nykaza, 5-2.
285 – Wyatt Bauman (Cor) pinned Abe Duran, 2:16