November 22, 2010
2010-11 Season - First half run sparks 78-55 win over Washington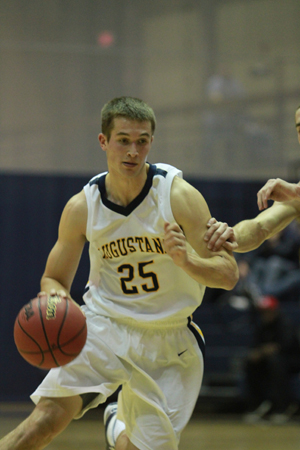 Chris Anderson scored a career-high 20 points in Augustana's 78-55 win over Washington University at Carver Center Monday night.
ROCK ISLAND, Ill. - A 25-7 run over the last seven and a half minutes of the first half spelled the difference Monday night as Augustana defeated Washington University by a score of 78-55 at Carver Center. Four Vikings reached double figures as 24th-ranked Augustana knocked off the 20th-ranked Bears.
A Caleb Knepper three-pointer with 7:45 left in the first half put the Bears up 20-17. However, Chris Anderson (West Carroll HS, Mount Carroll, Ill.) answered with a three of his own, sparking a 25-7 run over the final 7:27 of the half. The Vikings hit 10 of their last 14 field goal attempts in the opening stanza.
Back-to-back buckets by Kyle Nelson (Deerfield HS, Deerfield, Ill.) pushed the lead to 30-21 with four and a half minutes left in the half and it reached double digits for the first time (34-23) on a pair of Brandon Kunz (Lake Zurich HS, Lake Zurich, Ill.) free throws at the 2:37 mark. Anderson, Kunz and Nelson each had field goals in the last 2:07 to build the lead to 42-27 at the break.
The Vikings finished the half shooting .533 from the field and recorded assists on 12 of their 16 field goals. They also held a 22-10 edge in rebounding. Anderson scored 13 and Nelson 12 in the opening 20 minutes.
Although their shooting dropped off slightly in the second half, the Vikings' defense and control of the backboards never allowed Washington to make a serious run. A Max Needle three with 10:13 left cut the lead to 11, but that was as close as the Bears would get, as once again it was Anderson answering with a three to make it 58-44. From there, the lead grew steadily until Eric Safranski's (Putnam County HS, Mark, Ill.) three-pointer with 1:16 left made the final 78-55.
The Bears parlayed some early Augustana turnovers into a 15-9 lead seven minutes into the contest.
Anderson's career-high 20 points led the Vikings and he added three rebounds and two spectacular blocked shots. Nelson chipped in with a double-double of 18 points and 11 rebounds as well as three assists without a turnover. Other standouts for Augustana included Kunz, who finished with eight points, eight rebounds and two assists in 25 minutes, Bryant Voiles (Byron HS, Byron, Ill.), who had 10 points, three rebounds, a team-high five assists and two blocks and Brian DeSimone (Buffalo Grove HS, Wheeling, Ill.), who finished with 11 points, four assists and two steals.
The Vikings converted 27 of 56 field goal attempts (.482) in the game and were outstanding from the free throw line for the second consecutive game, knocking down 17 of 18. They also held a huge edge in rebounding for the second time in as many outings with a 42-26 margin. The defense was solid as well, holding the Bears to a .380 mark from the field (19-50).
Augustana continues its extremely challenging non-conference schedule on Saturday, November 27 when they take on the 14th-ranked Anderson Ravens at 7:30 p.m. at Carver Center.