November 22, 2010
2010 Season - Mago named Academic All-American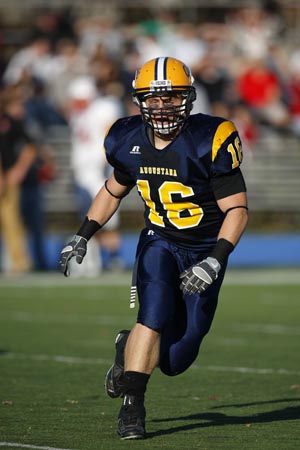 Mago was named first team Academic All-American by ESPN, becoming the 135th Viking student-athlete to recieve the honor.
Augustana senior middle linebacker Johnny Mago (Cary-Grove HS, Cary, Ill.) continues to pull in post-season honors and today the award is a huge one. Mago has been named to the first team of the ESPN Academic All-American team as selected by the College Sports Information Directors of America.
Mago was named to the first team all-conference team in the College Conference of Illinois & Wisconsin just a week earlier. He was the ringleader of an Augustana defense that performed exceptionally well throughout the Vikings' 6-4 campaign. The 5-11, 215 pound Mago does not fit the prototypical middle linebacker size but his game was certainly huge. He led the Augustana defense in tackle with 114 (54 solos and 60 assists). He had 11 tackles for losses totaling 40 yards, three quarterback sacks for 22 yards and one interception. He helped the Vikings limit opponents to 18.8 points and 297.6 yards of total offense (120.7 rushing and 176.9 passing) per game.
He has been named to the academic all-conference team in the CCIW each of his first three years at Augustana and last year he finished fourth in the league in total tackles. Back in 2007, as a freshman, he was named First Year Defensive Player of the Year for the Vikings.
During his career he has accumulated 221 total tackles (130 solos and 91 assists) with 21 tackles for loss and four quarterback sacks. He has five interceptions and four pass deflections as well.
Majoring in journalism, he carries a 3.78 grade point average and is a regular on the Dean's List for academic achievement. He won a prize for documentary photography at the annual Augustana Fourth Estate Awards Ceremony in the spring of 2009. An active member of Athletes Giving Back, an organization devoted to community outreach by the Augustana athletic department, Mago volunteers at Church of Peace in Rock Island, Illinois where he teaches immigrant children the English language.
Mago becomes the 135th Augustana student-athlete to win Academic All-American honors since the program began by CoSIDA in 1952. Augustana currently ranks sixth in the nation in number of Academic All-Americans produced and the Viking football program has generated a total of 25 of those.
He is the son of Mike and Sue Mago of Cary, Illinois.