November 20, 2010
2010-11 Season - Vavra finishes third at Concordia Open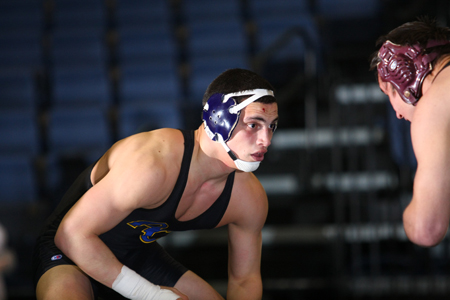 Sophomore Alex Vavra won six of seven matches Saturday to take third place at 174 pounds at the Concordia Open in Mequon, Wisconsin.
MEQUON, Wis. - Led by sophomore Alex Vavra's (Gull Lake HS, Dowling, Mich.) third place finish at 174 pounds, the young Augustana wrestling team turned in a good showing at the Concordia Open on Saturday, November 20 in Mequon, Wisconsin. There were no team scores kept but head coach Eric Juergens' team did come home from the competition with a total of six place finishers.
Vavra was impressive in grabbing third at the 174 pound weight class, finishing the tournament with a record of 6-1 and upping his season mark to 10-3. He was not alone on the awards stand, however, as five of his teammates also garnered places. Sophomore Hunter Feraco (Gull Lake HS, Battle Creek, Mich.) took fourth at 184 pounds. Freshman Jordan Graham (Big Rapids HS, Fremont, Mich.) took sixth at 157 and sophomore Greg Gogonas (Bowie HS, Austin, Texas) was sixth at 133. Freshman Jacob Scholten (Rockford HS, Grandville, Mich.) was seventh at 125 and junior Alberto Quiros (Morton East HS, Cicero, Ill.) placed seventh at 141.
Vavra opened his tournament run with decisive victories in his first two matches. He pinned Nick Gelsosomo of Wisconsin-Platteville at 4:01 of the opening round and then routed Russell Townsend of Marantha Baptist Bible College 10-1 in the second round. He dropped a 3-1, sudden death, decision to fifth seeded Ryan Conat of Wisconsin-Stevens Point in the quarterfinals. When he dropped into the consolation bracket, Vavra pinned Bryan Irsik of York at 1:07 and followed that with an 8-1 win over Jacob Brown of Muskingum. He beat third seeded Dan Capp of Hannibal-LaGrange 4-3 to advance to the third place match. In the third place match he defeated number one seed Greg Schroeder of North Central 3-1.
Feraco started off the day by defeating Dylan Novisky of Case Western Reserve, 7-1. He pinned Mike Mesagno of the host school in the second round before being pinned by second-seeded Josef Rau of Elmhurst in the quarterfinals. Feraco bounced back by pinning Muskegon's Nathan Bazan, scoring a 9-7 victory over sixth-seeded Mike Burnaugh of Hannibal-LaGrange and advanceing by medical forfeit over David Dwyer of UW-Whitewater. He dropped a 9-5 decision to Wabash's Greg Rhoads, the fourth seed, in the third place match at 184.
After getting a first-round bye, Gogonas opened against 10th-seeded Bobby Terry of Wabash. He took care of Terry with an 8-4 decision, but fell to the second seed, Jordan Kust of UW-Stevens Point 5-3. In the wrestleback, Gogonas defeated Austin Binish of Milwaukee School of Engineering 5-2 and Muskegon's sixth-seeded Brad Jones 8-6 before falling to fourth-seed Adam Joseph of Concordia (Neb.) on a 9-3 decision and by fall to fifth-seeded Allen Fish of UW-Platteville.
Graham started fast after an opening-round bye, pinning Northland's Raymond Roenicke in just 40 seconds. He then dropped a tough 3-2 decision to eighth-seeded Erik Hanson of Loras. He then claimed four straight wins in the consolation bracket, defeating Hannibal-LaGrange's Bryce Alexander 15-11 and Josh Hotta of Chicago 6-2 before advancing over Elmhurst's Sheldon Hubbard on a medical forfeit and scoring a 12-6 decision over Jon Coluzzi of Illinois State. MSOE's Virgil Pope defeated Graham to advance to the third-place match and in the fifth-place, Graham fell 51- to Elmhurst's Tom Jung.
After receiving a first-round round bye, Quiros recorded consecutive pins over Concordia's (Wis.) Nick Santana and North Central's Eric Sellers. He was knocked into the consolation bracket with a 3-2 loss at the hands of Taylor Servant of UW-Parkside. There, Quiros defeated Matthew Klein of Chicago 9-3 then dropped a 6-1 decision to Loras' Matt Holmes before bouncing back in the 141-poind seventh place match, where he scored a 5-2 win over Luke Faultersack of Muskegon.
Scholten won his first two matches at 125, 9-5 over Andrew Hoerth of Loras, and 9-0 over 11th-seeded John Cole of Muskegon. He then dropped into the consolation bracket with a 5-3 loss to third-seeded Carl DeLuca of UW-Oshkosh. From there he knocked off Triton's Jose Torres 13-5 before dropping a 7-3 decision to Jeff Green of Concordia (Neb.)-the seventh seed. He rebounded with an emphatic 11-1 win over Brett Coffelt of UW-Whitewater in the seventh-place match.
Next up for the Vikings is a 7:30 p.m. dual match at Cornell on Tuesday, November 23.