November 20, 2010
2010-11 Season - Vikings fall to Loras at Lakeland Tip-Off Tournament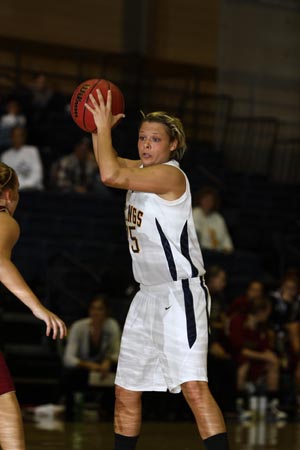 Senior Kristen Fox scored 13 points and pulled down 10 rebounds Augustana's loss to Loras in the Lakeland Tip-Off Tournament on Saturday, November 20.
The Augustana women's basketball team dropped its third straight game to open the 2010-11 campaign, falling 74-41 against Loras in the second game of the Lakeland "Tip-Off" Tournament on Saturday, November 20 in Plymouth, Wisconsin. After a pair of close games, the Vikings could not get things going against the Duhawks, falling behind quickly and never fully recovering.
Loras sprinted out to a 17-1 lead before senior Kristen Fox (Ottawa HS, Ottawa, Ill.) knocked down a three point field goal, tallying Augustana's first bucket of the night at the 14:04 mark. After the two teams traded some free throws, junior Whitney Miller (Clinton HS, Clinton, Iowa) converted a three point play to pull the Blue & Gold within 19-9. That would be as close as the Vikings would get the rest of the night, with the Duhawks pulling away for a 36-16 advantage at intermission.
Augustana attempted to get back into the contest in the second half, using a 9-4 spurt to cut the Loras lead to 40-25 at 17:20 mark. Junior Natalie Runge (St. Dominic HS, O'Fallon, Mo.) scored first and freshman Jessica Baids (West Chicago HS, Carol Stream, Ill.) added a basket on the following possession. Fox added four points during the scoring stretch.
The Duhawks ran off the next seven points to put the gap back at 22 and slowly pulled away the rest of the game, eventually leading by as many as 35 on the way to the lopsided victory.
Fox led all players with 13 points and also snatched 10 rebounds, finishing the day with a double-double. Miller was second in scoring for the Blue & Gold, tallying six points with four made tosses from the charity stripe and a field goal.
The Vikings are back in action on Saturday, November 27 with a road game at Webster in St. Louis, Missouri.
Story written by Assistant Sports Information Director Adam Strand