November 20, 2010
2010-11 Season - Vikings take second at IWU Invitational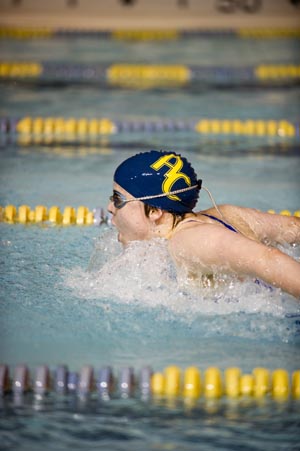 Sophomore Emma Regnier placed in three individual events (5th in 200 IM and 100 fly and seventh in 100 backstroke) and swam a leg on third place 200 freestyle relay to help lead Augustana to a second place team finish at Illinois Wesleyan University.
One day after dropping a tough decision to Monmouth in a dual meet, Augustana responded with a solid second place finish in the Illinois Wesleyan Invitational on Saturday, November 20 in Bloomington, Illinois. The Vikings scored 105 points to finish second with Illinois Wesleyan winning the seven team event with 173 points. Monmouth was third with 96.5 and Millikin was fourth with 57.5. Robert Morris (44), Illinois College (16) and Eureka (12) rounded out the scoring.
One of the keys to the Augustana finish was a solid performance in the two diving events. Freshman Helen Myers (Pecatonica HS, Rock City, Ill.) was second in both the one meter and three meter dives. She scored 178.65 on the one meter board and 178.20 off the three meter. Junior Tanya Walter (Prospect HS, Mt. Prospect, Ill.) was third at one meter (162.90) and third at three meters (161.5).
Freshman Hillary Ferguson (Waubonsie Valley HS, Naperville, Ill.) was second in the 50 freestyle (:26.38) and third in the 100 freestyle (:59.45). She was also seventh in the 200 freestyle with a time of 2:11.08.
Sophomore Molly Clennon (Benet Academy, Naperville, Ill.) finished fourth in the 100 freestyle in :59.87 and was fifth in the 200 freestyle in 2:10.22.
Sophomore Emma Regnier (Grayslake North HS, Lake Villa, Ill.) placed in three individual events. She was fifth in the 200 individual medley (2:27.47), fifth in the 100 butterfly (1:06.34) and seventh in the 100 backstroke (1:12.75).
Sophomore Emily Timmons (West Aurora HS, North Aurora, Ill.) took sixth in the 200 individual medley in 2:28.44.
Sophomore Alexandra Piper (Coal City HS, Coal City, Ill.) placed seventh in the 50 freestyle with a time of :27.28. Junior Colleen Mans (Robbinsdale Cooper HS, New Hope, Minn.) finished eighth in the 100 backstroke in 1:13.83.
The 200 freestyle relay team of junior Alissa Giedd (Freeport HS, Cedarville, Ill.), Clennon, Regnier and Ferguson took third in 1:48.8.