November 20, 2010
2010 Season - Matt Bowman earns All-America status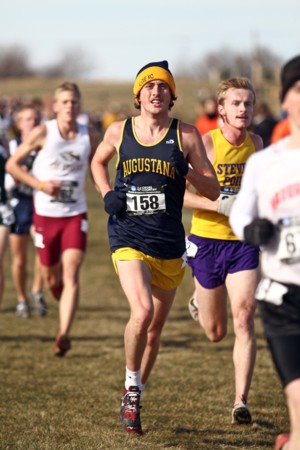 Augustana senior Matt Bowman earned All-America status with a 32nd-place finish at Saturday's NCAA Division III Cross Country National Championships in Waverly, Iowa.
WAVERLY, Iowa-Augustana senior Matt Bowman (Geneva HS, Elburn, Ill.) capped off his career in fine style Saturday, finishing in 32nd place at the NCAA Division III championship meet at Wartburg College's Max Cross Country Course. Bowman finished the 8-kilometer course in 24:52.6 to become the first Viking since Dave Nellis in 1996 to earn All-America honors.
Haverford's Anders Hulleberg was the individual champion, finishing in 24:22.2 and leading the Fords to the team title with 87 points. Ben Sathre of St. Thomas took second place just 1.6 seconds off Hulleberg's pace. North Central was second with 104 points and the Cardinals' Michael Spain finished third individually in 24:24.6. St. Lawrence, behind fourth-place finisher Steve Kiplagat (24:25.2) was third with 137 points.
Bowman, who finished 14th at last weeks' Midwest Regional, was the lone Augustana qualifier for the national meet. He finished just four-tenths of a second behind 31st-place Jordan Schilit of Haverford and eight-tenths of a second off the pace of 30th-place Michael Burnstein of Washington University. Nellis, Augustana's last All-American, was a 31st place finisher in 1996.