November 19, 2010
2010-11 Season - Late game dry spell costly in loss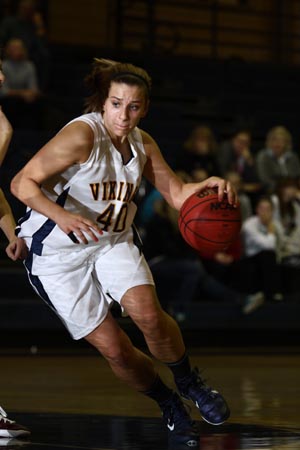 Freshman Jessica Baids scored 15 points and hauled in a game-high 13 rebounds in Augustana's 63-54 loss to Lakeland in the Lakeland Tip-Off Tournament on Friday, November 19 in Plymouth, Wisconsin.
After playing well for the first 33 minutes of the game, a five minute dry spell proved to be the difference as Augustana fell to Lakeland 63-54 in the opening round of the Lakeland Tip-Off Tournament on Friday, November 19 in Plymouth, Wisconsin. A 12-2 run that started with 7:03 left in the game and ended with 1:42 remaining allowed the Muskies to put enough distance between them and the Vikings and pick up the victory.
Augustana led 23-21 at halftime and through the first 13 minutes of the second half the game was flowing evenly back and forth. The score was tied for the seventh, and final, time at 41-41 with 9:27 remaining when junior Natalie Runge (St. Dominic HS, O'Fallon, Mo.) hit a basket. With 7:03 left a single free throw from Dawn Kernich (Mt. Olive HS, Mt. Olive, Ill.) trimmed the Lakeland lead to just two (46-44). However, the Vikings would score only two points (a basket by Kernich at 5:11) over the next 5:21 and Lakeland would use that 12-2 run to forge a 58-46 lead with 1:42 left.
A three point basket by the Muskies' Mallory Magee started the surge at 6:37 and a three pointer by Mary Dennewitz ended it at 1:42.
The Vikings did manage to trim the margin to six on two different occasions thanks to baskets each time by freshman Jessica Baids (West Chicago HS, Carol Stream, Ill.) but it was too little, too late and Augustana fell to 0-2 on the season.
Runge solid throughout as she scored 16 points on eight of 15 from the field and pulled down eight rebounds. Baids was a dominant force inside with 15 points on five of 10 shooting and a game high 13 rebounds.
Once again junior point guard Whitney Miller (Clinton HS, Clinton, Iowa) was impressive as she played 30 minutes and had just one turnover while contributing two assists, a steal, four rebounds and eight points. In a season-opening loss to Coe on Tuesday, November 16, Miller played 37 minutes and did not turn the ball over once.
Augustana owned a huge 42-31 advantage in rebounding but the Vikings shot just .368 (21-57) from the floor, including a .091 (1-11) performance from three point range.
Lakeland, which is coached by former Augustana assistant Teri Johnson, was led in scoring by Dennewitz with 19 points.
The Vikings, who opened the season against two teams that were in the NCAA Division III national tournament last year (Coe and Lakeland), will play Loras at 2:00 p.m. this afternoon (Saturday, November 20).