November 19, 2010
2010-11 Season - Victory in last event clinches win over Scots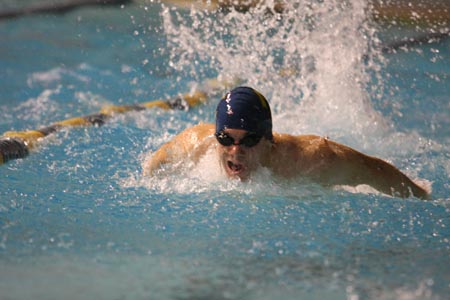 Sophomore Chris Greaves won two individual events and swam the third leg on the winning 200 freestyle relay team that clinched the dual meet victory over Monmouth with a win in the meet's final event.
A victory in the final event of the meet allowed Augustana to escape with a narrow one point victory over Monmouth on Friday, November 19 in Monmouth, Illinois. The Vikings were trailing the Fighting Scots by six points (92-86) heading into the 200 freestyle relay. The quartet of freshman Justin Reppy (Oswego HS, Oswego, Ill.), junior Charles Vogt (Oak Park-River Forest HS, Oak Park, Ill.), sophomore Chris Greaves (Morris HS, Morris, Ill.) and freshman Daniel Hinck (Harlem HS, Loves Park, Ill.) came through in the clutch with a victory in a time of 1:31.55. Monmouth was second in 1:32.84 and the 1-4 advantage for the Vikings was enough to give Augustana a 97-96 win. That moved the Blue & Gold to 2-0 on the season.
Augustana won four individual events with Greaves claiming victory in both the 200 freestyle (1:52.99) and 200 butterfly (2:09.88). Hinck won the 500 freestyle in 5:03.61 and freshman Austin Zarbuck (Urbana HS, Urbana, Ill.) took first in 1000 freestyle (0:59.07).
The Vikings trailed 76-65 after the 200 backstroke and only three events remained in the meet. Hinck then won the 500 freestyle and Reppy took second in 5:13.5 while Zarbuck placed fourth in 5:24.90. That allowed Augustana to outscore Monmouth 15-4 and move into an 80-80 tie. The next event was the 200 breaststroke and freshman Ryan Chaney (Pleasant Valley HS, Bettendorf, Iowa) placed second in 2:35.92 while freshman Jasen Hengst (Bettendorf HS, Bettendorf, Iowa) was fourth in 2:36.90. Monmouth took a 92-86 lead into the last event (200 freestyle) but the Vikings clinched the meet with the victory in that race.
Reppy placed second in both the 200 individual medley (2:08.72) and the 100 freestyle (:51.01). Sophomore Harrison Vogt (Oak Park-River Forest HS, Oak Park, Ill.) was second in the 50 freestyle in :24.42 and he added a third in the 200 backstroke in 2:31.99. Hinck grabbed second in the 200 butterfly with a time of 2:22.38.
Junior Denny Wind (Downers Grove North HS, Downers Grove, Ill.) took third in the 200 freestyle in 2:04.11. Hengst was third in the 200 individual medley (2:15.22) and Charles Vogt took third in the 100 freestyle (:51.75). Wind also added a fourth in the 50 freestyle in :27.28 and Zarbuck placed fourth in the 100 freestyle in :54.04. Chaney placed fifth in the 200 individual medley (2:21.64) and senior Kennan Hootman (Addison Trail HS, Addison, Ill.) was fifth in the 200 butterfly in 3:11.70.