November 19, 2010
2010 Season - 2010 MEN'S SOCCER REVIEW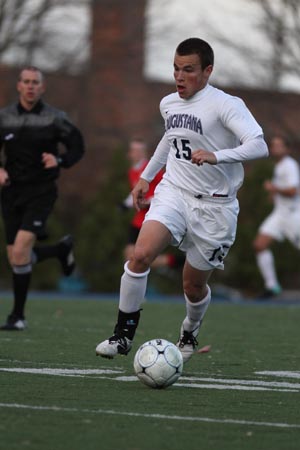 Sean Fidlow was named to the CCIW all-conference squad as a second team selection. He led the Vikings with 14 points, tallying five goals and four assists.
ROCK ISLAND, Ill. – The Augustana men's soccer team finished the 2010 season with an overall record of 8-11-1. The Vikings also put together an impressive run in the College Conference of Illinois & Wisconsin, notching a 4-3-0 mark and earning the No. 4 seed in the CCIW Tournament after being picked to tie for sixth in the pre-season coaches' poll.
The Vikings opened the year on the wrong end of several one goal scores, falling to 0-4-1 with a 2-1 overtime loss to Chicago in the home opener, a 1-0 defeat at Coe, a 2-1 loss at Aurora, a 1-1 double overtime tie at Fontbonne, and a 2-1 double overtime loss at Webster. After facing a lot of early season adversity, Augustana continued to plug away and earned its first victory of the year with a 3-0 shutout of Cornell. The Blue & Gold also followed with a 2-1 win against Simpson to improve to 2-4-1 overall.
After a pair of defeats to Loras (4-1) and Central of Iowa (1-0), Augustana hit its stride with a four match winning streak, the longest of the year. The Blue & Gold scored 12 goals in the four contests and earned four consecutive shutouts along the way. The Vikings edged Carthage 1-0 in the first CCIW league match-up of the season. The team followed with an 8-0 drubbing over Knox, another 1-0 win at Millikin, and a 2-0 home victory against Beloit. The win over Millikin also improved the Vikings to 2-0 in the CCIW. The victory against Beloit closed out the streak and leveled the season record for the Blue & Gold at 6-6-1.
Augustana's win streak finally came to an end when Lake Forest tallied a late goal for a 1-0 double overtime win against the Vikings. Losses to North Park (5-0) and Wheaton (4-2) in the next two games gave Augustana its first league defeats of the year as the Blue & Gold entered the home stretch of the campaign.
Sitting at 2-2 with its postseason fate up in the air, the Vikings pulled out two wins in the final three league games to earn a spot in the CCIW Tournament. Augustana defeated Illinois Wesleyan 2-1 at home and also rallied for a 4-2 victory over North Central in the friendly confines of Ericson Stadium before falling 1-0 at Elmhurst in the regular season finale.
With a 4-3 league mark, the Vikings earned the No. 4 seed and traveled to face top seeded Wheaton in the semi-final round of the CCIW Tournament. The game was much different from the one played just two weeks earlier and it took a late Thunder goal for the hosts to edge Augustana 2-1, ending the season for the Blue & Gold.
Junior Sean Fidlow (Carmel Catholic HS, Gurnee, Ill.) led the team with 14 points. He tallied five goals and also had a team high four assists. Fidlow led the team with 68 shots and 28 shots on goal. He also scored the game winning goal in a 1-0 win over Carthage. Fidlow also tallied the lone goal in a 1-1 tie against Fontbonne and scored in conference matches against Illinois Wesleyan and North Central. His hard work was rewarded at the end of the season when he was named to the CCIW all-conference squad as a second team selection.
Freshman John McSpadden (Geneva HS, Geneva, Ill.) finished tied for the team lead with five goals. He was also credited with a pair of assists, completing the season as the second Viking in double figures with 12 points. McSpadden attempted 26 shots, including 13 on goal. He was also the only Viking to record more than one game winning goal, hitting the winning strike against Cornell and Knox.
Freshman Matt Shipon (South Elgin HS, Elgin, Ill.) came close to ending the year in double figures with points, tallying three goals and three assists for a total of nine points. He attempted 20 shots with 11 of them on goal. After an early season goal, Shipon earned his final two goals in league games against Wheaton and North Central, scoring first for the Vikings in both contests.
Seniors Greg Maggio (Wheaton Warrenville South HS, Wheaton, Ill.) and Anthony Adeniran (Loyola Jesuit HS, Ogbomoso, Nigeria) each scored four goals for a total of eight points. Maggio attempted 24 shots with 13 on goal while Adeniran took 15 and had six on target. Maggio scored the game winner against Illinois Wesleyan, one of three goals he tallied late in the season against league foes. Adeniran recorded two of his goals against Knox.
Senior Sean O'Malley (University HS, Bloomington, Ill.) and sophomore Kevin Wyrostek (Naperville North HS, Naperville, Ill.) both finished the season with five points. Each player accumulated two goals and one assist. O'Malley took 29 shots with 13 on target and Wyrostek had eight of his 15 shots on goal. O'Malley scored the game winning goal in a 1-0 victory at Millikin. Wyrostek cashed in on a penalty kick opportunity, tallying the game winner against Beloit.
Junior Kurt Negwer (Lutheran North HS, Florissant, Mo.) finished with three points on one goal and one assist while a host of Vikings ended the season with two points. Senior Alex Bennett (Lincoln Way East HS, Mokena, Ill.), sophomores Jason Beckus (Neuqua Valley HS, Naperville, Ill.) and Nick Wolfe (Neuqua Valley HS, Naperville, Ill.), and freshmen Grant Halter (Glenbard West HS, Glen Ellyn, Ill.) and Adam Wilson (Plainfield North HS, Plainfield, Ill.) each scored one goal for the Vikings. Beckus had the game winner against North Central in a key conference win while Bennett won the match against Simpson early in the season with his strike.
Juniors Cory DeGrave (Fremd HS, Palatine, Ill.) and Brett Bleecher (Marist HS, Oak Lawn, Ill.) also finished with two points, each picking up two assists during the season. Senior Scott Cella (Geneva HS, Geneva, Ill.) and freshman Michael Buric (Notre Dame Prep HS, Scottsdale, Ariz.) were the final two players to score a point, each picking up one assist.
Freshman Tyler Cowherd (Bettendorf HS, Bettendorf, Iowa) handled the majority of the goalkeeper duties with freshman Steven Zahrobsky (Downers Grove South HS, Woodridge, Ill.) picking up some action along the way, including a start against Wheaton in the CCIW Tournament. Cowherd played in 18 games and made 103 saves in 1667 minutes of action. He only allowed 28 goals and finished with a goals against average of 1.51 while earning a record of 7-10-1. Zahrobsky was in net during five games and made eight saves while only allowing two goals. He finished with a goals against average of 0.92 in 195 minutes of action. Cowherd was credited with two shutouts and Zahrobsky earned one. The goalie tandem also combined on two more, for a total of five this season.
The Vikings edged the opposition with a 31-30 goal advantage over the course of the season. Augustana held a 290-255 lead in shot attempts and also took 87 corner kicks to just 82 for its opponents.
2010 CCIW Men's Soccer Standings
| | | |
| --- | --- | --- |
| TEAM | CCIW | OVERALL |
| Wheaton | 7-0-0 | 11-7-3 |
| North Park | 4-1-2 | 13-5-2 |
| Carthage | 4-2-1 | 11-7-2 |
| Augustana | 4-3-0 | 8-11-1 |
| Illinois Wesleyan | 3-3-1 | 6-8-2 |
| Elmhurst | 3-4-0 | 10-8-0 |
| North Central | 0-6-1 | 5-10-3 |
| Millikin | 0-6-1 | 5-11-1 |
2010 Augustana Men's Soccer Superlatives
CCIW ALL-CONFERENCE SELECTIONS – Sean Fidlow (2nd team)
MOST GOALS: Sean Fidlow & John McSpadden (5)
MOST ASSISTS: Sean Fidlow (4)
LONGEST WINNING STREAK: 4 matches
MOST CONSECUTIVE SHUTOUTS: 4 matches
Story written by Assistant Sports Information Director Adam Strand