Calder named Illinois Professor of the Year
Award recognizes excellence in undergraduate teaching and mentoring
November  18, 2010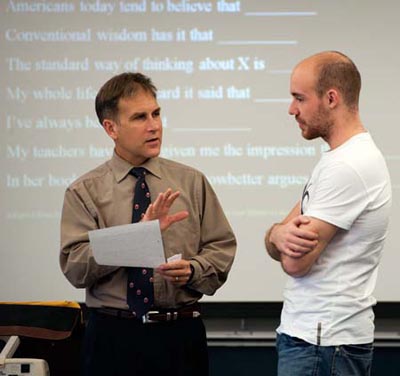 Dr. Lendol Calder, left, in class. (Augustana Photo Bureau/Marla Alvarado Neuerburg)
Augustana history professor Dr. Lendol Calder has earned numerous recognitions and appointments, and even published a book, but he's never brought home a teaching award — until now. And it's big.
Dr. Calder has been named Illinois Professor of the Year, selected from more than 300 top professors in the United States. Sponsored by the Carnegie Foundation for the Advancement of Teaching and the Council for Advancement and Support of Education (CASE), the award is the only national initiative specifically designed to recognize excellence in undergraduate teaching and mentoring.
Dr. Calder is the second Augustana professor to receive this coveted honor since the program began in 1981. Dr. Dorothy Parkander, professor emeritus of English, was named Illinois Professor of the Year in 1992.
"This is a very special day for Augustana College, and it's a great honor to join Dr. Calder's colleagues and students in offering congratulations on this outstanding recognition," said Augustana President Steve Bahls. "For almost half a century, Dr. Dorothy Parkander transformed the lives of our students by introducing them to the world's greatest literature. Dr. Calder has the same kind of impact as he leads students to a deeper, more effective understanding of history."
Dr. Calder said he never would have won the award if it weren't for Dr. Ellen Hay, currently serving as interim dean of the college. "She brought the Carnegie Scholars Program to my attention and encouraged me to participate," he said.
In 1999, the Carnegie Academy for the Scholarship of Teaching and Learning invited Dr. Calder to join other distinguished academicians from diverse fields to invent and share new models to enhance student learning. Dr. Calder's research findings, published in the March 2006 issue of The Journal of American History, examine the problem of "coverage" in introductory history courses and is part of a larger effort to create a new way of teaching and learning history at the undergraduate level. His essay fueled a growing movement of history professors calling for a "signature pedagogy" for history.
Dr. Calder believes "the generic lecture plus textbook plus examination courses" are not merely ineffective but also harmful to students' understanding of history.
For example, Calder's American history class covering 1945 to the present has no exams and no 60-minute lectures. Instead of a single textbook, students read two competing histories and dozens of documents from the past. Grades are based on seven essays in which students demonstrate their ability to construct sound historical arguments on the basis of document analysis.
Class time is filled with lively discussions in which students do what historians do: Formulate questions, analyze evidence, construct claims, dispute inferences, correct initial conclusions and recognize what can't be known. Most importantly, students debate what story best makes sense of the American past. "If you don't have a story that makes sense of the world," said Dr. Calder, "then you don't know what to do, or how to live."
Caroline Skaggs '02 Sallee says the most important skills she learned in college were from Calder's classes. "I learned how to approach history, to think about it critically and to write about it clearly," Sallee said. "Today, as a 30-year-old economic consultant, I use these skills every day."
Dr. Lendol Calder
Credit for colleagues
Since his involvement with the Carnegie Academy, Dr. Calder has addressed dozens of audiences at large and small institutions about what he has learned about teaching. Hundreds have written to share ideas of their own or to ask for help with curricular revisions. Publishers have asked him to write a book for college history professors and a new kind of history textbook for college students.
"I never dreamed of having this kind of effect, but the reason for it is simple: My ideas are not that original," Dr. Calder said. "They travel only because so many are thinking along the same lines."
He said being named Illinois Professor of the Year is humbling, and leaves him feeling a bit uncomfortable. "You can't be a good teacher unless you have colleagues to talk about teaching with," he said. "There are teachers on this campus who deserve this award as much as anybody — Jason Peters, Charlie Mahaffey, Van Symons — and others."
A native of Texas, Lendol Calder received his bachelor's at the University of Texas at Austin where he graduated Phi Beta Kappa in 1980. He earned his master's and doctorate from the University of Chicago. He came to Augustana in 1996 after having taught at Colby-Sawyer College, the University of Washington, Seattle, and the University of Chicago.
In 1999, Princeton University Press published Dr. Calder's book Financing the American Dream: A Cultural History of Consumer Credit, which continues to be the authority on the subject, even after a decade.
Ceremonies honoring the state and national winners of the U.S. Professors of the Year Awards Program include an awards luncheon at the W Washington D.C. Hotel and a reception at the Folger Shakespeare Library, also in Washington, D.C.
About Augustana: Founded in 1860 and situated on a 115-acre campus near the Mississippi River, Augustana College is a private, liberal arts institution affiliated with the Evangelical Lutheran Church in America (ELCA). The college enrolls 2,500 students from diverse geographic, social, ethnic and religious backgrounds and offers more than 70 majors and related areas of study. Augustana employs 287 faculty members and has a student-faculty ratio of 11:1. Augustana continues to do what it has always done: challenge and prepare students for lives of leadership and service in our complex, ever-changing world.
(To schedule an interview with Dr. Lendol Calder or for more information on the Professor of the Year award, contact Scott Cason, assistant vice president of communication and marketing, at scottcason@augustana.edu or (309) 794-7323.)