Five Questions for: Kevin Geedey
November  17, 2010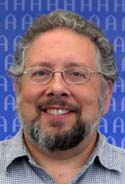 Dr. Kevin Geedey
1. Was it inevitable that you would become an animal and aquatic biologist?
"The honest answer that is, yeah, it was inevitable. Ever since I can remember, I was always the kid who loved turning over rocks in streams and exploring what lives in ponds. I was the kid you had to holler at to get out of the creek and come home for dinner. I've always been fascinated by the idea of exploring hidden worlds and finding creatures that are around us all the time, but that nobody pays any attention to. I knew I wanted to be involved in discovering and studying interesting creatures when I grew up, but I didn't know at the time that becoming a college professor was the pathway to that kind of job."
2. Tell me the kind of experiences you and your students have at Augustana's field research stations like Green Wing.
"The Beling station on the Rock River is a great place for aquatic biology lab experiences. There along the Rock River, its tributaries and associated wetlands, we've found crayfish, river shrimp and even breeding pike. My favorite field station experiences every year are the summer sessions at the Green Wing station south of Dixon, Illinois. I really love going there because I may start the morning with a 15-30 minute lecture, but we often spend the next eight to 12 hours in the field on projects that are student-created.
"Green Wing is also a great deal for the students. It's a three-credit course they can complete in two intensive weeks in the field. Research conducted during a summer session at Green Wing can be used as a Senior Inquiry project to demonstrate to potential graduate schools and employers the range of their knowledge and abilities."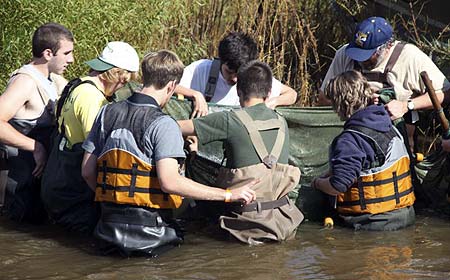 Dr. Kevin Geedey (right) and students looks to see what they've caught in their net in a smaller stream feeding into the Mississippi River. (Augustana Photo Bureau/Marla Alvarado Neuerburg)
3. This fall, you and geography professor Reuben Heine teamed up to offer what we call an 'immersion term.' Does that involve a lot of scuba diving?
"It didn't involve any scuba diving whatsoever, but it did involve an enormous amount of time on and in the water, including time in knee boots and chest waders and in our research boats on the Mississippi River. Reuben and I led students through an intensive 10-week term focused on the study of headwater streams, the smallest tributaries to the Mississippi and Rock rivers. We spent quite a bit of time looking at water quality in these headwater streams and on the diversity of life including invertebrates and algae.
"On the geography side of the equation, we generated a map of permanent and seasonal streams in Rock Island County. We think this map has the potential to be very useful to the local environmental community."
4. Tell me about your Augustana family within this bigger Augustana family.
"I met my future wife, fellow biology professor Dara Wegman-Geedey, when I was interviewing for a job here at Augustana. We were married in 1997, and we now have offices just a few doors down from one another in the Hanson Hall of Science. In fact, there are three of us in the office at any one time. Our 9-year-old daughter, Aislinn, has an office under my desk that she calls room 311 and-a-half. So I share an office with my daughter and that is a lot of fun. And Aislinn, like her mother and me, loves to look at creatures under the microscope and put on her boots, grab her dip net and get into the water and collect critters.
5. What is something about the Mississippi River as an ecological system that we don't know much about?
"I guess keeping with the spirit of the immersion term, and I think everybody involved in this fall's study would agree, that we gained a greater appreciation for how connected smallest streams are to the big rivers they feed. The quality and diversity of the biology we find in the Mississippi and Rock River is directly tied to our stewardship of land that surrounds the headwater streams. Everything from farming practices to how we fertilize our lawns has enormous impact on the water quality in our major rivers."
Five Questions is a series of profiles of people at Augustana College. Dr. Kevin Geedey, professor of biology, gives the answers today. If you know someone you'd like to see profiled, send his or her name and a note to sharenews@augustana.edu.