November 17, 2010
2010 Season - Six named to all-conference football team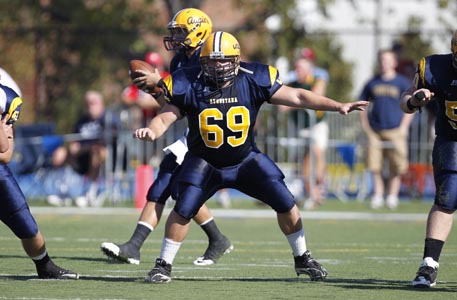 Senior Mark Constantine was one of six Augustana football players named to the all-conference team in the College Conference of Illinois & Wisconsin for the 2010 season.
Six Augustana football players were named to the all-conference team in the College Conference of Illinois & Wisconsin for the 2010 season. Five of the six honorees were seniors and all were named to the all-conference team for the first time in their respective careers.
Four players earned first team honors, two each on offense and defense. Senior linebacker John Mago (Cary-Grove HS, Cary, Ill.) and senior defensive end Curt Perschnick (Dwight HS, Dwight, Ill.) represented the defense while senior wide receiver Corbett Ball (Buffalo Grove HS, Arlington Heights, Ill.) and senior offensive guard Mark Constantine (Waubonsie Valley HS, Naperville, Ill.) carried the flag for the offense.
Junior quarterback David Lee (Springfield HS, Springfield, Ill.) and senior offensive tackle Drew Hansen (Downers Grove South HS, Downers Grove, Ill.) were the second team representatives.
Mago led the Vikings in tackles with 114, including 54 solos to go along with 60 assists. He had 11 tackles for losses totaling 40 yards and had three quarterback sacks for 22 yards. He had one pass interception that he returned for eight yards. He was second in the CCIW in tackles a total of 72 in conference games (45 solos and 27 assists), just one off the leader.
Perschnick, a converted tight end, ended up second on the team in total tackles with 58 (27 solo and 31 assists). He had 11 tackles for losses of 45 yards with five quarterback sacks for 29 yards, three fumble recoveries, one forced fumble and one pass deflection. He was eighth in the CCIW in tackles for loss and ninth in quarterback sacks.
Ball had a record-breaking season as a wide receiver, finishing the year with 60 catches for 613 yards and two touchdowns. He averaged 10.2 yards per reception and broke the previous Augustana school record for single season catches which was 50 set by Paul Ander in 1968. Ball led the CCIW in catches per game with an average of 6.71 as he hauled in 47 in seven league games for 490 yards and one touchdown.
Constantine was a force in the offensive line and helped the Vikings average 23.3 points and 374.4 yards of total offense per game (129.8 rushing and 244.6 passing).
Lee became the most prolific single season passer in Augustana history when he completed 195 of 317 passes for 2,411 yards with 18 touchdowns and just nine interceptions. He averaged 241.1 yards per game passing and had a quarterback efficiency rating of 138.46. He broke former NFL MVP Ken Anderson's school record of 2,117 yards set in 1968.
Not only did Lee set a new school record for most yardage in a single season, but his 429 yards against Carthage broke his own school record of 422 set last year in the season finale against Millikin. He heads into his senior season with 4,141 yards passing and that places him second on the career chart. He has 350 completions in 557 attempts (.628) with 28 passing touchdowns and 4,705 yards of total offense.
He finished the year leading the CCIW in total offense with an average of 272.7 yards per game in seven league contests and was second in passing with 239.2 yards per game in conference play.
Hansen, a team captain, was a starter for at least part of each of his four years at Augustana. He was a season-long starter for the last three seasons and like Constantine, was an integral part of the protection package for Lee at quarterback.
Augustana, under the direction of 11 year head coach Jim Barnes, finished the season 10-4 overall and 4-3 in the CCIW, good enough for third place in the league standings. The Vikings have now had winning seasons in 31 of the last 32 years.
2010 COLLEGE CONFERENCE OF ILLINOIS & WISCONSIN FOOTBALL TEAM
FIRST TEAM
| | | | | | |
| --- | --- | --- | --- | --- | --- |
| Pos. | Player (School) | Ht. | Wt. | Yr. | Hometown (High School) |
| DB | Brian Hipchen (Carthage) | 6-0 | 180 | Jr. | Palatine, Ill. (Fremd) |
| DB | Jon Janus (Elmhurst) | 5-9 | 190 | Jr. | Lake Zurich, Ill. (H.S.) |
| DB | Tyler Langs (Wheaton) | 5-10 | 181 | Sr. | Climax, Mich. (Climax-Scotts) |
| DB | Josh McCleod (North Central) | 6-1 | 195 | Jr. | Lisle, Ill. (H.S.) |
| LB | Ryan Gresko (Illinois Wesleyan) | 6-0 | 220 | Jr. | Woodridge, Ill. (Downers Grove North) |
| LB | John Mago (Augustana) | 5-11 | 215 | Sr. | Cary, Ill. (Cary-Grove) |
| LB | Matt Wenger (North Central) | 6-0 | 225 | Sr. | Davis, Ill. (Dakota) |
| LB | Randy Wright (Elmhurst) | 6-1 | 230 | Sr. | Bellwood, Ill. (Fenwick) |
| DL | JD East (Wheaton) | 6-0 | 245 | Jr. | Indianapolis, Ind. (North Central) |
| DL | Valente Garza (North Central) | 6-0 | 232 | Sr. | Winfield, Ill. (Wheaton North) |
| DL | Willie Hayes (North Central) | 5-11 | 225 | Jr. | Lemont, Ill. (H.S.) |
| DL | Curt Perschnick (Augustana) | 6-5 | 230 | Sr. | Dwight, Ill. (H.S.) |
| QB | Evan Jones (Carthage) | 6-1 | 195 | Sr. | Grayslake, Ill. (H.S.) |
| RB | Scottie Williams (Elmhurst) | 5-7 | 165 | So. | Woodridge, Ill. (Downers Grove South) |
| RB | Dion Wilson (Millikin) | 5-9 | 180 | Sr. | Country Club Hills, Ill. (Rich Central) |
| TE | Kyle Fiedorowicz (North Central) | 6-7 | 271 | Sr. | Johnsburg, Ill. (H.S.) |
| WR | Corbett Ball (Augustana) | 5-10 | 180 | Sr. | Arlington Heights, Ill. (Buffalo Grove) |
| WR | Steve Hlavac (North Central) | 5-10 | 187 | Sr. | Naperville, Ill. (North) |
| WR | Chris Schulz (Carthage) | 5-9 | 180 | Sr. | Oswego, Ill. (H.S.) |
| OL | Kyle Antos (North Central) | 6-1 | 272 | Sr. | Warrenville, Ill. (Wheaton-Warrenville South) |
| OL | Nick Biggee (Wheaton) | 6-0 | 255 | Sr. | Snellville, Ga. (Greater Atlanta Christian) |
| OL | Mark Constantine (Augustana) | 6-0 | 275 | Sr. | Naperville, Ill. (Waubonsie Valley) |
| OL | Terrance Clark (Carthage) | 6-4 | 285 | Sr. | Dolton, Ill. (Thornridge) |
| OL | Ray Krishock (Illinois Wesleyan) | 6-5 | 300 | Sr. | Wheaton, Ill. (St. Francis) |
| RS | Joe Antonacci (North Central) | 5-11 | 185 | Jr. | Naperville, Ill. (Neuqua Valley) |
| P | Dennis Zic (Illinois Wesleyan) | 6-1 | 185 | Sr. | Wood Dale, Ill. (Fenton) |
| K | Tyler Funk (Carthage) | 6-2 | 175 | Sr. | Racine, Wis. (Horlick) |
SECOND TEAM
| | | | | | |
| --- | --- | --- | --- | --- | --- |
| Pos. | Player (School) | Ht. | Wt. | Yr. | Hometown (High School) |
| DB | P.J. Cummings (Illinois Wesleyan) | 5-10 | 205 | Jr. | Chicago, Ill. (Niles-Notre Dame) |
| DB | Brian McMullen (Wheaton) | 6-3 | 211 | Jr. | Oceanside, Calif. (Vista) |
| DB | Nick Pantaleo (North Park) | 6-0 | 187 | Sr. | Hanover Park, Ill. (Hoffman Estates) |
| DB | Derek Sulo (North Central) | 5-11 | 201 | Sr. | Oak Forest, Ill. (Mt. Carmel) |
| DB | Scott Hogan (North Central) | 5-11 | 177 | Sr. | Plainfield, Ill. (Central) |
| DB | Jamall Lane (Elmhurst) | 5-11 | 170 | So. | Miramar, Fla. (Everglades) |
| LB | Josh Brennan (Carthage) | 6-1 | 224 | Sr. | Geneva, Ill. (H.S.) |
| LB | Jordan Chapman (Wheaton) | 5-10 | 204 | Jr. | Indianapolis, Ind. (Carmel) |
| LB | Cory Hart (Wheaton) | 6-0 | 204 | Sr. | Wheaton, Ill. (Wheaton-Warrenville South) |
| LB | Dan Rogers (Illinois Wesleyan) | 6-2 | 220 | Sr. | Park Ridge, Ill. (Maine South) |
| LB | Joe Schneiderbauer (North Central) | 5-11 | 206 | Sr. | Sterling, Ill. (H.S.) |
| DL | Max Brooks (Illinois Wesleyan) | 6-2 | 250 | Sr. | Oak Park, Ill. (Oak Park-River Forest) |
| DL | Peter Bulandr (North Central) | 6-3 | 265 | Jr. | Long Grove, Ill. (Stevenson) |
| DL | Charley Mitchell (Wheaton) | 6-2 | 250 | Sr. | Frisco, Texas (Plano West) |
| DL | Cory Radtke (Carthage) | 6-0 | 225 | Sr. | Caledonia, Ill. (Belvidere) |
| DL | Robert Ramsey (Wheaton) | 6-3 | 235 | Jr. | Fredericksburg, Texas (Heritage) |
| QB | Brien Rooney (Illinois Wesleyan) | 6-0 | 190 | Sr. | Western Springs, Ill. (Fenwick) |
| QB | David Lee (Augustana) | 6-3 | 219 | Jr. | Springfield, Ill. (H.S.) |
| RB | Jake Smith (Carthage) | 6-0 | 200 | Sr. | Palatine, Ill. (Fremd) |
| RB | Jordan Tassio (North Central) | 6-1 | 214 | So. | Naperville, Ill. (North) |
| RB/RS | Bo Lantner (Illinois Wesleyan) | 6-1 | 215 | Sr. | Clayton, Mo. (H.S.) |
| TE | Austin Zoerhof (Wheaton) | 6-4 | 240 | Sr. | Holland, Mich. (Holland Christian) |
| WR | Joey Driver (Illinois Wesleyan) | 6-1 | 175 | Jr. | Matteson, Ill. (Rich Central) |
| WR | Freddy Ellis (Wheaton) | 5-11 | 178 | Sr. | Keller, Texas (H.S.) |
| WR | Rodney Payton (Elmhurst) | 6-2 | 195 | So. | Bellwood, Ill. (Nazareth Academy) |
| WR | Mike Koeneman (Carthage) | 5-11 | 191 | Jr. | Barrington, Ill. (Fremd) |
| OL | Brian Blomquist (Millikin) | 6-3 | 325 | Sr. | Taylorville, Ill. (H.S.) |
| OL | Tommy Burggraf (Wheaton) | 6-5 | 180 | Sr. | Gunnison, Colo. (H.S.) |
| OL | Nick Capristo (North Central) | 6-0 | 266 | Jr. | Aurora, Ill. (Waubonsie Valley) |
| OL | Andrew Hansen (Augustana) | 6-3 | 260 | Sr. | Downers Grove, Ill. (South) |
| OL | Peter Stamos (Elmhurst) | 6-4 | 255 | Jr. | Portage, Mich. (Portage Northern) |
| OL | Luke Griffith (Wheaton) | 6-3 | 262 | Sr. | Newton, Ala. (Houston Academy) |
| OL | Jeremy Schaub (North Central) | 6-2 | 270 | Sr. | Lockport, Ill. (H.S.) |
Art Keller Offensive Player of the Year
Evan Jones - Carthage
Don Larson Defensive Player of the Year
Matt Wenger - North Central
Bob Reade Coach of the Year
John Thorne - North Central