November 13, 2010
2010 Season - Augustana 17th at Midwest Regional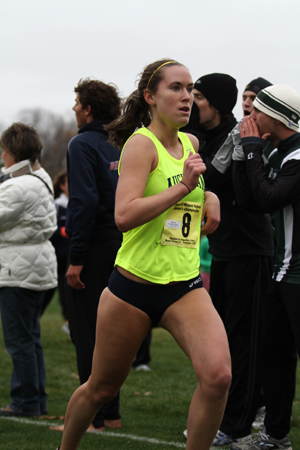 Theresa Coverick had the top finish for Augustana Saturday, finishing 63rd and leading the Vikings to a 17th-place team finish at the NCAA Midwest Regional at Sukie Golf Course.
ROCK ISLAND, Illinois - Sophomore Theresa Coverick (Stagg HS, Palos Park, Ill.) was Augustana's top finisher Saturday at the NCAA Midwest Regional at Saukie Golf Course in Rock Island, Illinois. Coverick completed the 5-kilometer course in 23:10.0 to finish 63rd. The Vikings finished 17th in the 38-team field.
Augustana senior Hannah Hottle (Monmouth-Roseville HS, Monmouth, Ill.) finished 79th in a time of 23:26.7 and sophomore Annie Heifner (Oregon HS, Oregon, Wis.) ran a 123rd-place 24:08.6. Sophomore Tara Bistry (Joliet Catholic HS, Shorewood, Ill.), who finished 129th in 24:23.1 and freshman Emma Grandgeorge (Sycamore HS, Sycamore, Ill.), who was 137th in 24:36.6, rounded out the Viking top five.
Junior Angela Pisani (York HS, Elmhurst, Ill.), who ran a 142nd-place 24:42.2 and sophomore Sarahbeth Jones (Warren Township HS, Wadsworth, Ill.), who finished 149th in 25:01.5, completed the Augustana contingent.
Wisconsin-Eau Claire won the team title, edging out Washington University 85 points to 93. Wisconsin-Stevens Point was third with 98 points. The University of Chicago's Elizabeth Lawton was the individual winner in a time 20:57.2. Jenny Scherer of St. Norbert (21:02.9) and North Central's Amanda Laesch (21:29.8) rounded out the top three individuals.