November 12, 2010
2010 Season - Vikings fall to Carleton 2-1 in overtime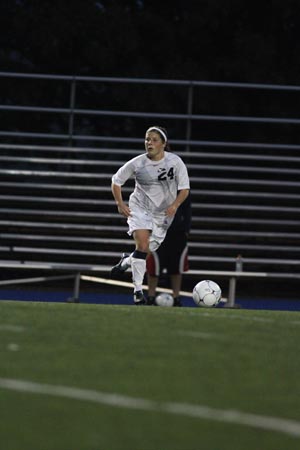 Erin Coulson's sixth goal of the season gave Augustana a 1-0 lead in the second half of the NCAA tournament match against Carleton. The Vikings eventually lost 2-1 in overtime.
WHEATON, Ill. - An "own goal" proved to be the difference as Augustana was eliminated from the NCAA Division III national tournament by Carleton on Friday, November 12 in Wheaton. The Vikings fell to the Carls by a score of 2-1, thus ending their season with a fine 13-2-5 record.
The deciding goal came 5:10 into the first overtime and it was an "own goal".
After the two teams played to a scoreless tie in the first 45 minutes, Augustana took a 1-0 lead less than 10 minutes into the second half (54:03). Junior Erin Coulson (Neuqua Valley HS, Naperville, Ill. - now resides in Hermosa Beach, California) scored her sixth goal of the season on an assist by sophomore Taylor Moesle (Carl Sandburg HS, Orland Park, Ill.).
For a long time, it looked as if that one goal might hold up and allow the Vikings to advance to the second round. However, with less than four minutes remaining (86:19), Carleton evened the game. Lily VanderStaay scored an unassisted goal to make it 1-1.
In the first half Carleton had a slight advantage in shots by a margin of 6-5. The final 45 minutes belonged to the Carls as they had a 15-4 lead in shots attempted.
Augustana goalkeeper Kayla Radloff (West Chicago HS, West Chicago, Ill.) recorded 12 saves in the defeat.
Carleton advances with a 15-2-2 overall recored.