November 12, 2010
2010 Season - Win in season finale would clinch winning season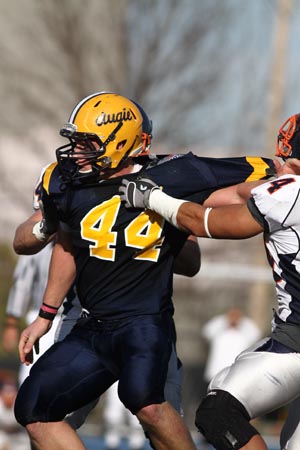 The Vikings and defensive end Curt Perschnick will be attempting to slow down an Illinois Wesleyan offense that is averaging 27.4 points per game. Augustana will be looking to secure a winning season for the 31st time in the last 32 years.
The final game of the 2010 Augustana football season will take place on Saturday, Noevember 13 at Ericson Field against Illinois Wesleyan. Kickoff for the College Conference of Illinois & Wisconsin contest is set for 1:00 p.m.
Last week the Vikings fell to Elmhurst by a score of 35-21, marking the first Bluejay victory in the series since 1979, a span of 31 years. Augustana couldn't overcome six turnovers and dropped a game on the road for the first time this season, falling 35-21. The Vikings will be looking for their first home win of the season this Saturday when they host Illinois Wesleyan in the season finale. They'll need to win that game to record the program's 31st winning season in the last 32 years.
With a running game hamstrung because of injuries, the offensive load at Elmhurst fell even more than usual on junior quarterback David Lee (Springfield HS, Springfield, Ill.). Lee was forced into the role of de facto running back as well, handing the ball off just six times in 60 offensive plays. He connected on 27 of 42 passing attempts for 272 yards and one touchdown and rushed 12 times for a team-high 72 yards and two touchdowns. Unfortunately, he lost three fumbles and was intercepted twice.
Lee did knock two more of Ken Anderson's school records off the books. He passed Anderson's single-season passing yardage total of 2,117 and now has 2,282 with one game remaining. He also broke Anderson's record for total offense in a season with 2,498 yards. Anderson accounted for 2,328 yards during the 1968 season.
Lee's main target, Corbett Ball (Buffalo Grove HS, Arlington Heights, Ill.), also etched his name in the Augustana record book, catching 12 passes to tie Paul Ander's single-game standard and passing Ander (50) as the school's single-season leader in pass receptions with 56. Both of Ander's marks had been set in 1968 as well.
The Vikings welcome the Illinois Wesleyan Titans to Ericson Field to close the season this Saturday. The Titans come in 7-2 overall and 4-2 in the CCIW. They average 27.4 points a game and allow an average of 20.6. In conference games, those averages are 28.5 on offense (third in the league) and 23.5 (fourth).
Quarterback Brien Rooney leads IWU in both rushing and passing. He's carried 153 times for 669 yards (4.4 per carry) and six touchdowns, leading the team in each. He's completed 134 of 232 pass attempts (57.8%) for 1,571 yards and 16 touchdowns, but has been intercepted a league-high 15 times. Eli Williams, a second team All-CCIW performer last year, and Bo Lanter are the Titans' top running backs. Williams has rushed for 566 yards and four scores on 114 carries (5.0 per carry) and Lanter has five touchdowns and 464 yards on 80 carries (5.8 per carry). Lanter also averages 26.5 yards per kickoff return. Joey Driver, with 36 catches for 504 yards and nine touchdowns, is the team's top receiver. Williams (32-193-1) and Dayton Burnett (26-273-1) have complimented him nicely. The Titan offense also features 6-5, 290-pound tackle Ray Krishock, a second team All-CCIW selection in 2009.
On defense, Wesleyan returns three first team all-conference performers from last year in linebacker Dan Rogers (56 tackles), strong safety P.J. Cummings (44 tackles, two interceptions) and defensive tackle Max Brooks (42 tackles, 4½ for loss and three sacks). Linebacker Ryan Gresko leads the Titans in tackles (79), tackles for loss (12) and sacks (five). Linebacker Michael Whittington is second with 58 tackles and 7½ for loss and free safety Scott Wenzel has intercepted a team-high four opposition passes.
Lee has led the Vikings offensively all year. In nine games, the record-setting junior has completed 184 of 298 pass attempts (61.7%) for 2,282 yards with 17 touchdowns and eight interceptions. He's also rushed for 216 yards and three scores. Robert Wood (Rockford Boylan HS, Loves Park, Ill.), who was limited by injury to just five carries for 18 yards against Elmhurst, is the Vikings' leading ground gainer with 517 yards and seven touchdowns on 124 carries (4.2 yards per carry). Ball's record 56 receptions lead the team. They've gone for 590 yards and a pair of touchdowns. Kyle Hundman's (Bloomington Central Catholic HS, Bloomington, Ill.) 37 catches have vaulted him to seventh on the school's single-season reception list. Hundman has 362 receiving yards and one touchdown. Junior Zach McCullough (St. Charles North HS, St. Charles, Ill.) leads the team in receiving yards (612 on 28 catches), touchdown grabs (six) and yards per catch (21.9).
John Mago (Car-Grove HS, Cary, Ill.) made a season-best 10 solo tackles at Elmhurst and was in on 13 total. For the season, the senior linebacker has gone over 100 tackles with 105 in nine games (11.7 per game). He's tied with defensive end Curt Perschnick (Dwight HS, Dwight, Ill.) for second on the team with 8½ tackles for loss. Perschnick is second in total tackles as well with 55. Sophomore linebacker Joe Weber (Marmion Academy, South Elgin, Ill.) leads in tackles for loss (13½) and sacks (nine) and is third in total tackles with 53.
CCIW LEADERS: With just one game left to play, Augustana is scattered among the league leaders in the CCIW. As a team, the Vikings lead the loop in total offense with an average of 391.8 yards per game and fewest sacks allowed, having given up just six. Individually, Lee's 292.0 yards per game leads the conference in total offense, Ball's 7.17 catches per game leads the league as well and Arnie Fitzwater (Waterford Union HS, Waterford, Wis.) has converted a CCIW-best 18 of 20 extra points.
In addition, Augustana ranks second in the CCIW in total defense (311.5 ypg), passing defense (172.7 ypg), passing offense (262.0 ypg), passing efficiency (132.3) and kickoff returns (23.2). Other individuals near the league lead include Mago, who is just one off the conference lead with 63 tackles in six games, Lee, who's second in passing yards (257.7 ypg) and third (among starters) in passing efficiency (132.3) and Wood who is tied for second in touchdowns (seven) and tied for third in scoring (42 points). Ball is second in the conference in receiving yards (77.8 ypg).

LAST WEEK'S GAME: 11/06/10—ELMHURST 35, AUGUSTANA 21
Despite record setting performances from David Lee and Corbett Ball, Vikings fall
ELMHURST, Ill.—Despite school record setting performances from junior quarterback David Lee (Springfield HS, Springfield, Ill.) and wide receiver Corbett Ball (Buffalo Grove HS, Arlington Heights, Ill.), Augustana dropped a 35-21 decision at Elmhurst on Saturday, November 6. Lee knocked off two more of Ken Anderson's school records and Ball became the school's single season receiving leader when the smoke cleared at Langhorst Field.
Lee completed 27 of 42 passing attempts for 272 yards and one touchdown. He now has 2,282 yards this year with one game left to play and he erased Anderson's previous record of 2,117 yards set in 1968. Lee is also the new school record holder for total offense with 2,498 yards, breaking Anderson's mark of 2,327, also set in 1968.
Ball caught 12 passes on the day for 103 yards, tying Paul Ander's single game mark. Ball now has 56 receptions on the year and that broke Ander's former record of 50, also set in 1968.
The game was fraught with mistakes as Elmhurst committed 18 penalties and Augustana turned the ball over six times.
A week after holding the CCIW's top-ranked offense (Wheaton) to just 249 total yards, the Augustana defense surrendered 422 on Saturday. The Elmhurst offense wasted no time, taking the opening kickoff and going 62 yards in 13 plays for a touchdown. Scottie Williams, who rushed for 175 yards and three touchdowns on the day, finished off the drive with an eight-yard scoring run to make it 7-0.
Augustana ran just two plays before committing the first of its six turnovers. A David Lee (Springfield HS, Springfield, Ill.) fumble gave Elmhurst the ball near midfield. The Viking defense responded by forcing a three-and-out and a short Bluejay punt gave them the ball at their own 37. They drove to the Elmhurst 30 before being stopped on downs.
The Viking forced another Elmhurst punt early in second quarter, but Kyle Hundman (Bloomington Central Catholic HS, Bloomington, Ill.) coughed up the ball at the Augustana 13-yard line and three plays later, Williams took it into the end zone from four yards out for a 14-0 Bluejay lead.
Things didn't get any better on Elmhurst's next possession. After the Bluejays had driven from their own 20 to the Augustana 26, Alex Schroeder (Batavia HS, Batavia, Ill.) intercepted a Joe Furco pass at the four-yard line to seemingly end the threat. However, a roughing the passer penalty on the Vikings gave Elmhurst new life and on the next play, Furco connected with Rodney Payton from 13 yards out to make it 21-0 with just over five minutes remaining in the half.
Augustana finally got on the board just before halftime. Lee hit Nick Krantz (Moline HS, Moline, Ill.) with a three-yard touchdown pass to cap an 80-yard, 10-play drive and make the score 21-7 at the break.
The Vikings lost another fumble on the second play of the second half and Elmhurst responded by using some trickery to score on its first play. Wide receiver Chase Hamby hit Brian LeSeur with a 32-yard scoring strike to make it 28-7 with 13:49 left in the third quarter. The Vikings answered with a seven-play, 58-yard march, but came away empty after losing their fourth fumble of the day at the Elmhurst eight-yard line.
After a John Mago (Cary-Grove HS, Cary, Ill.) interception at the Viking one yard-line ended another Bluejay threat, Augustana went 91 yards in six plays to cut the lead to 28-14. Lee threw for 52 yards and ran for another 27 on the drive and finished it off with a two-yard touchdown run.
Williams' third rushing touchdown of the day and Lee's second closed out the scoring in the final period.
Small consolation in another tough loss was the fact that three more school records fell and another was tied. When Lee connected with Zach McCullough (St. Charles North HS, St. Charles, Ill.) for 42 yards late in the third quarter, he passed Ken Anderson as Augustana's single-season leader in passing yards. With 272 yards versus Elmhurst, Lee's season total now stands at 2,282; bettering the 2,117 yards that Anderson threw for in 1968. Lee, the CCIW's leader in total offense, broke Anderson's school record in that category as well. He was the leading Viking rusher with 72 yards on the day and now has accounted for 2,498 yards of total offense this season. The previous record was Anderson's 2,328 in 1968. Corbett Ball (Buffalo Grove HS, Arlington Heights, Ill.) snared 12 passes in the game, tying Paul Ander's school record set in 1968. When he made a diving grab on a four-yard out route early in the second half, Ball passed Ander as the school's single-season record holder for receptions as well. Ander caught 50 passes in 1968 and Ball now has 56 catches this season.
John Mago continued his recent outstanding play. In addition to his interception, he was in on 13 tackles, including 10 solo stops and a sack.
After dropping its first road game this season, Augustana, now 5-4 overall and 3-3 in the CCIW, will be looking for its first home win in next Saturday's season finale. The Vikings host Illinois Wesleyan at 1:00 p.m. at Ericson Field.
AUGUSTANA-ILLINOIS WESLEYAN SERIES NOTES: Illinois Wesleyan leads this series by a margin of 40-34-1...At one time Illinois Wesleyan led this series by a whopping 32-13-1 margin but 11 straight victories by Augustana trimmed the lead to 32-24-1 heading into the 1992 season...Since 1981 the Vikings have won 21 of 30 contests.
LAST YEAR'S GAME: 10/17/09—ILLINOIS WESLEYAN 7, AUGUSTANA 0
Augustana drops homecoming contest
ROCK ISLAND, Ill. – A roughing the kicker penalty against Augustana with just over seven minutes left in the first quarter may have been the key play Saturday as Illinois Wesleyan spoiled the Vikings' homecoming, winning 7-0 at Ericson Field.
After an impressive opening drive ground to halt at the Vikings' 11-yard line, Titan kicker Michael Fenger lined up for a 28-yard field goal. He hooked the attempt wide left, but IWU got second life when Augustana was called for running into the kicker. On fourth-and-two Titan coach Norm Eash decided to pass on another field goal attempt and instead go for it. IWU was able to pick up the first down and two plays later, quarterback Brien Rooney found Michael Sloboda in the back of the end zone with a 4-yard touchdown pass to put the Titans on top. Fengers' point after made it 7-0.
Augustana started at its own 30-yard line following the ensuing kickoff and it looked like the Viking offense was clicking when running back Robert Wood (Rockford Boylan HS, Loves Park, Ill.) burst into Titan territory on a nice run. Unfortunately he coughed the ball up as he was going down and IWU's Neal Loftus recovered at the Titan 31.
As both team's defenses tightened up, each offense got just one more first down until midway through the second quarter when IWU put together a nice drive. The Titans moved from their own 43-yard line to the Viking nine in eight plays before a holding call pushed them back to the 19. On the drive's ninth play, the Vikings' Andrew Rosset (Maine West HS, Des Plaines, Ill.) intercepted Rooney at the Viking 13, ending the Titan threat.
Neither team could manage a first down the rest of the half and they went to intermission with IWU on top 7-0.
Augustana started the second half with excellent field position following a nice kickoff return by linebacker Eric Meyer (Harlem HS, Machesney Park, Ill.). Starting from their own 42, the Vikings quickly moved to the Titan 20 on five consecutive running plays. However, on first-and-ten from the Titan 20, Jake Parke (St. Joseph-Ogden HS, St. Joseph, Ill.) broke through for a seven gain but lost the football on his way down. The Titans' Robert Beauchamp came up with the recovery and Augustana was thwarted again.
Both defenses continued their tremendous play as the next nine possessions, five by IWU and four by Augustana, produced a total of one first down for each team. Augustana missed another opportunity to put points on the board when Ryan Gibbons' (Richwoods HS, Peoria, Ill.) 32-yard field goal attempt was blocked with just under seven minutes left. The Vikings would see the ball just one more time and the Titans' Mike Kotz ended Augustana's hopes by intercepting a David Lee (Springfield HS, Springfield, Ill.) pass at the IWU 45-yard line with 24 seconds left.
While the Viking offense moved the ball on occasion, it hurt itself with four turnovers. IWU, likewise, had some success, mostly through the air with Rooney completing 16-of-20 passes, but for just 145 yards. Augustana was more successful on the ground. Wood led the way with 76 yards on 16 carries while Lee struggled, completing just 4-of-15 passes for 30 yards while being intercepted twice and sacked four times. For the game, the Vikings produced just 135 yards and six first downs. Augustana's defense limited IWU to just 75 rushing yards on 40 carries and intercepted Rooney twice. Rosset led the team with 10 tackles.
The loss was Augustana's first at home to IWU since 2000 and drops the Vikings to 3-3 overall and 1-2 in CCIW play. Illinois Wesleyan improves to 5-1 overall and 2-1 in the conference. The Vikings are home again next week when they'll host the Carthage Red Men in a 6:00 p.m. contest at Ericson Field.
HEAD COACH JIM BARNES
Jim Barnes is in his 11th season as the head coach at his alma mater (class of 1981). He has compiled a record of 78-34 (.696) during his career at Augustana, including a 5-4 mark this year. Overall, he has a mark of 115-47 (.710) in 16 years as a college head coach and that includes a 37-13 record at College of Wooster from 1995-99. During his years at Augustana his teams have gone 55-21 (.724) in the College Conference of Illinois & Wisconsin with league titles in 2001, 2005 and 2006. The Vikings have participated in the NCAA Division III national playoffs in 2001 and 2005.