November 9, 2010
2010 Season - Vikings' Fidlow 2nd team All-CCIW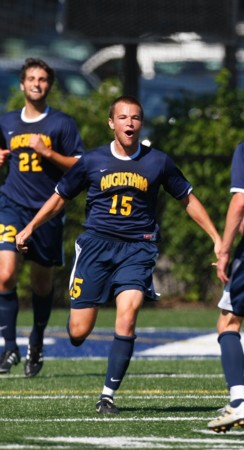 Augustana's Sean Fidlow has been named to the 2010 All-CCIW second team.
NAPERVILLE, Ill.-The College Conference of Illinois & Wisconsin has announced its 2010 men's soccer all-conference team and Augustana is represented by junior forward Sean Fidlow (Carmel Catholic HS, Gurnee, Ill.). The Vikings' leading scorer this year with 14 points, Fidlow was a second team selection.
Despite missing four games due to injury, Fidlow led the team with four assists and tied for the team lead in goals with five. He started 15 of the 16 games in which he played, logging 1,125 minutes. He was also Augustana's leader in shots with 68 and shots-on-goal with 28.
CCIW tournament champion North Park had six first team selections, led by conference Player of the Year Kris Grahn, as well as Coach of the Year John Born. Wheaton, the league's regular season champion, had four first team picks and one on the second team.
2010 CCIW ALL-CONFERENCE MEN'S SOCCER TEAM
FIRST TEAM
| | | | | |
| --- | --- | --- | --- | --- |
| Name | School | Position | Year | Hometown (High School) |
| Tim Ahlberg | North Park | GK | So. | Perrysburg, Ohio (H.S.) |
| Ryan Seager | Wheaton | GK | So. | West Chicago, Ill. (Wheaton Academy) |
| Hannes Granlund | North Park | D | Fr. | Sweden (Magnus Abergsgymnasiet) |
| Dan Pavlak | Wheaton | D | So. | DeWitt, Mich. (H.S.) |
| Declan Geraghty | Illinois Wesleyan | D | Fr. | Schaumburg, Ill. (H.S.) |
| Kris Grahn | North Park | MF | Jr. | Tibro, Sweden (Fageluiksgymnasiet) |
| Jon Brehm | Elmhurst | MF | Sr. | Sinking Spring, Pa. (Wilson) |
| James Kriticos | North Park | MF | Sr. | Lincolnwood, Ill. |
| Drew Golz | Wheaton | F | Jr. | River Forest, Ill. (Oak Park-River Forest) |
| Filip Landmark | North Park | F | Fr. | Skovde, Sweden (Vasterhojdsgymnasiet) |
| Sehten Hills | North Park | F | Jr. | Gothenburg, Sweden |
| Aleks Urosevic | Carthage | F | Jr. | Skokie, Ill. (Loyola Academy) |
| Stephen Mesko | Wheaton | F | Sr. | Mason, Mich. (H.S.) |
SECOND TEAM
| | | | | |
| --- | --- | --- | --- | --- |
| Name | School | Position | Year | Hometown (High School) |
| Phillip Klipp | North Central | GK | Jr. | Roscoe, Ill. (Rockton Hononegah) |
| Randy Warren | Elmhurst | D | Sr. | Sarasota, Fla. (Cardinal Mooney) |
| Paul Box | North Central | D | Jr. | Naperville, lll. (Neuqua Valley) |
| Zak Khoshbin | Carthage | D | Jr. | Hawthorn Woods, Ill. (Lake Zurich) |
| Josh Clark | Wheaton | MF | Fr. | Palatine, Ill. (H.S.) |
| Brian McMahon | Elmhurst | MF | Jr. | St. Charles, Ill. (St. Francis) |
| Greg Pignataro | Carthage | MF | Jr. | Algonquin, Ill. (Jacobs) |
| Kyle Gorgol | Illinois Wesleyan | MF | So. | Darien, Ill. (Hinsdale South) |
| Tyler Peterson | Carthage | MF | Sr. | New Berlin, Wis. (Eisenhower) |
| Sean Fidlow | Augustana | F | Jr. | Gurnee, Ill. (Carmel Catholic) |
| Tim Griffin | Illinois Wesleyan | F | So. | Springfield, Mo. (Parkview) |
| Kevin Price | Millikin | F | Fr. | Farmer City, Ill. (Blue Ridge) |
| Jordan Golz | Wheaton | F | Fr. | River Forest, Ill. (Oak Park-River Forest) |