November 8, 2010
2010 Season - Jungnickel, Slick named all-CCIW in volleyball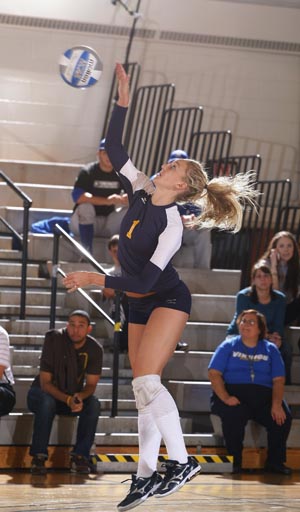 Courtney Jungnickel (pictured) and Shannon Slick were both named to the all-conference volleyball team in the CCIW. Jungnickel was selected for the fourth straight year while Slick made it for the first time.
For the fourth straight year, Augustana senior outside hitter Courtney Jungnickel (Naperville Central HS, Naperville, Ill.) has been named to the CCIW all-conference team. Jungnickel earned first team honors for the first time and was joined by teammate Shannon Slick (Rockton Hononegah HS, Roscoe, Ill.), a sophomore defensive specialist who earned honorable mention.
Jungnickel, who led the Vikings in kills (377) and service aces (58) while ranking second in digs (417), is the first Viking to earn first team all-league honors since Jamie Spolum in 2007. She earned honorable mention as a freshman and sophomore and second team recognition last year. She's Augustana's all-time leader in aces with 215 and ranks second in kills, with 1,442 and digs, with 1,597. This season she recorded the seventh-highest kills-per-game average in school history at 3.25 and her average of 0.50 aces per game tied her for third best in one season.
Slick led the Vikings in digs this season with 577. Her average of 4.93 per game ranks as the fifth-best single-season mark in school history. She also moved into 10th-place on Augustana's career digs list with 1,110.
Jungnickel was joined on the first team by CCIW Player of the Year Michelle Madeja, Drewann Pancratz and Lauren Dembkowski of Carthage, Brittany Cardott and Kelsy England of Millikin, and Megan Reynolds of Elmhurst—the league's Freshman of the Year. Millikin's Debbie Kiick was named Coach of the Year.
2010 CCIW ALL-CONFERENCE VOLLEYBALL TEAM
FIRST TEAM
| | | | | |
| --- | --- | --- | --- | --- |
| Player | Team | Position | Year | Hometown (High School) |
| Brittany Cardott | Millikin | S | So. | Lombard, Ill. (Glenbard East) |
| Lauren Dembkowski | Carthage | OH | Jr. | Mount Prospect, Ill. (Hersey) |
| Kelsy England | Millikin | OH | Jr. | Highland, Ill. (Highland) |
| Courtney Jungnickel | AUGUSTANA | OH | Sr. | Naperville, Ill. (Central) |
| Michelle Madeja | Carthage | OH | Jr. | Naperville, Ill. (Neuqua Valley) |
| Drewann Pancratz | Carthage | S | Jr. | Schaumburg, Ill. (Schaumburg) |
| Megan Reynolds | Elmhusrt | MH | Fr. | Thornton, Ill. (Marian Catholic) |
SECOND TEAM
| | | | | |
| --- | --- | --- | --- | --- |
| Player | Team | Position | Year | Hometown (High School) |
| Kylee Brown | Millikin | MH | Sr. | Warsaw, Ind. (Whitko) |
| Stephanie Buhrow | Illinois Wesleyan | MH | Fr. | Bloomington, Ill (Central Catholic) |
| Jordan Burkholder | Carthage | MB | Jr. | Rockford, Ill (Christian Life) |
| Cindy Cavanaugh | Carthage | MB | Jr. | Naperville, Ill. (Waubonsie Valley) |
| Ryan Lally | North Central | S | So. | Downers Grove, Ill (North) |
| Perrie Morgan | Elmhurst | DS | So. | Avon, Ind. (Avon) |
| Abby Ott | Millikin | RSH | Sr. | Williamsfield, Ill. (Williamsfield) |
HONORABLE MENTION
| | | | | |
| --- | --- | --- | --- | --- |
| Player | Team | Position | Year | Hometown (High School) |
| Lori Johnson | Illinois Wesleyan | MH | Sr. | Bloomington, Ill. (Normal) |
| Hannah Lessen | Elmhurst | DS | Fr. | Bloomington, Ill. (Downs Tri-Valley) |
| Jenna McCallister | Wheaton | S | Jr. | Pacific Palisades, Cal. (Palisades Charter) |
| Ashlie Pace | Wheaton | L/DS | Sr. | Oceanside, Cal. (Tri-City Christian) |
| Erin Reed | Millikin | DS/L | So. | Hazel Crest, Ill. (Marian Catholic) |
| Shannon Slick | AUGUSTANA | DS | So. | Roscoe, Ill. (Rockton Hononegah) |
| Shelby Switzer | North Park | OH/MB | Fr. | Phoenix, Ariz. (Northwest Christian) |
| Crystal Wright | North Central | OH | Jr. | Lake Zurich, Ill. (Lake Zurich) |