November 8, 2010
2010 Season - Vikings land six on the All-CCIW team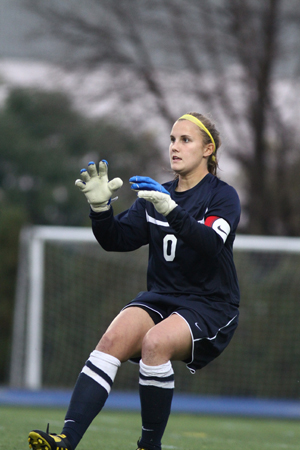 Kayla Radloff was one of three Vikings named first team All-CCIW. Three more Augustana players were named to the second team.
NAPERVILLE, Ill. - With a 13-1-5 record and a berth in the NCAA Division III tournament, Coach Scott Mejia's Augustana Vikings landed six players on this year's College Conference of Illinois & Wisconsin all-conference women's soccer team. Junior goalkeeper Kayla Radloff (West Chicago HS, West Chicago, Ill.) and senior defender Megan Mummert (Crawfordsville HS, Crawfordsville, Ind.) were joined on the first team by sophomore midfielder Taylor Moesle (Sandburg HS, Orland Park, Ill.). Viking midfielders Caitlin Winkelman (St. Charles North HS, St. Charles, Ill.) and Kirsten Boesen (Normal West HS, Gibson City, Ill.) were named to the second team along with forward Ashley Higuchi (Smoky Hill HS, Aurora, Colo.).
Radloff is 13-1-5 this season with a 0.48 goals against average and an .842 save percentage. Mummert has one goal and one assist and has spearheaded an Augustana defense that has allowed just 59 shots on goal in 19 games. Both were repeat selections on the all-conference first team. Moesle leads the Vikings with 12 goals and has added three assists for a team-high 27 total points. Her goals and total points both rank 10th-best at Augustana for a single season and she's also 10th in career goals with 21.
Viking junior Winkelman, who was a first team selection in 2009, has four goals and three assists this season. Boesen, a sophomore, was also a third team ESPN academic all-district selection. They were joined on the second team by Higuchi, who is the Vikings' second-leading scorer with six goals and a team-best four assists. The junior, who excels at corner kicks, is tied for 10th in career assists at Augustana with 11.
Wheaton's Pete Felske was honored as the league's Coach of the Year while one of his charges, junior forward Jaime Orewiler, was selected as the conference Player of the Year.
2010 CCIW ALL-CONFERENCE SOCCER TEAM
FIRST TEAM
| | | | | |
| --- | --- | --- | --- | --- |
| Name | School | Position | Year | Hometown (High School) |
| Kayla Radloff | Augustana | GK | Jr. | West Chicago, Ill. (H.S.) |
| Laura Karsten | Wheaton | D | So. | Grand Haven, Mich. (W. Michigan Christian) |
| Megan Mummert | Augustana | D | Sr. | Crawfordsville, Ind. (H.S.) |
| Tori Samson | Illinois Wesleyan | D | Sr. | Chesterfield, Mo. (Parkway Central) |
| Ali Kopelman | Wheaton | MF | Jr. | Rockford, Ill. (Lutheran) |
| Taylor Moesle | Augustana | MF | So. | Orland Park, Ill. (Sandburg) |
| Molly O'Brien | Illinois Wesleyan | MF | Jr. | Valparaiso, Ind. (H.S.) |
| Brittany Bergh | Wheaton | MF | Sr. | Delano, Minn. (Wayzata) |
| Katelyn Kishkunas | Wheaton | MF | Jr. | Glenview, Ill. (Glenbrook South) |
| Jaime Orewiler | Wheaton | F | Jr. | Wheaton, Ill. (North) |
| Emily Hinchman | Illinois Wesleyan | F | So. | Geneva, Ill. (H.S.) |
| Allison Horne | Millikin | F | Sr. | Downers Grove, Ill. (South) |
SECOND TEAM
| | | | | |
| --- | --- | --- | --- | --- |
| Name | School | Position | Year | Hometown (High School) |
| Alli Novak | Illinois Wesleyan | GK | Sr. | Naperville, Ill. (North) |
| Amanda Brait | Wheaton | D | Fr. | Park Ridge, Ill. (Maine South) |
| Kaitlyn Le Baudour | Wheaton | D | Jr. | Windsor, Calif. (Ursuline) |
| Tanya Romano | Millikin | D | Sr. | Palatine, Ill. (Fremd) |
| Lauren Knaack | Illinois Wesleyan | D | Jr. | McHenry, Ill. (West) |
| Kirsten Boesen | Augustana | MF | So. | Gibson City, Ill. (Normal West) |
| Meghan Schroeder | Millikin | MF | Sr. | Naperville, Ill. (Neuqua Valley) |
| Caitlin Winkelman | Augustana | MF | Jr. | St. Charles, Ill. (North) |
| Kelsey Caldwell | Elmhurst | MF | Sr. | Plainfield, Ill. (South) |
| Ashley Higuchi | Augustana | F | Jr. | Aurora, Colo. (Smoky Hills) |
| Brittany Belrichard | Millikin | F | Sr. | Sycamore, Ill. (H.S.) |
| Tillie Bill | Illinois Wesleyan | F | Fr. | Hartsburg, Mo. (S. Boone County) |