November 4, 2010
2010 Season - Vikings look for sixth straight road victory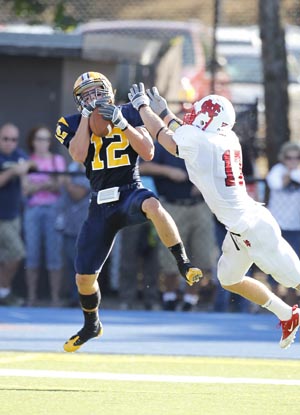 Zach McCullough and the Augustana Vikings are looking for a sixth straight road victory this Saturday at Elmhurst. McCullough has six touchdown receptions this fall.
The Augustana football team suffered yet another excruciating defeat at the hands of the Wheaton Thunder this past Saturday, falling 20-14 despite outgaining the visitors by a 430-249 margin in total yards. After giving up the go-ahead score with 4:43 remaining, the Vikings' final drive reached the Wheaton 2-yard line before they were stopped on downs. Now 5-3 overall and 3-2 in the CCIW, the team will head back on the road to face an improving Elmhurst program Saturday as it tries to maintain its third-place position in the conference.
Saturday's loss was the latest in a remarkable string of tough setbacks to the Thunder. Wheaton has won nine of the last 11 meetings between the teams and in five of those games its winning score came in the final 43 seconds or in overtime. In two others, the game ended with the Vikings at or inside the Wheaton 10-yard line.
The loss overshadowed a tremendous performance by the Viking defense, which allowed just 249 total yards and one touchdown to the CCIW's top rated offense. John Mago (Cary-Grove HS, Cary, Ill.) was the ring leader with a season-high 14 tackles, including nine solo stops and a pair of sacks.
This Saturday, the Vikings will be back on the road to face a 5-3 Elmhurst club that is currently in a tie for fifth place in the CCIW at 2-3. The Bluejays are coming off a 47-13 loss at home to CCIW co-leader North Central. Through eight games, Elmhurst averages 30.2 points per game on offense—ranking third in the conference—and allows an average of 22.4 on defense, which ranks fifth. They hold the same spots in total offense and defense with averages of 391.3 yards per game (246.9 passing and 144.4 rushing) on offense and 337.0 (195.5 passing and 141.5 rushing) on defense.
Individually, sophomore Scottie Williams has run for 933 yards and 11 touchdowns on 168 carries (5.6 yards per carry) to rank second in the CCIW in rushing. Williams was a second team All-CCIW selection a year ago. Sophomore quarterback Joe Furco has completed 155 of 264 pass attempts (58.7%) for 1,854 yards and 16 touchdowns with eight interceptions. He ranks third in the conference (in league games) in passing yards and fifth in total offense and leads the league with 10 touchdown passes.
Two more sophomores, Bobby Vavlas and Rodney Payton, have been the Bluejays' top receivers with 35 catches each. Payton's have gone for 542 yards (15.5 per reception) and five touchdowns. Vavlas has 419 receiving yards (12.0 per catch), but has yet to reach the end zone.
Defensively, Elmhurst returns three all-conference selections from 2009, led by first-teamer Randy Wright—a senior linebacker. Wright is averaging a CCIW-best 11.0 tackles per game in conference play and has 78 tackles, including 11 for loss and five sacks, overall this season. Strong safety John Janus and linebacker Brandon Jones, both juniors, were second team All-CCIW picks in 2009. Janus is third on the Bluejays with 44 tackles and has also blocked a pair of kicks, while Jones is right behind with 43 stops.
Mago's big day Saturday moved him up to second in the CCIW in total tackles with 50 in five league games. For the season, he's made 38 solos stops and has assisted on another 52 for a total of 90 tackles (11.3 per game). Seven-and-a-half of those have come behind the line of scrimmage and he recorded his first two sacks of the year against Wheaton. Senior defensive end Curt Perschnick (Dwight HS, Dwight, Ill.) also has 7.5 tackles for loss (three sacks) and is second on the team overall with 48 stops. He leads the team with three fumble recoveries. Sophomore linebacker Joe Weber (Marmion Academy, South Elgin, Ill.) is third in tackles with 44 and leads the team with 13 tackles for loss and nine quarterback sacks. He also had a big blocked punt Saturday against Wheaton.
Senior running back Robert Wood (Rockford Boylan HS, Loves Park, Ill.), though still battling an ankle injury, has continued to run effectively. With 89 yards on 17 carries Saturday (including a 33-yard scoring run), he's now rushed for 499 yards and seven touchdowns on 119 carries (4.2 yards per carry) this season. He ranks third in the CCIW in rushing with an average of 86.8 yards per game (4.4 per carry) and is tied for the conference lead in scoring with seven total touchdowns in five league games.
With 323 passing yards against Wheaton, junior quarterback David Lee (Springfield HS, Springfield, Ill.) moved into second place on both the single-season and career passing yards lists at Augustana. For the season, he's completed 157 of 256 pass attempts (61.3%) for 2,010 yards and 16 touchdowns with six interceptions. With two games left to play, that yardage total trails only the 2,117 put up by Ken Anderson in 1968. Lee's career total now stands at 3,740 as he passed Butch Necastro (3,652 from 1974-77) and John Each (3,665 from 1971-74) on Saturday. He continues to lead the CCIW in total offense at 281.6 yards per game and is second in passing yards at 254.8 per game.
Senior Corbett Ball (Buffalo Grove HS, Arlington Heights, Ill.) has been Lee's favorite target this season with 44 catches for 487 yards (11.1 per catch) and seven touchdowns. His reception total is the third highest single-season mark in school history, trailing only Paul Ander's 50 in 1968 and Jake Parke's 46 in 2008. With 58 career grabs, he's closing in on the school's all-time top ten as well. In addition, Ball ranks second in the CCIW in both receptions (6.2) and receiving yards (72.8) per game.
Two of the Vikings' other top receivers are closing in on the single season top ten as well. Senior Kyle Hundman (Bloomington Central Catholic HS, Bloomington, Ill.) has 31 catches for 325 yards and a touchdown and is just two receptions from cracking the top ten. Junior Zach McCullough (St. Charles North HS, St. Charles, Ill.) caught a season-high 10 passes against Wheaton and now has 27 receptions. He leads the team with 570 yards (21.1 per catch) and six touchdown grabs and ranks fourth in the conference with an average of 66.8 receiving yards per game.

LAST WEEK'S GAME: 10/30/10—WHEATON 20, AUGUSTANA 14
Vikings fall to 17th-ranked Wheaton 20-14
ROCK ISLAND, Illinois - Looking for its first home win of the season, the Augustana football team outgained 17th-ranked Wheaton by nearly 200 yards Saturday, but was unable to overcome four turnovers and a pair of missed field goals, falling to the Thunder 20-14 at Ericson Field. Wheaton improves to 8-0 on the year and 5-0 in the CCIW while the Vikings are now 5-3 overall and 3-2 in the league.
Saturday's game was the latest in a series of heartbreaking setbacks to the Thunder. After falling behind 20-14 with 4:42 remaining on a 43-yard Jordan Roberts-to-Teddy Watkins touchdown pass, the Vikings went on a 16-play, 74-yard march that reached the Wheaton 2-yard line with under a minute remaining. However, a sack, a penalty and a pair of incompletions ended the threat as Wheaton came away with its ninth win in the last 11 meetings between the teams-seven of them by a touchdown or less.

With Augustana leading 7-6 and under 20 seconds remaining in the first half, Wheaton's Tyler Langs intercepted a David Lee (Springfield HS, Springfield, Ill.) pass and returned it 38 yards to set up Scott Roche's third field goal of the half, a 42-yarder, to give the Thunder a 9-7 halftime lead.

The Vikings came out strong in the second half, taking the opening kickoff and going 70 yards in six plays with Robert Wood (Rockford Boylan HS, Loves Park, Ill.) finishing off the drive with a 33-yard touchdown run and a 14-9 Viking lead. The Augustana defense, which was tremendous all day, forced a pair of Thunder three-and-outs on their first possessions of the second half. After the first, the Vikings were stopped on downs at the Wheaton 27-yard line and after the second, they drove 68 yards in 10 plays, but came away empty when Arnie Fitzwater's (Waterford Union HS, Waterford, Wis.) 22-yard field goal attempt was wide right.

The Thunder got their initial first down of the half on the second-to-last play of the third quarter, but nothing more and were again forced to punt. Augustana's Joe Weber (Marmion Academy, South Elgin, Ill.) burst through and blocked Tony Vargyas' kick, setting the Vikings up with great field position at the Wheaton 31. They drove to the Thunder 15, but the kicking game failed them again when Eric Chandler's 32-yard field goal attempt was blocked.

Wheaton was forced to punt again, but the Thunder got the ball right back when the Vikings fumbled at their own 15. Once again the defense came up huge, allowing the Thunder just one yard before they cut the lead to 14-12 on Roche's fourth field goal of the day.

The Vikings went three and out on their next possession, setting up Roberts' game-winner to Watkins.

Wheaton jumped out to a 6-0 lead on Roche's first two field goals of the day. The first was set up when a Lee pass bounced off the hands of Zach McCullough (St. Charles North HS, St. Charles, Ill.) and into Langs'. That was the second of three interceptions Langs would have in the first half. Augustana took a 7-6 lead when Lee found Keith Abbey (Rich East, Park Forest, Ill.) from 20-yards out in the second quarter. Langs' third interception would set up Roche's go-ahead kick at the end of the half.

Augustana outgained the visitors 430 to 249 in total yards and held a 19-11 edge in first downs, but Wheaton won the turnover battle 4-0 and was much better in the kicking game, including a 52-yard Roche field goal in the first half.

Wood finished with 89 yards and a touchdown on 17 carries and Lee threw for 323 yards on 26 completions in 52 attempts. Two of his three interceptions came on balls that bounced off the hands of his receivers. McCullough caught 10 passes for 127 yards and Corbett Ball (Buffalo Grove HS, Arlington Heights, Ill.) eight for 60 yards. The Augustana defense held the CCIW's top offense to just 98 yards on 35 rushing attempts and 151 yards through the air. John Mago (Cary-Grove HS, Cary, Ill.) was in on 14 tackles including nine solo and two sacks. Curt Perschnick (Dwight HS, Dwight, Ill.) also had a pair of sacks for the Vikings.

Augustana heads to Elmhurst, Illinois on Saturday, November 6 to face the Elmhurst Bluejays. Kickoff is scheduled for 1:00 p.m.
AUGUSTANA-ELMHURST SERIES NOTES: Elmhurst has not beaten Augustana since a 28-6 win in Rock Island in
1979...Since that time the two teams have met 30 times with Augustana winning 29 and the 1986 game ending in a 0-0 tie...Overall, the Vikings hold a huge 51-3-1 lead in this series...Augustana scored six shutouts against the Bluejays in eight meetings between 1984 and 1991.
LAST YEAR'S GAME: 10/03/09—AUGUSTANA 21, ELMHURST 3
Augustana wins CCIW opener
ROCK ISLAND, Illinois – The Augustana Vikings opened conference play Saturday with a 21-3 win over the Elmhurst Bluejays at Ericson Field. For the fourth straight season the Bluejays came into the meeting with an undefeated record and for the fourth straight year the Vikings handed them their first loss of the season. Augustana has now won 23 consecutive games between the teams and holds a commanding 51-3-1 all-time edge in the series. The Bluejays only win in Rock Island came in 1979. Both teams are now 3-1 overall on the season.
Elmhurst took the opening kickoff and put together an impressive 13-play, 55-yard drive. Freshman running back Scottie Williams accounted for 40 of those yards on five rushing attempts. However, the Viking defense stiffened inside its own 10-yard and forced a 4th-and-four at the Augustana six-yard line. Tyler Lomnicki's 24-yard field goal struck the left upright but bounced through and Elmhurst had a 3-0 lead. For all intents and purposes that would be the extent of the Bluejay offense, as they produced just 131 total yards and no points the rest of the game.
Augustana bounced right back on its first possession, going 66 yards on seven plays with Robert Wood (Rockford Boylan HS, Loves Park, Ill.) capping the drive with a 15-yard touchdown run up the middle. The junior running back carried four times for 42 yards on the drive and quarterback David Lee (Springfield HS, Springfield, Ill.) accounted for the other 24 yards on three rushes.
The Vikings put together a solid drive on their next possession as well. Taking over after an Elmhurst punt at their own 24, they marched 48 yards in just five plays, but on second-and-five from the Elmhurst 28-yard line Lee overthrew and open receiver and the Bluejays' Kyle DeMus came up with the interception to end the Augustana threat. Neither team threatened the rest of the half and the Vikings' lead remained 7-3 at the break.
It took Augustana just three plays from scrimmage, all rushes by Wood, to get on the board in the second half. After busting off runs of six and 20 yards and having 15 yards tacked on for a facemask call on the Bluejays, Wood finished the drive with a 24-yard touchdown run. Ryan Gibbons' (Richwoods HS, Peoria, Ill.) kick made it 14-3 Vikings with 13:33 left in the third quarter.
Augustana added another score early in the fourth quarter when Wood went in from two yards out, capping a 14-play, 55-yard drive that took 5:40 off the clock. Gibbons added the kick to make it 21-3.
While Augustana's offense was efficiently putting points on the board and running clock, the Viking defense continued to stifle Elmhurst, yielding just 131 yards after the opening drive and forcing three Bluejay turnovers in the game's final 20 minutes. Ben Hall (Normal University HS, Normal, Ill.) intercepted a Phil Pedi pass late in the third quarter to set up the Vikings final score and in the fourth quarter, Shane Holl (Batavia HS, Batavia, Ill.) and Alonso Herrera (Waubonsie Valley HS, Naperville, Ill.) each forced Bluejay fumbles which were recovered by Andrew Rosset (Maine West HS, Des Plaines, Ill.) and Aaron Setchell (Amboy HS, Amboy, Ill.), respectively.
Elmhurst, who shuffled running backs and quarterbacks throughout the game, ended up with just 186 total yards on 53 plays from scrimmage. Williams had just two yards on three carries after the game's opening drive and backup Jimmy Jenkins, also a freshman, was held to 21 yards on six carries. The Bluejay quarterback combo of Pedi and freshman Joe Furco connected on just nine of 23 pass attempts for 49 yards. The Bluejays also hurt themselves with 12 penalties for 111 yards.
For Augustana, Wood finished the game with 146 yards on 24 carries and three scores. Lee was quietly efficient, rushing for 42 yards on 14 carries and connecting on 10-of-15 passes for 87 yards. Jake Parke (St. Joseph-Ogden HS, St. Joseph, Ill.) was Lee's favorite target with four catches for 39 yards. Defensively, John Mago (Cary-Grove HS, Cary, Ill.) led the way with eight tackles, including six solo. Setchell recorded six stops in addition to his fumble recovery and Andrew Rosset had three solo tackles including a sack and also recovered a fumble.
HEAD COACH JIM BARNES
Jim Barnes is in his 11th season as the head coach at his alma mater (class of 1981). He has compiled a record of 78-33 (.703) during his career at Augustana, including a 5-3 mark this year. Overall, he has a mark of 115-46 (.714) in 16 years as a college head coach and that includes a 37-13 record at College of Wooster from 1995-99. During his years at Augustana his teams have gone 55-20 (.733) in the College Conference of Illinois & Wisconsin with league titles in 2001, 2005 and 2006. The Vikings have participated in the NCAA Division III national playoffs in 2001 and 2005.