November 3, 2010
2010 Season - Penalty kicks decide CCIW semi final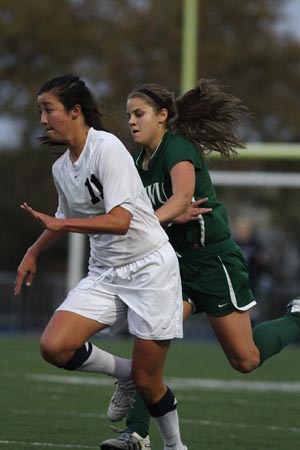 Ashley Higuchi scored her sixth goal of the season in the Vikings 1-1 tie with Illinois Wesleyan in the CCIW semi final in Bloomington, Illinois on Wednesday, November 3.
In a matchup of ranked teams, Augustana was eliminated from the College Conference of Illinois & Wisconsin tournament by seventh ranked Illinois Wesleyan on Wednesday, November 3 in Bloomington, Illinois. The match goes down as a 1-1 tie with the Titans advancing to the championship round on Saturday, November 6 by virtue of a 5-4 edge in penalty kicks.
Augustana scored a goal in the first half to take a 1-0 at 27:20 when junior Ashley Higuchi (Smoky Hill HS, Aurora, Colo.) tallied her sixth goal of the season. Erin Coulson (Neuqua Valley HS, Naperville, Ill. – now resides in Hermosa Beach, Calif.) assisted on the play.
Illinois Wesleyan tied the match at 69:52 when Annmarie Dolak headed in a corner kick off the foot of Lauren Knaack.
The two teams ended regulation tied 1-1 even though the Titans had a 9-2 advantage in shots, including a 5-0 edge in the second half. In the two overtime periods, which are 10 minutes in length, the Titans outshot the Vikings 6-1 with the only Augustana attempt coming from Taylor Moesle (Carl Sandburg HS, Orland Park, Ill.) in the opening minute of the second overtime. Illinois Wesleyan would end the match with a 15-3 edge in shots and an 11-6 advantage in corner kicks.
Augustana goalkeeper Kayla Radloff (West Chicago HS, West Chicago, Ill.) came up with six saves in the match.
After the second overtime period, the match was officially declared a tie at 1-1 but penalty kicks were used to determine which team advanced to the CCIW championship match. The Vikings made their first four penalty kicks before missing on attempts five and six. Wesleyan's Carlie Hoekstra was good on the sixth frame of the penalty kick phase and that proved to be the difference in the match.
For Augustana Briana Henke (Sycamore HS, Clare, Ill.), Higuchi, Jessica Dodds (Linn-Mar HS, Marion, Iowa) and Moesle were successful on their penalty kicks. Those goals do not count for seasonal statistics.
The Vikings, who were ranked 11th in NCAA Division III prior to the match, are now 13-1-5 overall and will wait until Sunday to find out if they are selected as an at-large team in the national tournament.