November 4, 2010
2010 Season - Vikings 20th heading into Midwest Regional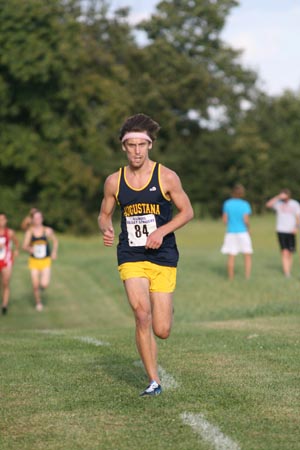 Sophomore Nathan Smith and the Augustana men's cross country team head into the NCAA Midwest Regional ranked 20th in the nation. In the Midwest Regional, which will be held at Saukie Golf Course on November 13, eight teams ranked in the top 25 will be vying for two automatic qualifying spots and three at-large berths to the national meet.
Traditionally the NCAA Division III Midwest Regional in men's cross country has been the toughest of the eight qualifying meets for the national championship. That doesn't seem to have changed in 2010 as eight of the top 25 spots in the latest NCAA Division III are currently occupied by teams that are in the Midwest Region. Augustana checks into the final regular season poll in 20 th place with 125 points and the Vikings are only the seventh best Midwest Region team in the ranking.
Next week's Midwest Regional, which will be held at Saukie Golf Course in Rock Island, Illinois, will be sort of like a mini-national meet. The US Track & Field/Cross Country Coaches Association ranks 35 teams in the national poll and nine of those teams will be in the Midwest Regional field. North Central is the number one ranked team in the nation with 280 points and all eight first place votes. Washington is seventh with 232 points while Wisconsin-Stevens Point is eighth with 221 and Wisconsin-Platteville is 10 th with 205. Wisconsin-Oshkosh is in 14 th with 174 and Wisconsin-Whitewater is 17 th with 146. Augustana has dropped two slots to 20 th with 125 points. Wisconsin-LaCrosse (99) is in 23 rd and Wisconsin-Eau Claire (27) is 32 nd.
The top two teams in the Midwest Regional will automatically qualify for the NCAA Division III national meet, which will be held on Saturday, November 20 in Waverly, Iowa while the next three teams can earn at-large berths.
2010 NCAA DIVISION III MIDWEST NATIONAL CROSS COUNTRY POLL
conducted by the U.S. Track & Field and Cross Country Coaches Association (USTFCCCA)
as of 11/03/10
| | | | | | |
| --- | --- | --- | --- | --- | --- |
| RANK | SCHOOL | POINTS | REGION | CONFERENCE | LAST WEEK |
| 1. | North Central (8) | 280 | Midwest | CCIW | 1 |
| 2. | Allegheny | 272 | Mideast | NCAC | 2 |
| 3. | SUNY-Geneseo | 263 | Atlantic | SUNYAC | 3 |
| 4. | Calvin | 255 | Great Lakes | MIAA | 4 |
| 5. | Haverford | 249 | Mideast | Centennial | 5 |
| 6. | St. Lawrence | 241 | Atlantic | Liberty | 6 |
| 7. | Washington | 232 | Midwest | UAA | 9 |
| 8. | Wisconsin-Stevens Point | 221 | Midwest | WIAC | 10 |
| 9. | NYU | 219 | Atlantic | UAA | 7 |
| 10. | Wisconsin-Platteville | 205 | Midwest | WIAC | 8 |
| 11. | Middlebury | 194 | New England | NESCAC | NR |
| 12. | Dickinson | 193 | Mideast | Centennial | 13 |
| 13. | Williams | 186 | New England | NESCAC | 11 |
| 14. | Wisconsin-Oshkosh | 174 | Great Lakes | NCAC | 17 |
| 15. (tie) | Elizabethtown | 161 | Mideast | UAA | 16 |
| 15. (tie) | Whitworth | 161 | West | Northwest | 35 |
| 17. | Wisconsin-Whitewater | 146 | Midwest | WIAC | 12 |
| 18. | Carnegie-Mellon | 130 | Mideast | UAA | 24 |
| 19. | Colorado College | 128 | West | SCAC | 23 |
| 20. | AUGUSTANA | 125 | Midwest | CCIW | 18 |
(first place votes in parentheses)