November 3, 2010
2010 Season - Boesen named to ESPN Academic All-District team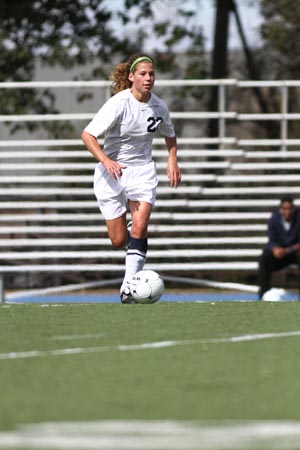 Sophomore Kirsten Boesen was named to the ESPN Academic All-District team for 2010. She carries a 3.46 grade point average with majors in philosophy and English while starting every match for the 13-1-4 Vikings.
Augustana sophomore Kirsten Boesen (Normal Community West HS, Gibson City, Ill.) has been named to the ESPN Academic All-District team in women's soccer, it was announced today. Boesen, a standout defender for the Vikings, was a third team selection in District Five, which consists of schools in the states of Illinois, Minnesota, Wisconsin and Indiana.
Boesen is a two year starter and she has been a major reason why the Vikings have allowed just eight goals in 18 games so far this season. Those eight goals have come in 1700 minutes of play and Augustana sports a 0.46 goals-against-average, which currently ranks 12th in NCAA Division III out of 410 teams. The Vikings' shutout percentage of 0.778 is fifth in the country. Boesen has helped Augustana record 14 shutouts so far this season.
The Vikings are currently 13-1-4 heading into the opening round of the College Conference of Illinois & Wisconsin tournament on Wednesday, November 3 in Bloomington, Illinois against Illinois Wesleyan.
Boesen carries a 3.46 grade point average while majoring in philosophy and English. She sports quite a resume of off-the-field activity. She serves as a board member on the 1902 House, which is currently being renovated into a "shelter" house. She also volunteers at "Wide Open Weekdays" at St. John's Lutheran Church in Rock Island where she helps in an after-school program for elementary children. In the summer of 2008 she spent nine days on a "Spread Truth Soccer Mission" to Spanish Harlem in New York, New York where she helped coach 5-16 year olds at a free Christian Soccer Camp.
She participates in both the Augie Acres and Wesley Acres gardening projects and is a member of various clubs and organizations on the Augustana campus. She completed a mission trip to Appalachia during spring break of 2010 and is also a member of the International Relations Union.
Boesen is the daughter of Kevin and Joan Boesen of Gibson City, Illinois.